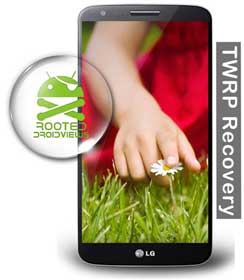 There was a time when LG was one of the greatest leaders in the global smartphone market but in the past few years, the company has not been able to keep its popularity among users. The LG G2 brings hope for the OEM. If you own the LG G2 from carriers like Verizon, AT&T, T-Mobile, Sprint, Bell or Rogers, you can root LG G2 and install TWRP recovery using our tutorial.
As things go in the world of Android, the more popular a device, the more attention it receives from the developers. In comparison to some older smartphones from the OEM, the LG G2 has been able to inspire active development. The presence of a method to root and install a custom recovery on the device and the availability of some nice custom ROMs are good signs for the users of the device.
If you own an LG G2 and looking for an easy method to get root access on it and install the popular TWRP custom recovery on it, we have a one-stop guide for you that will describe the complete procedure step-by-step. If you are new to Android, please be informed that by rooting your LG G2, you will be able to enhance your phone's performance by installing apps that require root privilege. The presence of a custom recovery along with root access will allow you to install custom ROMs, mods and kernels.
Disclaimer:
The procedure given below has been written carefully and tested successfully, yet it is considered risky. By rooting your G G2, you will void its warranty and put your device in risk. In case of any mishap, the developers behind the method or DroidViews will not be responsible. Proceed only if you agree to this condition. Also, do not try the method on any other model of the device other than those described below.
Compatible LG G2 Models:
You can root LG G2 and install TWRP recovery on the following models of the phone.
AT&T G2 D800
Sprint LG G2 LS980
T-Mobile G2 D801 (if your phone has KK, try Towelroot instead)
International G2 D802
Rogers G2 D803
Bell G2 D803
Telus G2 D803
Verizon G2 VS980
Korean G2 F320k
Root LG G2 with ioRoot
Download the rooting package for the LG G2 and extract the zip on your computer: iorootxx.zip
Download and install LG USB Drivers on your computer.
Enable USB Debugging on your phone. Go to Settings> Developer Options and enable USB Debugging. For detailed tips on turning on Developer Options on LG G2.
Go to Settings> PC Settings and select the proper mode to connect the device to the computer. If you have Verizon LG G2, select Ethernet mode.
Now connect your phone to the computer.
Just press a key on your computer's keyboard. It'll run the rooting script and SuperUser will be pushed to your device, signaling root on the device.
So, now you should have a rooted LG G2. Open your phone's app drawer and look for the presence of the SuperUser app there.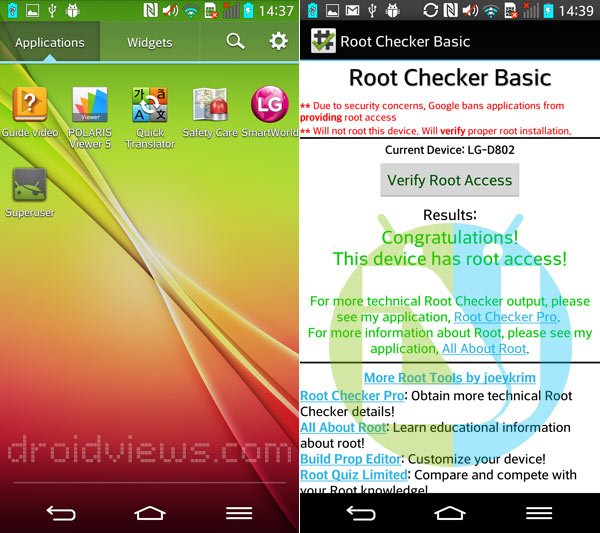 Additionally, you can install the Root Checker app from the market and verify root access on the device.
UPDATE:
If your LG G2 had Android 4.4.2 KitKat firmware and you also want to install TWRP Recovery on your LG G2, use this guide.
Install TWRP Recovery on LG G2
Please do not forget to check your device model number from Settings> About before downloading the TWRP image (see above for the list of G2 models).
Download the appropriate TWRP Recovery image (*.img) file from below:
Make sure you have installed LG USB Drivers. In case ADB does not recognize your phone, try this driver: LG_VZW_United_WHQL_v2.11.1.exe
Enable USB Debugging on your phone.
The TWRP Recovery image file will be installed using ADB commands, so make sure to that ADB or SDK Platform-tools drivers are installed on your computer.
Download loki-master.zip file and extract it on your computer.
Now copy the TWRP recovery image file (openrecovery-twrp-2.6.3.2-g2xxx.img) file to ADB folder.
Open the "loki-master> bin"  folder and copy the "loki_flash" file to the ADB folder.
Connect your phone to the computer.
Launch cmd window from inside the ADB folder and type the following command lines (replace the name of recovery image [in Red] with that of the one you have downloaded):

adb push loki_flash /data/local/tmp/loki_flash
adb push 

openrecovery-twrp-2.6.3.2-g2xxx.img

 /data/local/tmp/

openrecovery-twrp-2.6.3.2-g2xxx.img


adb shell

TWRP will now be installed on your LG G2. In case you do not see # prompt after issuing the above command, type "su" to gain root access.
To reboot your device in TWRP, issue the following command (once again replace the name of recovery image with your own):

cd /data/local/tmp
chmod 777 loki_flash
./loki_flash recovery /data/local/tmp/

openrecovery-twrp-2.6.3.2-g2xxx.img


exit
adb reboot recovery

If you have done everything correctly and the procedure went right, your phone should boot into TWRP Recovery mode.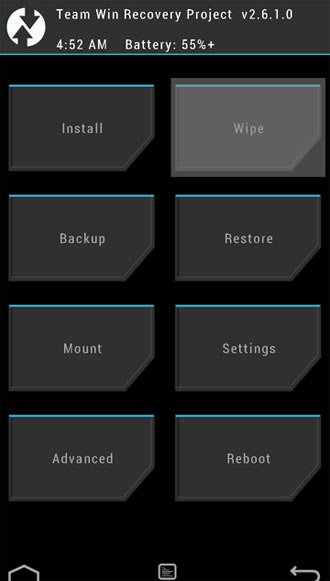 To get out of  TWRP and boot your phone normally, tap on Reboot and then System. If you have any problem or question, please share with us via comments. Cheers!
Installing TWRP on LG G2 (KitKat)
If you have updated your LG G2 to the latest Android 4.4.2 firmware, now you can install TWRP recovery on your phone very easily. Just root your LG G2 using IOroot exploit given above and jump to the guide below:
How to Install TWRP Recovery on LG G2 Running Android 4.4.2 KitKat
Alternate Method to Install TWRP on LG G2
Download and install the FreeGee app from the Play Store and use the app to install TWRP recovery on your device.
The Above Root Method Didn't Work?
In case the rooting procedure did not work for you, or your LG G2 has a newer firmware that one required for the given method to work, you can still root your LG G2 using the KingoApp root tool.
Do Not Miss