Android is an awesome operating system known for its open source attribute. It offers hundreds of devices to choose from one of the cheapest to the costliest ones. This most popular platform stunning on its own becomes more powerful when you gain root access on it. If you have an unrooted device, you have been experiencing just the half of what it can offer. Rooting unleashes the true capability of an Android device. By using root apps, custom mods, ROMs, frameworks and kernels, you can enjoy the best possible system optimization, performance tweaks and graphic customization.
There was a time when it was not possible to root an Android phone or tablet without using a computer. We had to use different tools for rooting different devices. Moreover, most root-toolkits were made for Windows only. As a result of phenomenal custom development activities, more refined, safer and easier-to-use methods have been evolving now. Cross-OEM tools like FramaRoot and TowelRoot does not even need a computer. You just have to install an Apk on your device and tap a button in the app to get it rooted.
Now we have another amazing root-tool in the form of an Apk. Famous developer jcase has collaborated with some other renowned names like IOMonster, Autoprime, PlayfulGod and the result is an universal root exploit for LG devices.  The root exploit is called Stump Root and works on almost all LG phones and tablets released since 2012 till data.
Update
If you LG device is on KitKat or Lollipop, try the following one-click root method:
Easily Root LG Devices using the One-Click Root Script
Rooting LG Device with Stump Root
Stump Root app is so easy to use that it does not require any specific instructions yet we have described the steps to get your LG device just in a single tap.
Download Stump Root app and copy it to your device: Stump Root v1.2.0
Open File Manager app and install the Apk file. Do not forget to check Unknown sources option under Settings> Security on your device.
Having installed the app, open Stump Root from app drawer and tap the Grind button. Stump Root will greet you with a melody while the device is being rooted.
Wait till Stump Root works its magic and allow the device to reboot when you are prompted to do so.
When you phone boots up, install SuperSU app by Chainfire from the Play Store: [appbox googleplay eu.chainfire.supersu]
To verify root access on your device, download a root checker app and run it.[googleplay url="https://play.google.com/store/apps/details?id=com.jrummyapps.rootchecker"]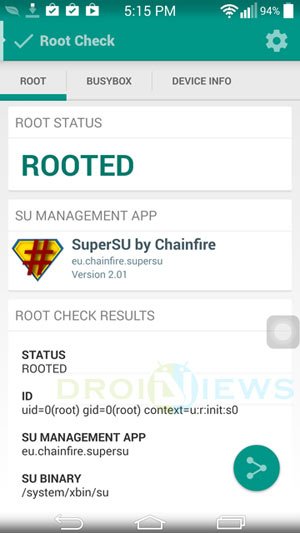 When the root is verified, uninstall Stump Root app.
If the root checker app shows your device status as Rooted, you got proper root access on your device. Enjoy! For newer updates, make a request to the developer, and make a donation, check out the XDA thread.