The Galaxy S4 is the current flagship device from the Korean manufacturer Samsung. It was officially announced at the Samsung Unpacked event in New York on March 14 and began shipped by the end of April. The S4 is being seen as the most powerful contender for the best smartphone of 2013, but to win the crown it'll have to wrestle neck to neck with the HTC One.
If you already have the Galaxy S4 and wish to avail the latest software update for your phone, you can do it in a number of ways. By keeping your phone's firmware up-to-date, you can enjoy many advantages as with each new firmware version Samsung introduces a fix to the bugs found in the previous version and new features as well. Sometimes, new updates bring OS upgrade and thus lots of new improvements and enhancements.
Samsung Galaxy S4 Models
The international variant (GT-I9500)  of the Galaxy S4 Exynos 5 Octa (octa-core) system on a chip (SoC) chip containing the first ARM big.LITTLE heterogeneous architecture central processing unit (CPU). The Galaxy S4 variants for North America, most of Europe, LTE models and other countries has Qualcomm's Snapdragon 600 SoC containing a quad-core 1.9 GHz Krait 300 CPU and an Adreno 320 GPU.
With the help of the present tutorial, you can update the firmware of any variant of the Galaxy S4, given the fact that the firmware for that model is available for download.
Galaxy S4 International GT-I9500 (Exynos5 Octa)
China Unicom Galaxy S4 GT-I9502
Galaxy S4 International LTE GT-I9505 (Qualcomm Snapdragon)
AT&T Galaxy S4 SGH-I337 (Qualcomm Snapdragon)
Canadian Galaxy S4 SGH-I337M (Bell, Rogers, Telus, Virgin & Others)
T-Mobile USA Galaxy S4 SGH-M919 (Qualcomm Snapdragon)
Verizon Galaxy S4 SCH-I545
Sprint Galaxy S4 SPH-L720 (Qualcomm Snapdragon)
U.S. Cellular Galaxy S4 SCH-R970 (Qualcomm Snapdragon)
Also Read: How to Unbrick Samsung Galaxy S4 [GT-I9500 & GT-I9505]
Updating Galaxy S4 Firmware via OTA
As I mentioned above, you can update your Galaxy S4's in more than one ways. The most preferred and safest method among users to get the latest update on their Android. If you have a good data or WiFi connection Over-the-Air update is the best way to avail new software. Here are 2 ways you can receive the OTA firmware update. Both the ways require a working internet connection on your computer or Galaxy S4.
Using Kies:
Download and install the latest Samsung Kies on your computer. Launch it and connect your device to the computer using a USB cable. Kies will automatically show the current firmware version on your device and notify you if a new update is available.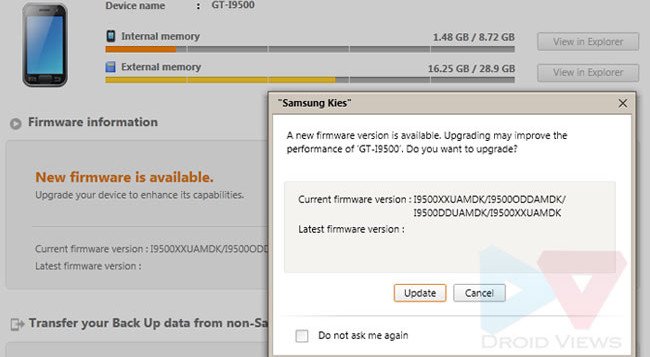 On-Device-Update:
You can also update the firmware of your Galaxy S4 without taking the aid of a computer. To get the latest software update notification on your phone, make sure you are signed in to your Samsung Account. To check the availability of the latest firmware for your device, open phone Settings> More tab> About and then tap on Software update option. If an update is available, just follow the on-screen prompts and you'll have the latest version of firmware on your Galaxy S4.
Update Galaxy S4 Firmware Manually
Personally, I do not like the OTA way because I do not have a great amount of patience to wait calmly and helplessly for the latest update to knock my doors. I prefer to grab the very first firmware that rolls out for my Samsung device model and install it manually.
Since OTA updates are made available in phases, you might have to wait for it to arrive in your country or region. The sad part of the story is that sometimes the wait never comes to an end and you might be forced to remain with the older software on your device when it is already available for other countries. This might be a sound reason for you to install the update manually.
Another reason why you might prefer to choose the manual ways is that you have either rooted your Samsung Galaxy S4 or have installed a custom ROM on it. In any of these cases, you might not be able to get the OTA till you unroot your phone. If you do not know how to unroot your rooted Galaxy S4, read the following tutorial;
Now, there are 4 ways you can install an updated version of firmware on your Galaxy S4 and we'll see them all one-by-one:
Installing an update.zip package via stock recovery.
Installing firmware using the Odin3 tool on your Windows PC
Installing the latest firmware using the Mobile Odin app on your Galaxy S4
Downloading Correct Firmware for Galaxy S4
The Galaxy S4 is a costly phone and being its owner, you will certainly not even dream of putting your device into danger. Remember, there is a fine line between a successful firmware update and a bricked device. If you are careful and follow the rules obediently, there are no chances that any damage will be done to your phone.
At the center of most unsuccessful tales of phone-bricking lies the simple but surprising fact that some people do not even match the phone model and the firmware they are going to install! Take care of the following things while choosing a firmware for your device.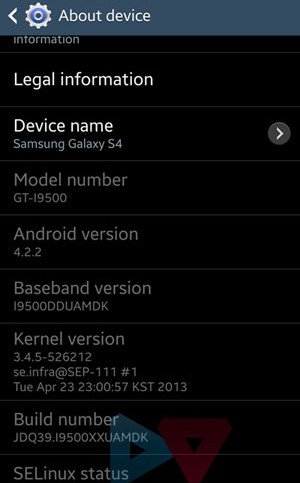 There are 2 types of firmware- Branded and Unbranded. If you have bought your Galaxy S4 via a network carrier/operator and are unable to use any SIM other than that of your network provider, you have a branded Galaxy S4. A branded firmware can be recognized easily as you'll see the name of the carrier written after its name. Always avoid installing a Branded firmware on an Unbranded phone.
The most accurate way of choosing the right official firmware for your Galaxy S4 is by taking note of CSC code. The easiest way of finding out the CSC code of your phone is by connecting it to Kies.
All firmware have the device model name at the beginning. You should make sure that it matches your phone's model name. You can find it from Settings> More> About.
Another way of finding out the appropriate firmware for your Galaxy S4 is matching the Country/Region code that is found in the CSC part of a firmware name after the device model name. Here is an example: I9500XXUAMDK_I9500ODDAMDK_INU.zip
Here is a list of country/region codes for Samsung Galaxy devices' firmware:
  Code         Country
AW     Hungary
AZ      France
BD     Cyprus, Greece
BY     Greece
CB     Poland
CE     Benelux
CP     Denmark, Finland, Norway, Sweden
DB    Vietnam
DC    Thailand
DD    India, Bangladesh, Nepal
DT    Australia
DX    Indonesia, Malaysia, Philippines, Singapore, Vietnam
DZ     Malaysia, Singapore
JA     South Africa
JC     Algeria, Morocco, Nigeria, South Africa, Tunisia
JP     Arabic
JR     Arabic
JV     Algeria, Egypt, Iran, Iraq, Kuwait, Morocco, Nigeria, Oman, Pakistan, Saudi Arabia, South Africa, Syria, Tunisia, Turkey
JW    West Africa
JX     Algeria, Egypt, Iran, Iraq, Kuwait, Morocco, Nigeria, Oman, Pakistan, Saudi Arabia, South Africa, Syria, Tunisia, Turkey
KA     Turkey
ME    France
MK    Serbia
MS     France, Germany, Italy, Netherlands, Portugal, Spain, Turkey, UK
MT     Switzerland
MY    Italy
NH     Latvia
PO     France
PU     Russia
UB     Brazil
XA     Austria, France, Germany, Italy, Netherlands, Switzerland, United Kingdom
XB     Denmark, Norway, Sweden
XC     Portugal, Spain
XD    Croatia, Czech, Hungary, Slovakia
XE     Bulgaria, Estonia, Kazakhstan, Latvia, Lithuania, Russia, Ukraine
XF     Bulgaria, Croatia, Romania
XP     UK, France, Italy, Spain, Netherlands, Poland, Portuguese, Turkey
XX     Austria, Belgium, France, Germany, Hungary, Italy, Spain, United Kingdom
XW    Austria, Belgium, France, Germany, Hungary, Italy, Spain, United Kingdom
ZC     China, Hong Kong
ZH     Hong Kong
ZS     China, Hong Kong
ZT     Taiwan
How to Find Latest Firmware?
You can easily find out which firmware is latest by taking note of the last two Alphabets/digits of a firmware name. These 2 alphabets denote that date and month of the firmware release. Look at the examples given below:
I9500ZTOAMDK
I9500OZSAM

DF
In the above CSC part of a Samsung firmware name, the first of the last 2 alphabets shows the month. "D" is the 4th letter of the alphabet and it denotes the 4th month of the English calendar, that is April. In the same way, "K" shows the date (K is the 11th letter), that is 11. Thus the date of the first firmware is April 11. Thus, the second firmware's release date is April 06.
Where to Download the Firmware for Galaxy S4?
Finally, here the spots from where you can download the latest firmware for your Galaxy S4. Click the device model number below to download the latest Samsung firmware for your phone.
GT-I9500
GT-I9502
GT-I9508
SCH-I959
GT-I9505
SCH-I545
Note: Since the firmware for Verizon Galaxy S4 is not available for download yet,  the owners of this device can download the following firmware. It is also official and has been pulled out from the device itself and has been prepared to be installed with Odin. Installing any of these files might wipe the system and internal storage of your device and it'll boot into factory state. Backup your phone's data before installing.
To install the Android 4.3 firmware, use Odin v3.09, and click the AP button to select the firmware file. Make all preparation for Odin installation as described below.
In case you want to unlock the SIM on your Galaxy S4, we have a detailed tutorial for you. Don't forget to check that?
Flashing OTA Update.zip Package via Stock Recovery
This method is not very common as it is not very easy to find the OTA update package that contains the new files. One important thing that you should know before attempting to install an update.zip is that it is Baseband and CSC specific. In other words, you can install it only over a base firmware that has the required baseband and CSC info. For example, if you get an update.zip (Android 4.2.3) for Galaxy S4 Germany and you have an S4 with UK firmware (4.2.2), you will have to install the German firmware with lesser version (Android 4.2.2) on the device first.
Here is how you can install the firmware update.zip file via Android stock recovery on your Galaxy S4:
Download the update.zip package and copy it to the external SD card of your Galaxy S4.
Make sure your device has at least 50% battery left and then turn off your device.
Boot it into recovery mode: hold down Volume Up+Home+Power buttons simultaneously for a few seconds till the phone's screen turns up, you feel a vibration and the Samsung Galaxy S IV logo blinks for 2 times. Then release the Power key but keep the other 2 keys pressed till you a screen blue menu and "Android system recovery" written at the top.
Since the touch input system does not work in recovery mode, you will have to use the Volume (up/down) keys to scroll and the Power key to select an option.
Scroll to "apply update from external storage", navigate to the "update.zip" package and select it.
Select "yes" on the next screen to confirm your choice.
Doing this will begin the installation.
When it is finished, go back and select "reboot system now".
Your phone will now boot and it will take a little more time than it takes usually to boot up. Wait till you are able to see the phone's lock screen. Done!
Install Stock Firmware on Galaxy S4 Using Odin
This is the most popular and familiar method among users for installing complete firmware package on their Galaxy devices. Most commonly the firmware for Galaxy devices come with .tar.md5 extension. If the firmware you downloaded is a zip file, you'll have to extract/ unzip it first with the help of a Zip extractor program to find the file with .tar.md5 extension.
Here are the steps that can be used to install the firmware on any Samsung Galaxy device, whether a phone or tablet. This method works only with Windows PC.
Download either the Odin3 tools from below and unzip it on your desktop.:
Download the firmware and unzip it too (only if it is a zip file).
Also, ensure your computer has either Samsung Kies or USB Drivers installed on it.
Charge your phone to at least 50% level.
Do not forget to backup all important data such as contacts, messages, apps, etc. stored on your Galaxy S4. Here are a few apps that will help you backup your data conveniently.
Finally, enable the USB Debugging mode found under Developer Options on your phone's Settings menu.
Having done the above preparatory steps, turn off your Galaxy S4 and reboot it into Download Mode: hold down Volume Down+Home+Power buttons together for about 3 seconds till you see a warning screen. Now press Volume Up button to enter the Download mode.
Now launch Odin3 tool and connect the device to PC using the USB cable.
Wait till the device drivers are installed. A successful connection is indicated by the ID:COM port on Odin turning to Blue or Yellow (depends on Odin version) and "Added!!" at the message box below.
The "Auto Reboot" and "F Reset Time" options are selected on Odin by default. Make sure you do not mess with anything else.
Just click the PDA button and select the firmware file with .tar.md5 extension and hit the Start button. In case you are are using Odin v3.0.9, click the AP button to select the firmware file,
In case you are using the new Odin v3.09, click the AP button and select the firmware file.
This will initiate the installation and might take a few minutes to complete.
When it is done, you will get "PASS!!" message at ID:COM followed by phone reboot.
It might take up to 5-6 minutes (maximum) for the device to boot up and show the welcome Setup screen.
Your Galaxy S4 should now have the newly installed firmware on it. You can confirm this from Settings> More> About.
Install Stock Firmware on Galaxy S4 Using Mobile Odin
Note: Mobile Odin Pro currently supports the following models of the Galaxy S4. The compatibility for other models will be added soon.
LTE GT-I9505
Sprint SPH-L720
T-Mobile USA SGH-M919
US Cellular SCH-R970
Canadian SGH-I337M
Since the Odin tool is not yet available for Mac and Linux computers, the Odin3 method of installing the firmware on a Galaxy device has become a hard nut to crack for the users of these operating systems. It's here that the Mobile Odin app becomes a lifesaver! This wonderful app for Samsung Galaxy phones is capable of installing the firmware on supported Galaxy devices very easily.
But there is a little twist to this easy-sounding method. You need to root your Galaxy S4 before you can install and use Mobile Odin Pro. If you have not a rooted Galaxy S4, you can root it easily with the help of our handy rooting  tutorials:
Download and install the Mobile Odin Pro app developed by Chainfire from the Google Play Store-
[googleplay url="https://play.google.com/store/apps/details?id=eu.chainfire.mobileodin.pro"/]
Now when you have Mobile Odin installed on your Galaxy S4, follow the steps below to install the official firmware on your device.
Download the firmware file (extract if it is in a zip), and copy the firmware file with .tar.md5 extension to your phone's internal or external SD card storage.
Open the Mobile Odin and download the app data when prompted.
When the download finishes, all features of the Mobile Odin will be unlocked.
Now go to "Open File" option and select the firmware file.
Select the ROM file and confirm the choice. Mobile Odin will start installing the firmware to your device.
When it is complete, your Galaxy S4 will reboot automatically and on booting up, it will have the newly installed firmware.
Finally, here ends our detailed tutorial on installing the latest firmware on the Samsung Galaxy S4. I just hope it helps our visitors. If you have any question related to this topic, do not forget to drop a comment below.
Fixing Bootloop on Galaxy S4
Sometimes, it happens that your device might not boot properly after installing new firmware and it is stuck at the "Samsung Galaxy S4 GT-I9500" logo. To fix the boot loop issue on your Galaxy S4, pull out the battery and place it back after about a minute and try the steps given under Method 1 in the tutorial.