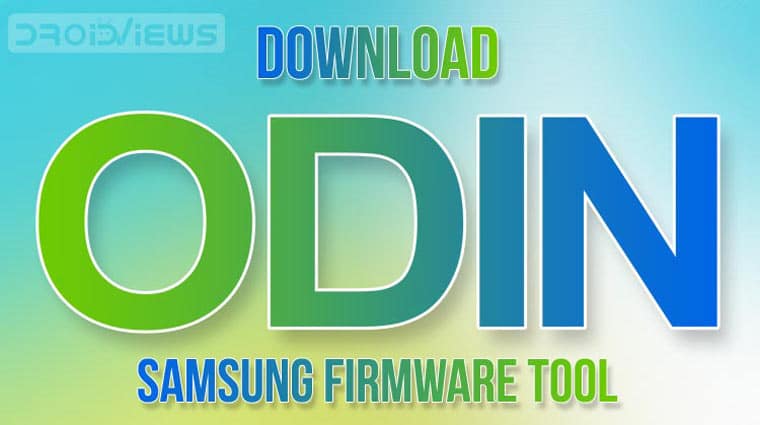 Odin is the official Samsung firmware flash software for Windows PC. Odin download is the first thing to do if you want to install stock .tar.md5 firmware or TWRP recovery on Samsung devices. You can download Odin ZIP for free (all versions) from direct links. Odin flash tool can install firmware binaries (BL, AP, CP, CSC [CSC and HOME_CSC], and PIT) files. As of now, the latest Samsung Odin version is Odin is v3.13.1. If you are a Mac or Linux user, you can use Heimdall or Java Odin.
One of the good things about Samsung devices is the easy availability of stock firmware binaries and an even easier method for flashing them. Using Odin, you can not only update your Samsung device but can also restore it to stock and fix boot loop.
What is Samsung Odin?
If you own a Samsung phone or tablet, you must be familiar with Odin or Odin3. Odin is a very useful tool that detects your Samsung device only when it's in the Download or Odin Mode. It can flash firmware and recovery files with .tar or .tar.md5 extension.
Developed by Samsung, Odin was originally meant to be used only in the company's service centers. The Odin tool we use is actually the leaked version of the official one released by Samsung but not distributed publicly. Most Samsung users might need to download Odin at some point of time for different purposes.
Download Odin for Windows PC (All Versions)
Samsung Odin tool works with Windows PC. If you are a Mac or Linux user, you can download Heimdall or the Java Odin from below.
Since the success rate of flashing firmware binaries with Odin differs according to Odin versions, you should always download the Odin version recommended by the tutorial you are following. If you aren't sure which Odin version to use, download latest Odin.
Below is a list of all versions of Odin available for download. Grab them from our direct links to Odin download.
Odin_Multi_Downloader_v3.98.zip
Odin_Multi_Downloader_v4.03.zip
Odin_Multi_Downloader_v4.16.zip
Odin_Multi_Downloader_v4.28.zip
Odin_Multi_Downloader_v4.29.zip
Odin_Multi_Downloader_v4.38.zip
Odin_Multi_Downloader_v4.42.zip
Odin_Multi_Downloader_v4.43.zip
Odin_Multi_Downloader_v4.252.zip
Odin_Multi_Downloader_v4.44.zip
Odin_v1.85.zip | Recommended for Android Gingerbread/Ice Cream Sandwich firmware
Odin3_v3.09.zip | Recommended for Android JellyBean/KitKat firmware
Odin3_v3.10.7.zip  | Recommended for Android Lollipop firmware
Odin3_v3.11.1.zip | Recommended for flashing Android Marshmallow firmware
Odin3_v3.12.5.zip  | Recommended for flashing Android Nougat firmware)
Download Latest Odin3 v3.13.1
We recommend that you should download the latest version of Odin because it's not only stable but also has an improved GUI interface. The Odin versions listed below can be used with Samsung's Android Oreo-based Grace UX, or Android Pie-based Samsung OneUI firmware.
Odin3_v3.13.1.zip (Latest | Official)
Download Modded or Patched Odin
Odin3_v3.13.1_3B_PatcheD.zip (Use the patched Odin if you want to install a modified firmware)
Modded-Odin-v3.13.1-Raymond.zip
[
The latest Odin for Samsung devices can now flash the new Android 8.0 Oreo and 9.0 Pie or One UI firmware with compressed binaries (lz4). If you own the Galaxy A9, Galaxy A8, Galaxy Tab S4, Galaxy S8, Galaxy S9, Note 7, or Galaxy Note 9, download Odin3 v3.13.1 or greater.
]
Download Java-Odin and Heimdall for Mac and Linux
Mac and Linux users can use the following tools for flashing stock firmware, TWRP Recovery, and other .tar.md5 files.
OR
Download Odin (Java) for Mac OSX: CanalFacilAssim_JODIN3 MAC.zip
(Note: You'll need to install Java on your Mac computer and then install Heimdall Suite.)
Download Mobile Odin App for Samsung Phones
If you are a new Samsung user, you might not be familiar with the renowned developer Chainfire who developed the SuperSU app and CF-Auto-Root for Samsung devices. Rooting Android devices would not have been a breeze without his contributions. He released an app called Mobile Odin Pro which works on old Samsung Galaxy devices. Chainfire later released another app that can flash firmware files, custom ROMs and recovery images. The name of his new app is FlashFire and it requires root access to work.
Samsung Odin Flash Tool Explained
What do BL, AP, CP, & CSC Mean in Odin?
When you launch Odin, you'll be greeted by the Odin window and will see a variety of buttons with options like BL, AP, CP, CSC, UserData, and PIT. If you are not aware of what these terms mean, I have them explained for you for better understanding.
Auto Reboot: This option is enabled by default in Odin. Keep it that way if you are going to flash the stock firmware. However, due to bootloader encryption on most Samsung devices, you'll need to disable 'Auto Reboot' before flashing TWRP or any custom recovery.
Nand Erase: If you select this option in Odin, it will completely erase everything on your Samsung device including the Operating System and all data present on it. If you don't know what you're supposed to do after performing a 'Nand Erase', you'll end up turning your device into an expensive paperweight.
Re-Partition: The option should be checked only if you flashing a Samsung PIT file along with the firmware. Enabling 'Re-Partition' will re-partition your Samsung device to its default state. Don't use this option unless you understand what partitioning is.
F Reset Time: Check this option only if you want to reset the firmware flashing timer on your device.
BP: This means Bootloader and as it's evident from the very name, it's used to flash the bootloader file with .tar or .tar.md5 extension.
AP: On the older versions of Odin, this option was called PDA and was used to flash single-file firmware, recovery and CF-Root files. The full-fledged name of AP is 'Android Processor'.
CP: CP stands for 'Core Processor' and is used to flash the Modem file that comes with the Samsung firmware binaries package. In the older versions of Odin, this option was called Phone.
CSC:  The full-form of CSC is 'Consumer Software Customization' or 'Country Specific Code'. The CSC component of a Samsung firmware is specific to network providers and geographical region. In other words, it contains customizations related to a geographical location, APN settings, carrier branding, and other things. Learn more about Samsung CSC.
PIT: or Partition Information Table contains information such as device storage partition tables, partition name, block size, block count, and other technical stuff. Every device has a different PIT file associated with it. PIT files are not meant to be flashed unless a device's partition table layout has been corrupted for some reason. Know more about Samsung PIT and an easy method to extract PIT files.

Odin- BL, AP, CP, CSC options explained
Download Samsung Firmware Binaries for Odin Directly
Once you have downloaded Odin, you will also need the Samsung firmware for your Galaxy device. Using SamFirm Samsung firmware downloader, you can get all required Odin binaries. You can download the latest Samsung firmware for your Galaxy device model directly from Samsung servers with the following tools:
Samsung Odin Tutorial to Flash Firmware
When you are done with downloading Odin and the firmware for your Samsung Galaxy device, you can install it easily and safely by following our detailed Samsung firmware installation tutorial.
You can also flash firmware binaries or recovery files by following the quick steps described below:
If you are going to use Samsung Odin for the first time, here are a few things you must be familiar with. Odin is a portable tool, that means you needn't install it on your PC. When you have downloaded Odin.zip file, just extract it using a Zip extractor tool like 7Zip, WinZip, etc. Navigate to the Odin folder and perform a right-click on Odin3.exe with your mouse and select 'Run as administrator'.

Odin.exe run as administrator

Make sure you have already downloaded the firmware or custom recovery for your device.
Download and install Samsung USB drivers on your computer.
Enable USB Debugging on your device.
Now turn off your Samsung device and boot it into the Download or Odin Mode. To do so, you'll have to press and hold a specific hardware key-combination at the same time for 2-3 seconds and then press the Volume Up key when you see the Warning screen.

Samsung devices with Home button: Volume Down + Home + Power keys.
Galaxy devices with no Home but Bixby button: Volume Down + Bixby + Power buttons.
Samsung devices with no Home or Bixby button: Volume Up + Volume Down + Power keys.

Connect your device to the computer. Make sure to use the original Samsung USB cable that came with your phone or Tab to avoid any issue. When Odin detects your device, the ID COM port will highlight with light blue color.
If you want to flash a one or single-file firmware or TWRP recovery.tar.md5 file, just click the AP button in Odin and add the recovery file to it. Please note that if you're going to flash TWRP recovery, you must disable the Auto Reboot in Odin. You'll find this option under the Options tab in Odin.

Odin Install Single-file Samsung firmware or TWRP recovery

In case you got the 4-file firmware binaries, click the BL button in Odin, navigate to the firmware folder and add the file that has "BL_" in its name. Then click the AP button and select the firmware binary with "AP_" in its name The AP file will take a while to load in Odin because of its heavy size. Don't panic if the Odin window freezes for some time after selecting the AP file. Similarly, add the CP, and CSC (plain CSC if you want a clean installation and HOME_CSC if you don't want to wipe your device data) files to the corresponding fields in Odin.
Finally, click the Start button to initiate the installation.

Odin-Install multiple Samsung firmware binaries

If you are flashing a recovery file, it'll take just a few seconds to install. However, due to their big size, firmware files might take 3-5 minutes to install. So, you need to be patient and calm.
Lastly, you'll get PASS!! notification in Odin. It indicates that Odin has flashed the recovery/firmware file successfully.
When the firmware is installed, your Samsung device will reboot automatically.
Want to enjoy custom font on your Samsung device? Read our tutorials on installing fonts on Samsung Galaxy devices without root access.
Note: This article was first published on May 3, 2013, and we keep updating it with the latest version of Odin and other relevant details.