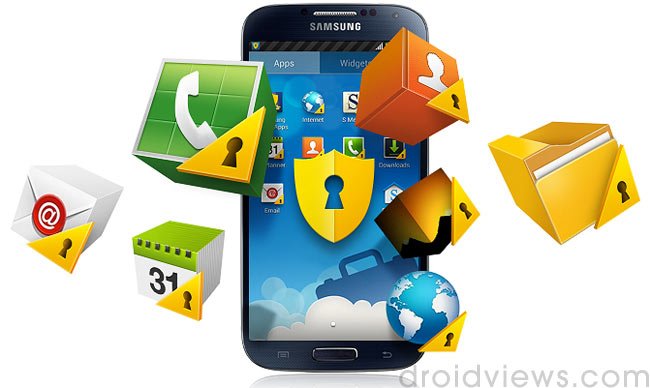 The are various instances of exploits bringing out the security vulnerabilities of Samsung's flagship Galaxy devices. To arouse the trust of business class customers, Samsung also launched an ad campaign. However, it was with the launch of the Galaxy S4 that the company introduced a dedicated security service trademarked as Samsung KNOX. Today, I'll be telling you about the ways to disable KNOX security on the Samsung device like the Galaxy S3, Galaxy S4, Note 2, and Note 3.
Previously, the service was only available for people in enterprise and in government institutions. Later during IFA event in Berlin, Samsung showcased some new devices like the Note 3, Note 10.1 2014 Edition, Galaxy Gear and also revealed the commercial availability of its Knox mobile security system that helps better protect device data against unauthorized use.
What is Samsung KNOX?
In this way, if you have Knox installed on your device which you use as personal and as a workplace phone both, Knox lets you store enterprise applications (corporate email, contacts, calendar, etc.) securely using an Exchange ActiveSync Server. The service is capable of separating personal and work data and thus it makes it possible for both types of data to coexist on a Knox-enabled device. You just have to press an icon to switch from personal to business mode. Here's an official video that reveals what KNOX does:
Actually, Samsung came with KNOX when it realized that security-lovers and corporate class tended to abstain from its smartphones due to security vulnerabilities. By integrating KNOX in the TouchWiz UX, Samsung provided a second version of a smartphone as KNOX mode that is protected with a password and restricts unauthorized access. KNOX mode includes apps like Camera, Gallery, Downloads, Email, S Planner, My files, Phone, Contacts and S Browser by default. Besides these, there are about 75 KNOX-apps that you can download additionally.
Why Disable Samsung KNOX?
There's no doubt that Samsung Knox service is really a good security solution for those who got a financial and business reason to protect their data, but there are still many others who might not like to have it on their device. If you are not a fan of the kind of security Knox provides and love to root your device and install custom ROMs on it without caring about the security warnings, we have come with some tips to disable Samsung Knox security shield on your device. Knox might also be responsible for FC (force close) error with some of your root perm apps, and so this is another sound reason to disable KNOX security on Samsung devices.
Unable to Get Root Access Due to KNOX?
If you have KNOX on your Galaxy device and you have rooted it, you'll see a verification message that pops up every time SuperSU is called for action by some apps on your device. The message runs like this:
"SuperSU tried to access system in your device without authorization. This action was blocked."
OR
"An application attempted to access system on your device without authorization."
OR
"Unauthorized access to a secured area has been blocked."
You can get rid of this annoying thing easily by disabling Knox service and its agent apps. Remember, once KNOX is aware of SuperUser on your phone, it'll block its functioning and you might not be able to use any root app. In case you are unable to get root access (after rooting your device) because KNOX prevents SuperSU in doing so, do this:
Download the latest SuperSU zip package: UPDATE-SuperSU-vx.xx.zip
Extract the zip and open the folder.
Go the folder named "common" and copy the Superuser.apk to your phone.
Install the APK manually (do not forget to tick Unknown Sources option under Security settings of your device).
Now launch the SuperSU app on your phone and it will ask you whether or not you want to disable KNOX: "Samsung Knox has been detected. This might limit root capabilities and cause annoying popups. Try to disable KNOX."
Select OK. It will then tell you that KNOX has been successfully disabled.
You should now be able to enjoy root access on your Samsung Galaxy device. If you want to remove KNOX from the device, use the method given below. If the above method does not work for you, your phone might not be rooted properly. Verify the root with Root Checker app. [googleplay url="https://play.google.com/store/apps/details?id=com.jrummyapps.rootchecker"] If the root is not verified, root the device again and then try this method.
List of Galaxy Devices that Feature KNOX
Our tutorial on removing/ disabling/ uninstalling KNOX might be used to get rid of KNOX on all Samsung devices with Android 4.2 or above. The following Galaxy phones and tablets support Samsung KNOX:
Galaxy Note 3 (LTE, Verizon, AT&T, T-Mobile, Sprint, Rogers, Bell, and other variants)
Galaxy Mega 6.3
Galaxy S4 (all variants)
Galaxy S4 Mini
Galaxy S3 (all variants)
Galaxy Note 2 (all variants)
Galaxy Note 10.1 2014 Edition
Galaxy Round
Removing/Uninstalling KNOX without Root
Samsung KNOX can be removed from a Galaxy device without root access. Just follow the steps given below:
Open the app drawer on your phone or tablet device.
Then tap on Samsung> Samsung KNOX.
When you enter the KNOX Homescreen, tap the Menu button
From the available options, select KNOX Settings.
Then select touch About KNOX> Uninstall.
While uninstalling KNOX, you'll be asked if you want to backup your KNOX data.
To back up your KNOX data, select Backup now, else touch OK button. Make your choice.
Now enter your KNOX password and then select Continue> Next.
All backed up data that does not include your email and app data will be save as Zip to My Files> All> Knox.
KNOX will then be uninstalled from your Samsung Galaxy device.
Done and enjoy! Now your phone or tablet is KNOX-free.
There is yet another way to disable KNOX security on Samsung Galaxy devices without root access. Just install the Package Disabler app from the Google Play store and you should be able to disable KNOX easily:
Disable KNOX Security Using Terminal Emulator
This method requires root access on your device.
Download and install the Terminal Emulator app on your phone or tablet. [googleplay url="https://play.google.com/store/apps/details?id=jackpal.androidterm"]
Launch the app on your device and grant it root permission when prompted.
When you see the command box, type the following command:

su pm disable com.sec.knox.seandroid

Doing this will disable Samsung Knox on your device
Alternate Method To Disable KNOX
Download and install an app that is capable of freezing system apps on Android devices. Titanium Backup is a good option. This method requires root access too. [googleplay url="https://play.google.com/store/apps/details?id=com.keramidas.TitaniumBackup"]
Uninstalling KNOX Apps on Rooted Devices
Download and install System App Remover app from the Google Play Store.[googleplay url="https://play.google.com/store/apps/details?id=com.jumobile.manager.systemapp"]
Open it and do not forget to allow root permission to this app when you are asked to do so.
Find all KNOX agent and all associated apps by typing "knox" in the search box (see below):
Then check/select the boxes before these apps and tap the Uninstall button.
All the KNOX apps will be uninstalled. You should now get rid of it. Enjoy!   Open Titanium Backup when it is installed, grant SuperUser permission to it when prompted and freeze the following apps:
com.sec.enterprise.knox.attestation
com.sec.knox.eventsmanager
KLMS Agent
KNOX
KNOX Notification Manager
KNOX Store
You can also use the Disable Package feature of SuperLockLite Secure Kiosk app to disable all KNOX packages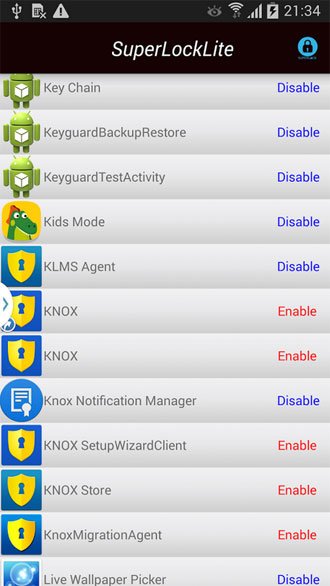 [googleplay url="https://play.google.com/store/apps/details?id=com.superkiosk.ospolice.superlocklite"]
Removing Samsung KNOX Using Root Explorer
If you have root privileges over your Samsung Galaxy S3/S /Note 2/Note 3, there is yet another method using which you can get rid of this irritating KNOX thing.
Install either Root Explorer or Root Browser app on your device: [googleplay url="https://play.google.com/store/apps/details?id=com.jrummy.root.browserfree"] [googleplay url="https://play.google.com/store/apps/details?id=com.speedsoftware.explorer"]
Now open Root Explorer/Browser and navigate to system/app directory.
Tap on the Search icon and type "knox".
Doing this will give you a list of KNOX and its related apps.
Mark all item by checking the box and then tap on the Delete icon.
Select Yes when you are asked if you want to delete the selected apps.
Having deleted these apps, there will still be some KNOX apps left on your phone. Let's now eliminate them too. Go back to the  system/app folder and find the following apps:
Container Agent.apk
Container Agent.odex
KLMSAgent.apk
KLMSAgent.odex
If you do not find KLMSAgent app in system/app directory, look for it in system/priv-app folder. Either mark these items together and delete them or find and remove them one by one.
Disabling KNOX Notifications
Method 1:
If you just want to disable Knox notifications on your Samsung Galaxy device, there is a good app available at the Google Play Store that requires root access and makes the job pretty easier:
Download APK: KNOXDisablerFree_v1.0.1.apk
Here ends our easy-to-follow tips tip on turning all Samsung Knox services off on Samsung Galaxy devices. If you have a question or problem related to the topic, you can share with us via comments. Also, do not forget to give us your feedback on how it worked for. Cheers!
Method 2:
If you keep getting the annoying KNOX notification on your Samsung Galaxy phone or tablet, there is another way you can disable it very easily. This method requires root access on your device and uses the well-known Xposed Framework and its module named Wanam Xposed. Here is how you can do it.
Download the latest Xposed Installer and Wanam Xposed Module on your device.
After activating the module, launch the Wanam Xposed app from the app drawer.
Scroll down to Security Hacks option and tap it.
Then check the Disable KNOX notifications option.
Exit the app and reboot your Galaxy device.
Done!
Want More Tips for Galaxy Note 3?