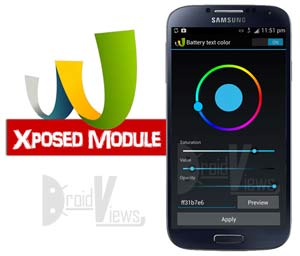 No other operating system for mobile phones is capable of giving as much possibilities of customization as we see and experience in Android. While other platforms are closed for custom development, Android is open source (to a certain level). We have thousands of developers who keep working to satisfy their quench to bring something new each day. We, as users, keep our eyes always open to anything that is interesting and compatible with our device.
Millions of enthusiastic users follow Android as passion. Playing with their device all the time, flashing ROMs and mods, trying new apps and customizing their device in the best possible and unique way— such things are their favorite pastime. If you are one who always seeks for new ways to play with the settings of your device to make it your own, today we have something worth giving a try for you.
This new and easy way of customizing your Samsung Galaxy device has come from the well-known developer Wanam who is recognised for his TouchWiz based ROMs for a range of Galaxy devices. His app, which is called Wanam Xposed works like a module that opens the gate to unlimited customization and tweaking options on any Galaxy device with root access and stock Android 4.2.2 Jelly Bean firmware. The module also works on TW based custom ROMs (testen on Omega).
Wanam's app takes advantage of the famous Xposed Framework developed by rovo89 to give you complete control over your devices. It allows you to tweak various aspects of your Samsung Galaxy device by playing with hundreds of settings options related to notification panel, lockscreen, sound, phone, messaging, system, and security hacks.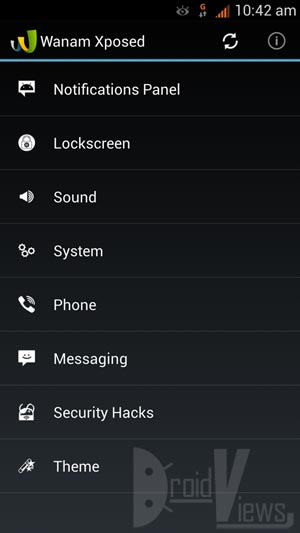 Another interesting aspect of the Wanam Xposed module is that it lets you theme your Galaxy phone on stock ROM. You can determine the color and appearance of the items on the statusbar, quick settings panel and notification center. I played a little with some of the settings of the app and here is the result:
Features of Wanam Xposed Module:
Here is a detailed list of features that you can enjoy with Wanam Xposed module installed on your phone:
Call Recording
4 Ways Reboot (Reboot, Recovery, Hotboot, Download)
Full Color/Transparency customization for Status bar and Notification drawer elements
Secure Samsung Keyboard
Option to keep "Add Call" button with Call recording menu
Disable Camera shutter sound (+Screen Capture)
Flashlight trough volume button UP
Skip Music with Volume buttons
Save Call Logs View
Enable Keyboard Symbols
Enable Hangouts Calls trough cellular
Enable Camera while calling
Unlimited and Customizable Multi-View support
Bypass Exchange Lock check
Notification Panel Customization
Long Home key behavior
Long Back key to kill App (+ white list)
Disable increasing ringtone
Messaging Tweaks (raise limits and conversion)
Disable Scrolling cache
Enable Full rotations
White Circle Battery
Removed Camera permission
Transparent Notifications panel
Customize Clock format and size
Customize Battery text helper size
Customize Quick Settings buttons number per row
White themed Quick Settings buttons
Collapse Quick Settings after toggle
2 line formatted date on the panel header
Dark themed Multi-Window
Disable Boot sound
Customize Two line date header format
White/Black Email App background (Supported on some devices)
Transparent Quick Settings buttons background
Default hidden SMS logs
Add Call button to Logs and Contacts list
Disable Accounts icons on Contacts list
Customize WiFi AP Clients number
Disable Launcher page rotation
Add Exit button to browser
SMS Automatic input mode
Disable Call number formatting
Enable unlimited Contacts joining
Enable Gallery Rotation trough button
Set default Browser view to Desktop
Hide Wireless charging popup
As we mentioned above, Wanam Xposed module requires the Xposed Framework installed on your device. Open Xposed Installed and tap on "Install/Update" button. Then tap on "Modules" tab and select the module you wish to activate and then reboot the device.  If you got root on your phone, just install both the modules that are available as apps and then you will have all customization options at your disposal. Please note that after making and applying the changes, you will have to reboot the device to take effect.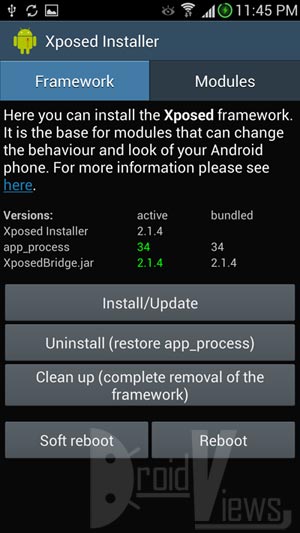 Downloads:
You can also download Wanam Xposed app from the Google Play Store: