The Verizon Galaxy S4 SCH-I545 received the first Android 4.3 Jelly Bean update with build number VRUEMJ7 back in November. To fix some bugs found in that firmware and address stability issues, Verizon rolled the VRUEMK2  OTA update earlier this month. The new update is definitely a welcome thing in that it comes with various improvements and enhancements such as better email connectivity, improved roaming in Canada and Mexico, non-Samsung charger compatibility, better data connections through proxy servers and so on.
However, if you had a rooted Galaxy S4 and you accepted the MK2 OTA on your device, you must have lost your root access. Well, you need not worry since another root exploit for the Verizon S4 on the MK2 build is now available. In many cases, Android phone users shirk from rooting their device because they are afraid of losing the manufacturer's warranty. The Saferoot script by k1mu from XDA does not trip the custom binary or KNOX warranty counter of your Verizon Galaxy S4 at all.
Compatible Devices:
Kimu's root exploit for the Samsung Galaxy S4 is based on another exploit by Cubeuncube and can be used to root most American and Canadian variants of the device. The method is safe to use as its very name implies and works great on builds VRUEMJ7, VRUEMK2, and UCUEMK2 (AT&T).
Canadian Galaxy S4 (Bell, Rogers, Telus, etc.)
UPDATE
To root your AT&T, Sprint, T-Mobile & Verizon Galaxy S4 on Android 4.4.2 KitKat, use Geohot's TowelRoot app.
Disclaimer:
Though Saferoot method described below works fine on the Verizon S4 SCH-I545 and AT&T S4 SGH-I337, we cannot warrant that it is 100% safe. Follow the guide at your own risk.
Prerequisites:
Download the Saferoot.zip file.
Download and install Samsung USB Driver or Kies installed on your computer. If you have Kies, make sure it is not open while you use the root exploit.
Go to your phone's Settings> Developer options and enable USB Debugging. in case you do not find the developer options, follow our guide.
Root Galaxy S4 Using Saferoot:
Extract the Saferoot.zip file.
Connect your Galaxy S4 to computer via USB cable.
Now double-click the install.bat file to run it.
A command prompt window will launch. It will try to look for your device and when it is detected, the Saferoot script will run automatically and attempt to root your Verizon and AT&T Galaxy S4 on VRUEMJ7 or VRUEMK2 or UCUEMK2 firmware.
When the SuperUser is installed to your phone, it will reboot automatically.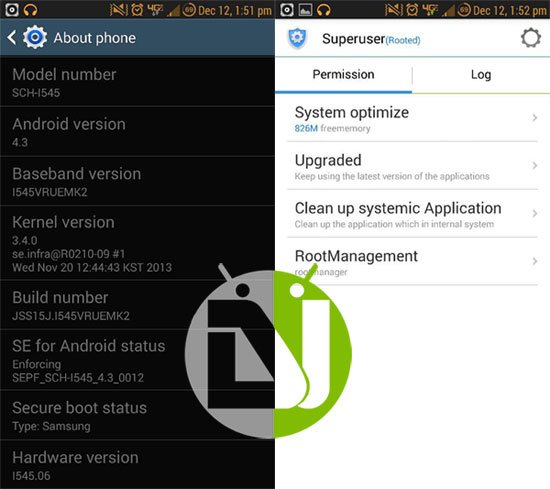 When your device boots up, you should see a new app called SuperSU in the app drawer. To verify root access, install the Root Checker app from the market and run it.
[googleplay url="https://play.google.com/store/apps/details?id=com.joeykrim.rootcheck"]
Want a Custom Recovery?
AT&T and Verizon Galaxy S4 users can try SafeStrap Recovery from Here
Users of Sprint, T-Mobile, and Canadian Galaxy S4 can install their favorite custom recovery (CWM/TWRP) using the following apps.
[googleplay url="https://play.google.com/store/apps/details?id=com.koushikdutta.rommanager"]
Unable to Get Root Access While Being Rooted?