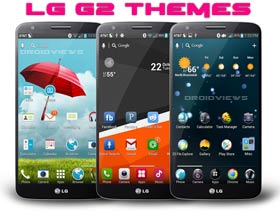 How many of you think that the native support for themes is one of those desirable things in Android that every user misses? However beautiful the user interface of our Android phone or tablet might be, it does not take much time before we get bored of seeing it every day. By using custom LG G2 themes, you can enjoy refreshed user interface on your device.
If there is one modern gadget that humans use most nowadays, it's definitely our smartphones. And since human nature keeps seeking novelty in things, it is but natural to feel the lack of theming capability on our Android device.
In the world of Android, as things go, you can play with different ROMs, mods, and themes if you have a rooted device. One of the greatest reasons why custom ROMs like CyanogenMod, ParanoidAndroid, Carbon, and MIUI are so popular among Android users is that all of them support third-party themes. Those who do not have root access on their phone or tablet have to remain happy with third-party launchers and icon packs for a fresh look.
Among all major manufacturers of Android devices, LG is probably the only OEM that has added theme support to the home launcher of its smartphones. I clearly remember sharing the LG G Pro home launcher app with a bunch of themes for non-LG users a few months and this time we are here to present a big collection of themes for the users of LG's latest flagship.
If you own a shiny new LG G2 (no problem if it is not shiny anymore!) and are looking for some beautiful themes for your superphone, you have come to the right place. Below, you can find a big collection themes that are compatible with LG Home launcher app on various LG phones like G2, Optimus G, G Pro, etc. Just download the theme files, copy them to your phone and install them. You do not need to root your device to install these themes.
Download LG G2 Themes:
Pack of 16 Themes:  G2_Themes.rar
(Note: Download the above zip and flash via CWM or TWRP recovery. If you do not have a rooted device, extract the zip, copy the APKs to your phone and install them manually).
Another Pack of Themes:  maturethemes.zip
New Themes:
MultiHome_Theme_One M8_v1.apk 
MultiHome_Theme_Xperia Z2_v1.apk
MultiHome_Theme_AOSP_v1.apk  
Huawei Ascend P6 Theme LG G2
LG G3 Theme for LG G2
Uninstall or remove your current weather theme. Install the APK file from above and also the Flex theme.
Do not miss!
credits: MrIT