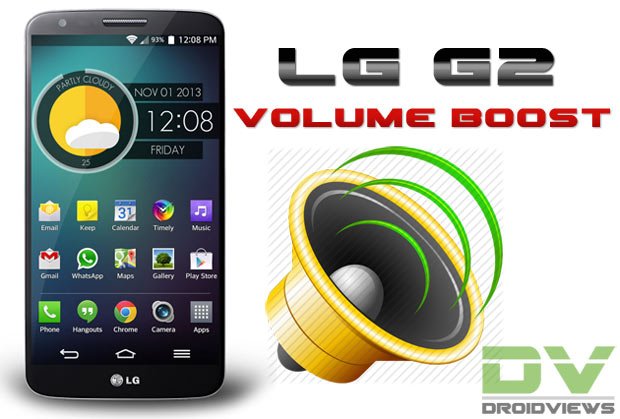 LG's newest flagship, the G2, is a beast of performance and houses some pretty lavish specifications— a mighty Qualcomm Snapdragon 800 Quad core processor clocked at 2.26GHz, 5.2″ Full HD IPS Display, 2GB RAM, 13 MP main camera and a 3,000 mAh Li-Polymer battery. Well, all these stuff  sound really awesome and the phone impresses with its features too. However, there are a few things in regard to which the users of this phone are not quite happy.
First, there are issues related to camera, namely lag while using the camera and comparatively poor image quality. Secondly, LG G2 users are not happy with the speaker and headphone volume output of the phone. We all know that Android is the world of possibilities where any software related issue of a device with a good fan base does not go unattended. We have a big developer community that is talented enough to overcome any hurdle. All I mean to say is, there is a workaround or fix for every known issue on a popular Android device.
If you own the LG G2 and do feel that the speaker volume of your phone is not loud enough, you must be looking for a solution to make it louder. Now we have a perfectly working volume hack mod for the LG G2 that boosts the speaker and headphone volume of this phone noticeably louder. The credit for this volume hack goes to sil0 from XDA. Thumbs up to him!
Compatible LG G2 Models:
The LG G2 Volume Boost Mod improves the audio output to the level of excellence and is compatible with the following variants of the device with stock LG ROM:
AT&T LG G2 D800
T-Mobile LG G2 D801
International LG G2 D802
Canadian LG G2 D803 (Rogers, Bell, Telus, etc.)
Sprint LG G2 LS980
Verizon LG G2 VS980
Korean LG G2 F320L
Features:
The volume mod aims not only on increasing the speaker and headphone volume level, but also takes care that you feel no distortion which is usually found in such volume hacks. Here is how it treats the volume on your LG G2:
Moves volume sweet spot to 50% (by default it is at  80-90%)
Removes need for volume boosting apps
Does not alter DAC raw audio signal quality
Provides optimized signal drive for higher Ohm headphones
Improved audio texture and fullness
Improved low-end at optimal listening levels
Do Not Miss!
Enjoy Sony Xperia Walkman App on LG G2 (All Models)
Requirements:
A rooted LG G2 (any model). If you have not yet rooted your phone, you can do it now. Please head over to our detailed and easy-to-follow rooting tutorial.
A root file browser. I would recommend Root Browser or Root Explorer app: [googleplay url="https://play.google.com/store/apps/details?id=com.jrummy.root.browserfree"]
Download the volume mod file and extract the zip. Make sure to download the correct file if you do not want to mess up things:

LG_G2_Volume_Boost_Mod_AT&T.zip
LG_G2_Volume_Boost_Mod_Canadian.zip
LG_G2_Volume_Boost_Mod_International.zip 
LG_G2_Volume_Boost_Mod_Korean.zip 
LG_G2_Volume_Boost_Mod_Sprint.zip  
LG_G2_Volume_Boost_Mod_T-Mobile.zip  
LG_G2_Volume_Boost_Mod_Verizon.zip  
Warning!
Please make sure that you do not have any other volume mod or volume boost app installed on your device.
Install LG G2 Volume Boost Mod:
Installing the custom volume hack mod is very easy as all you have to is to replace the system file with the one downloaded from above. If you are new to such things, here are the steps to do it:
Unzip the downloaded volume boost mod zip. You'll find a file named "snd_soc_msm_Taiko". Copy this file to your phone.
Launch the Root Browser app and go to /system/etc/ directory.
Find the system file with "snd_soc_msm_Taiko" name and copy it to some folder on your phone as a backup.
Now go to the modded "snd_soc_msm_Taiko" file, tap and hold it and select copy.
Navigate to /system/etc/ folder again and paste it here.
When it asks if you want to overwrite the older file, choose "Yes".
After the system file is replaced, you need to set  permission for the "snd_soc_msm_Taiko" file to 0644, that is rw- r– r–  (Owner= Read+Write, Group=Read and Others= Read) . To know more about how to set file permission on Android, read this guide.
When you have done with overwriting the system file with the modded one, exit Root Browser and reboot your phone. Now test your phone's speaker and headphone volume. You must feel it louder and better than ever. Enjoy!
source: xda