OnePlus 6
Recently, two of the most trending Android devices of this year have been launched. These are the OnePlus 6T from OnePlus and the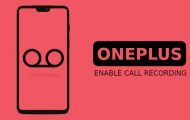 OxygenOS, the OnePlus version of Android that ships on all OnePlus devices, does have a call-recording option built-in. Depending on
If you recently updated your OnePlus 6 to OxygenOs 9.0.2 and are having issues with Navigation gesture, here is how to fix OxygenOS
The OnePlus 6T is the company's second flagship for the year and it replaces the OnePlus 6 as the company's latest.
Google Camera port with Night Sight mode is now available for the OnePlus 6 and OnePlus 6T. Download the latest Google Camera APK from
Hi folks, there's a bad and sad new of OnePlus users as Oxygen Updater will not download OnePlus OTA updates anymore! We have all
OnePlus recently launched the OnePlus 6T, the company's second flagship of the year with minor improvements over the OnePlus 6.
OnePlus 6 is one of the most popular smartphones because of its speed, performance, and high-end specs for a reasonable price. If you
Your phone's dialer is more than just a dialer and it has been so even before smartphones were a thing. Our phones have had