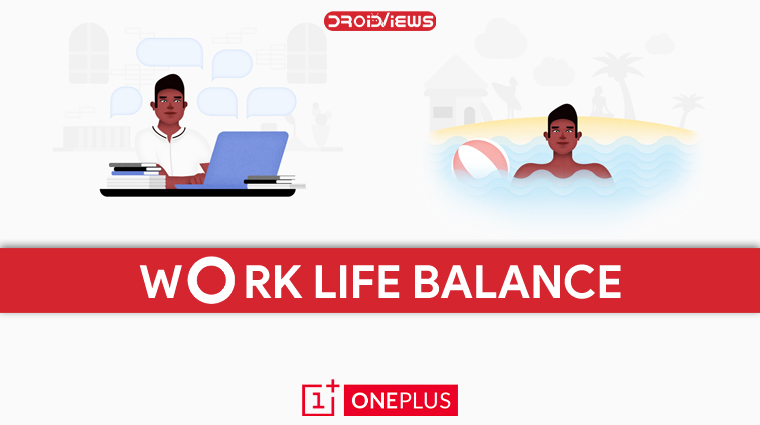 OnePlus has slowly grown from an online-only enthusiast brand to a serious competitor. As a result, the prices of its devices have also risen significantly. The OnePlus 7T is now almost as expensive as the cheapest iPhone 11. OnePlus is also trying really hard in India after becoming the most popular premium brand in the country and the launch of OnePlus Care was one of these steps. Perhaps as a thank you, and in an effort to keep that position, OnePlus had announced a range of India specific features back in September. OxygenOS Open Beta 3 brings one such feature that was announced. The new feature is called Work-Life Balance.
Work-Life Balance
Remember the Profiles feature from old Nokia phones? Those profiles were basically for ringtones, media volume, vibrations, etc. They allowed users to preset certain settings in a profile and easily change a bunch of them by simply switching the current profile. On Android smartphones, you can even add an entirely new user, with a different set of apps, different sound profiles, themes, wallpapers, etc. There's virtually no limit to the number of settings you can configure for these two separate accounts which can even use and sync to separate Google accounts.
It wouldn't be surprising if at least a couple of people in the world use two or three accounts on the same Android device. It can help you use the same phone differently, with different apps and configurations, at work or home or someplace else. However, setting up two or three users definitely requires a ton of internal space. Switching between the two is also not the most fluid experience. Most people also don't need such a drastic change between when they're home or at the office.
The new Work-Life Balance feature by OnePlus takes a more simplistic approach to this. In case we haven't been clear before, Work-Life Balance is an India specific feature. It won't be surprising if OnePlus decides to bring it to other regions as well, but that might depend on how well it is received in India. Instead of separate user accounts, Work-Life balance allows you to simply mute notifications from certain apps, and it happens automatically if you so choose. You can set it to change based on the connected Wi-Fi network, your location, or at a certain time.
For instance, when you're at work, and you're not the kind of person to browse Facebook at work, you can set that or other social networking apps to mute in your Work profile.
Don't Miss: How to Enable Dark Mode in Gmail for Android
Setup the Two Modes
The feature is only available as of now in the OxygenOS Open Beta 3 for the OnePlus 7 Pro and OnePlus 7. It should soon be making its way to the stable OxygenOS releases for the devices. Later, it will also trickle down to older OnePlus devices. If you have the update, you will see a new icon right before the settings icons on the quick toggle/settings panel.
Tap on it and if this is the first time you're doing this, you'll be redirected to a page where you can configure the Work and Life modes. Tap on Work mode or Life mode and you'll be shown a list of all your installed apps. Select all the apps that you would like to mute for the selected mode and tap NEXT.
On the next page, you can also select either of the available automatic switching methods. As mentioned before, you can schedule an on and off time for the selected mode. You can also have it turn on when connected to specific Wi-Fi networks, or when you're at certain locations. When you're done, you can go back and configure the other mode similarly.
Manage Work-Life Balance on OxygenOS
Once you've set up the two modes, you can basically forget about them. If you haven't set up any automatic methods to turn them on though, you can always manually do so. Bring down the notification shade and tap on the same Yin and Yang icon on the quick toggle panel. This time, it will open up to show three options instead. You can select Work mode, Life mode, or neither. If you want to reconfigure a few things, you can do that too. Swipe down on the panel to expand it and tap on SETTINGS.
This will take you to the Work-Life Balance settings page. Here, you can re-configure the two modes and also see the amount of time you spend in the two modes. This can help you create a better balance between the two. This page can also be accessed from Settings > Utilities > Work-Life Balance.
Read Next: How to Unlock Fnatic Mode Easter Egg on OnePlus Devices