OnePlus made an official entry into the US market last year with the OnePlus 6T. However, the OEM has always been nearly as popular as a Nexus or a Google Pixel amongst developers. Just like with a Google phone, every time OnePlus releases a new phone, developers are onto it, trying to find anything that can be brought over to other phones. They've managed to bring the OnePlus 7 Pro Zenmode and Screen Recorder app (APK) to the OnePlus 6/6T and other older OnePlus devices.
Before you scroll down, do not forget to grab the full collection of OnePlus 7 Pro's stock wallpapers (4K & Never Settle versions) and live wallpapers APK files for your OnePlus 6 and 6T.
OnePlus 7 Pro Zenmode
For those who aren't aware, Zen mode is basically OnePlus's version of App timers from Google's Digital Wellbeing. Although Zen mode works system-wide. It means it doesn't lock out users from certain apps, but the entire phone for 20minutes. The threshold limit can obviously be adjusted by the users as per their expectations. This allows users to take a break from the continuous and virtually inescapable flow of notifications, messages, news, etc.
Unlike Google's or Apple's implementations though, you cannot disable Zenmode once it has been activated. It literally forces you out off your phone, which is what Digital Wellbeing should have done in the first place. Perhaps Google was not brave enough, but it's nice to see OnePlus was. When your phone is in Zenmode, it also blocks all notifications and interruptions too. So you not only are locked out, but you also don't receive any notifications or distractions.
Don't Miss: Does Lowering Screen Resolution Increase Battery Life?
It truly helps a user relax and keep distractions out of their minds because there's actually not much that can be done with Zen mode active. You can still make emergency calls or use the camera which is great. It goes to show the company has thought this over. I even tried to restart my phone, and I was very sure this will reset the timer. It didn't. At best, you can see the status bar by pulling it down from the top but that's it. Zen mode really works.
Screen Recorder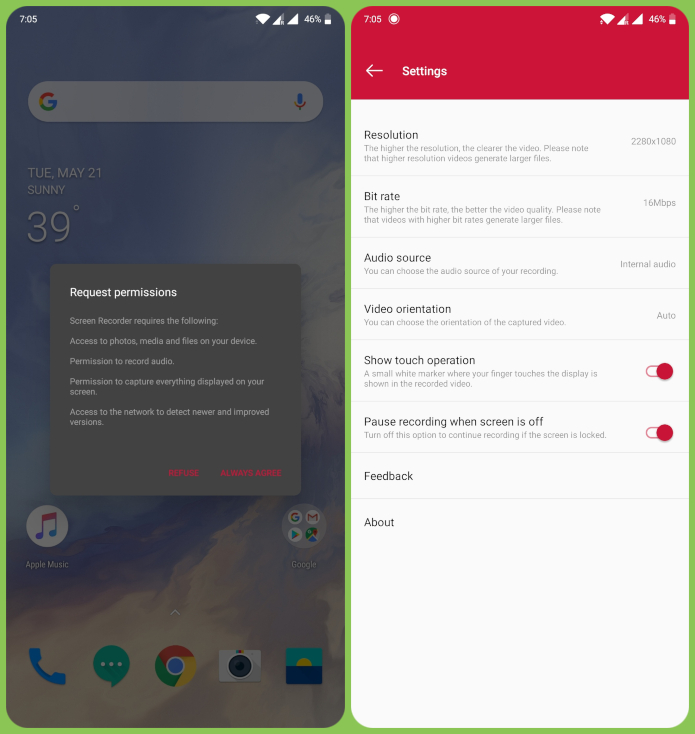 The Screen Recorder actually does what the name would suggest it does and it does it quite fine. Android Q is set to get a built-in screen recorder, as evidence has shown the necessary code to be present in the Android Q beta. OnePlus has decided not to wait around though. The screen recorder is not just a barebones one that we're expecting on Android Q either. It lets you not only record the contents of the screen but also the system audio as well as audio from the mic. You can also change the video resolution.
Download OnePlus 7 Pro Zenmode and Screen Recorder
The APK files have been extracted from the OnePlus 7 Pro OOS 9.5.3 dump by acervenky.
Must Read: Compile and Decompile APK with ApkTool on Windows, Mac & Linux
How to install
Download the APK files to your phone.
Tap on the download complete notification.
Select INSTALL.
When bot the APKs are installed, you'll find the OnePlus 7 Pto Zenmode and Screen Recorder shortcuts in the Quick settings panel.
The OnePlus 7 Pro Zen mode, as well as the One Plus 7 Screen Recorder, should work with any OnePlus device running Oxygen OS 9.0.x based on Android 9.0 Pie. They can be accessed from the Quick settings after you've placed them there.
Read Next: 5 Best Screen Recording Apps for Android