OnePlus 6 Tutorials
OxygenOS on OnePlus devices remains the Android skin to beat when it comes to performance. It is a favorite among Android enthusiasts
Most Android smartphones come preloaded with bloat apps out of the box. We can remove some of the bloatware manually while there are
If you own a rooted OnePlus 6 or 6T, you can enjoy the features of the OnePlus 6T McLaren Edition easily using Magisk. Mclaren Mod
OnePlus 6 and 6T are amazingly powerful devices and the price tag they come with really makes them flagship-killers. However,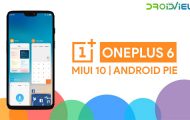 Just like the older versions of the OS, Android Pie tastes different with different user interfaces from specific OEMs. If you have
If you recently updated your OnePlus 6 to OxygenOs 9.0.2 and are having issues with Navigation gesture, here is how to fix OxygenOS
The OnePlus 6T is the company's second flagship for the year and it replaces the OnePlus 6 as the company's latest.
OnePlus recently launched the OnePlus 6T, the company's second flagship of the year with minor improvements over the OnePlus 6.