Android Pie is now running on a total of 10% Android devices around the globe. Android Oreo, is at 28%. Meanwhile, Google has been working on the next version of Android, for now, known as Android Q. At this year's Google I/O, Google released the third Android Q beta. With this, Android Q has beta has also been made available for a number of non-Pixel devices including the OnePlus 6/6T. Yes, you can install Android Q on OnePlus 6 and OnePlus 6T right now.
Android Q on OnePlus 6/6T (Developer Preview 3)
The first major change you'll notice is the new navigation gestures. In Android Pie, Google took a page out of Apple's books and created their own version of gesture navigation. In Android Q, Google is taking the entire book. Android Q does not have a navigation bar with a pill widget. Instead, it has a gesture bar much like Apple, and the gestures are also quite the same.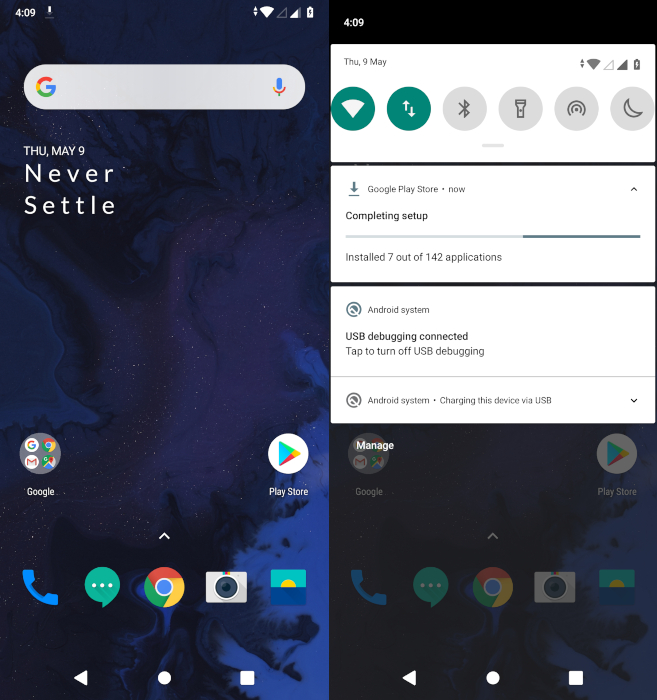 An addition to it is the gesture to go back since Apple devices never had a back button. On Android Q, you can swipe inwards from the side edges of the screen to go back. These gestures though are missing on the OnePlus 6 right now. This isn't the only inspiration Google is taking from iOS. Android Q now allows you to finer controls over how you allow app permissions. For instance, you can allow an app access to your location all the time, or only when the app is open.
Another new addition is that you can have auto-generated subtitles for videos on Android Q, anywhere. The option to enable it is hidden in the Power menu for easy access. Beta 3 also adds a quick setting toggle for a dark mode which was earlier only activated with the battery saver. There's no more share menu lag since the subsystem doesn't have to load up a giant list of apps every time you hit the share button. Instead, app developers can specify certain apps that will be made available in the share menu. You can now see an estimate of the battery life when you pull down the quick toggles.
There are other changes that have been a part of Android Q from the start and have remained mostly unchanged. For instance, Developer options now even allow the option to choose a different accent color and font. Moreover, the theme options are not quite as extensive as OnePlus but it's a start, Power button menu now has an emergency option. Android Q will also allow users to connect to a WiFi using QR codes.
Known issues
Camera, portrait mode does not work
Ambient Display is not working
System stability issues
Encryption will change in the next preview build
Some apps may not function as expected when running on this Developer preview release
Issue With MTP cannot copy rollback from PC to Phone.
Note: Some users have also reported issues such as dash charging not working, weak WiFi and mobile network signals, stuttery or slow performance, etc. So this is clearly not something you want to install as a daily driver. Also, this is clearly very early stages for Android Q on non-Pixel devices. As such, it's mostly barebones Android with a few OnePlus touches here and there.
Requirements
Make sure to take an entire backup of your OnePlus 6. This will ensure that you are not at risk of losing your important data during this process.
Also, you should be updated to the latest version of OxygenOS on your OnePlus 6. The latest version of OxygenOS for the OnePlus 6 is 5.1.5
Apart from that, you need to have at least 50% or more battery life on your smartphone. Thus, make sure to charge your device up to 50% and continue with this process
Download Android Q for OnePlus 6/6T
Don't Miss:
How to install Android Q on OnePlus 6/6T
To install Android Q DP3 on OnePlus 6/6T, first, download the appropriate ROM zip file from the link above.
Transfer the downloaded zip file to your OnePlus 6 or OnePlus 6T and make sure you place it directly in the internal storage, not inside any folders.
Then go to Settings > System >  System updates.
Click on the gear icon in the top-right, select Local upgrade.
Select the zip file you've downloaded and transferred to your phone.
Next, select INSTALL NOW and then select REBOOT when the installation is complete.
Your phone will then boot into recovery mode to format the data. This will wipe out everything on your device. It will reboot again to the system and you should boot right into Android Q.
Read Next: Does Lowering Screen Resolution Increase Battery Life?