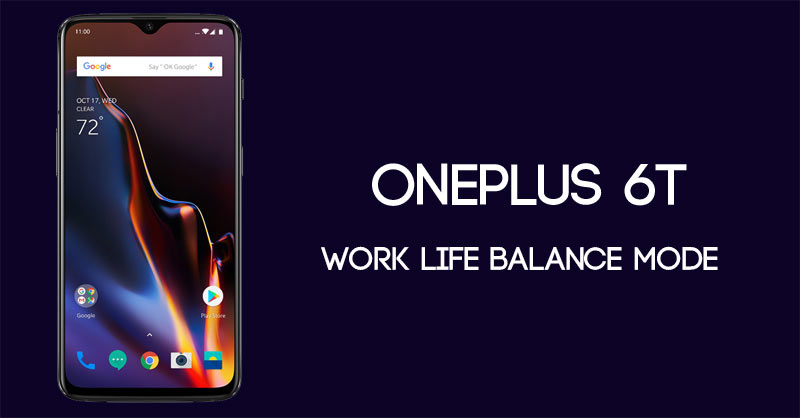 Android smartphones and applications make our life easier. However, over the last few years, experts have been considering smartphones as a distracting element. We will explain how. Does it happen with you that when you are working and all of a sudden notification from any app grabs your attention?
Now, if it's a message from your bank or boss, it is important for you. What if it's some other game app or any such app that is not really important for you to attend to while you're busy in the office. Basically, you have to waste a few minutes of your life to check what the App notification has to say. This way you get distracted from your work.
Is there any way to select a bunch of apps and mute notification from them.? So that you won't get disturbed by useless notifications from them while you are at work. Well, OnePlus has come up with one such feature called Work-Life Balance Mode. In this guide, we will explain in full details about what this feature is and how to use it.
Work-Life Balance Mode
The Work-Life Balance feature is the latest addition from OnePlus to the OnePlus 6T. It is rolling out with the latest OxygenOS Beta 33 for OnePlus 6T. So, if you have a OnePlus 6T and you are a beta user then you should have received this new beta update. Otherwise, you can check for the update's availability by going to the System Updates tab under your device Settings app.
Basically, this mode allows the user to select a bunch of apps on his OnePlus 6T. Then the feature will block the notifications from these selected apps for a certain period of time while he is at work. Let's say the user is at the office from 10 AM to 7 PM. Then within this time frame, he won't receive any notifications from the apps he has restricted.
Once the time frame is over, again he can start to receive notifications from those apps. Well, this is just one part of the story. Work is sorted. But what about Life (after working hours)..?
Now, after the user reaches his home, he would not want to have any annoying messages, calls or WhatsApp text from his boss/office to trouble him while he is chilling at his home.
So, here is how to sort the life after the work timing is over for the day. He can again follow the same procedure as above to select the apps from which he won't receive any notification while he is relaxing, sleeping or spending time with his family members.
So, now we will explain to you how to enable the Work-Life Balance feature on your OnePlus 6T.
Enable Work-Life Balance Mode on OnePlus 6T
First of all, you need to have the OnePlus 6T smartphone with you. Secondly, it should run OxygenOS Beta 33.
After you upgrade your 6T to the latest beta software, you should be able to see a small yin-yang symbol in the pull-down notification center of the device. Otherwise, you can access it by going to the Settings > Utilities > Work-Life Balance.
This is where we begin
Tap on the Yin-Yang symbol (or Work-Life Balance tab under utilities)
Now you will see the Work-Life Balance interface
There are two options, Work and Life.
Tap on Work (as we have to configure the Work mode. Later you can configure Life Mode)

In the next screen, you will see the list of apps on your device
Select the apps by clicking the checkbox beside them from which you don't want to receive any notification while you are busy in your work.
After you have selected the Apps, tap on Next


In the next screen, you can see the option for auto enabling of the Work Mode.
This means you can schedule the time and every day automatically Work Mode will be activated. You won't get any notification from the apps you have temporarily restricted.
You can set the Work Schedule which includes setting a time-frame and the number of days in the week on which the Work Mode will be enforced.

Work Mode by Location
Also, you can restrict notifications from the apps as per the locations you cover in your region. You can set the location on the map. When you are in the pre-saved location, those selected apps will not bother you with any notifications.
How to Configure the Life Mode
This process is no rocket science. Just the way you have set the Work Mode, the same way you can select the apps that won't throw notifications at you when you are relaxing at the home.
You can even save locations to enforce Life Mode. This means if you are at home, pub, gym then you can save these locations on the map. Every time during the selected time and selected days of the week, when you are at those places the apps you have restricted will not perturb you with irritating notifications.
The steps are entirely the same while configuring the Work and Life Mode.
Work-Life Balance is an interesting development from OnePlus. Soon this feature should also roll out for other OnePlus devices as well. We hope that this guide was informative to you. Stay tuned with us for more such interesting guides.