OnePlus devices have among the best smartphone cameras and not many could argue against it. With each new addition to its series, the Shenzhen OEM giant notches up the camera performance to an altogether different level. But still, if you do end up wanting more, there is some good news out there. Google Camera Ports for the OnePlus 7, OnePlus 7T, and OnePlus 7Pro are now available for download. By installing the GCam Port on your device, you might enjoy pretty impressive features like Panorama, Portrait, HDR+, Lens Blur, Photo-Sphere, Photo Booth, Slow Motion, Night Sight among others. So head over to the below section and get your hands on this GCam port.
Google Camera Ports for OnePlus 7, 7T & 7Pro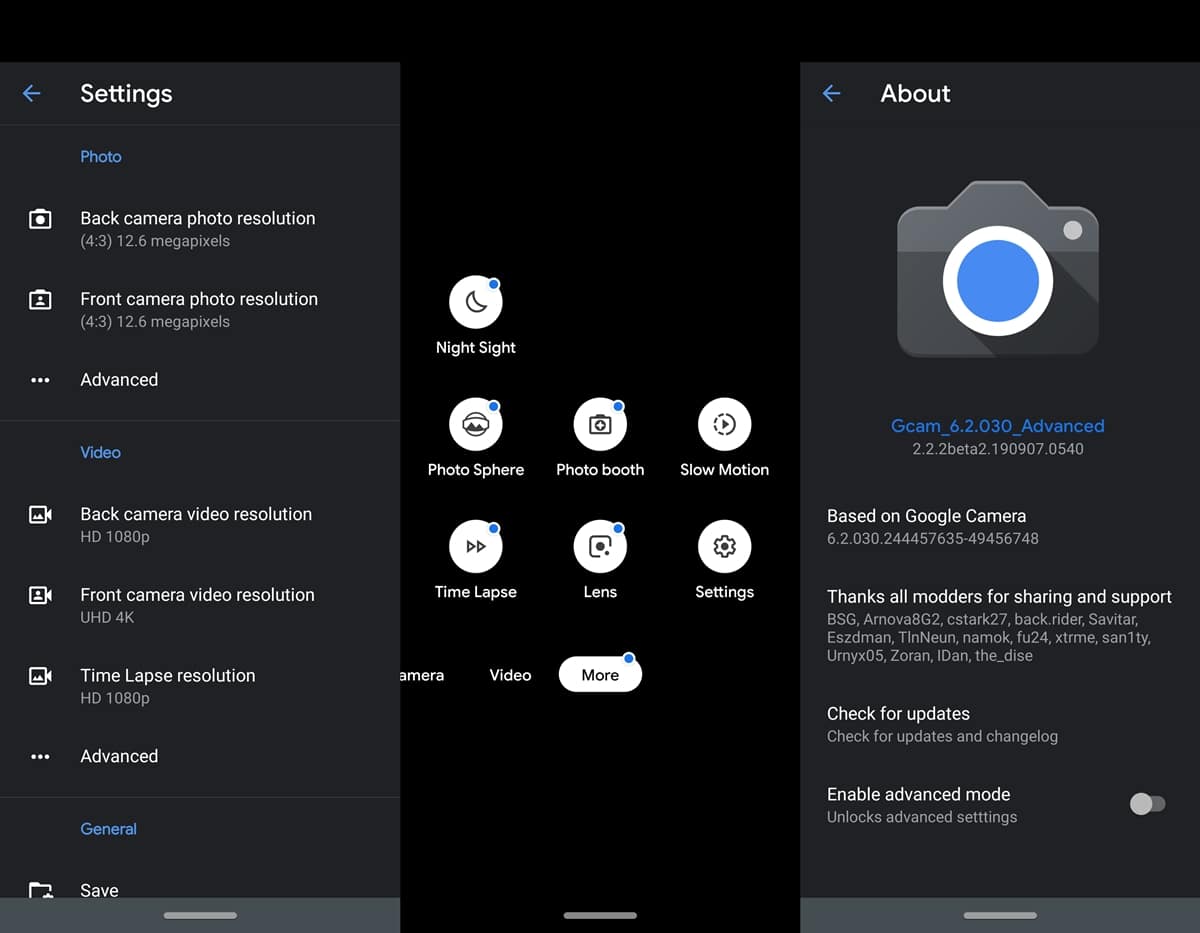 Given below we have provided the Google Camera Ports for the OnePlus 7 series including 7/7T/7Pro.  If you simply install the GCam APK and try, the colors and saturation level will be all blown out of proportion. As a result, the corresponding configuration files in the form of XML files are also provided herewith.
Even then if you aren't satisfied with the results you may go ahead and try out Advanced Settings. These involve setting up a Custom Library. All these instructions are provided in a step by step manner below. So let's begin with the process of installing Google Camera APK on the OnePlus 7/7T/7Pro.
If you are having a OnePlus 6, don't forget to check out the GCam for your OnePlus 6 device.
Download GCam and XML Files
1. Google Camera Ports by Arnova8G2
2. Google Camera Ports for OnePlus 7/7T/7Pro by xtrme
3. Google Camera Port by Urnyx05
Advanced Functionalities
Most of the above XML files should do the job for you. But you could further tweak the Google Camera Ports settings on your OnePlus 7, OnePlus 7T and OnePlus 7Pro to get the most out of it. What happens is that most of these XML files are bound with certain libraries, so until you load the corresponding libraries, you wouldn't be able to get the desired results. So here are the recommended libraries for the corresponding XML Files.
Arnova8G2 GCam 6.2 (Android 9+): For the Hooolm_v10_Savitar_ZA3.xml file, use the Savitar ZA3 lib.
xtrme GCam (Android 9, 10): For the Google Camera Ports on your OnePlus 7/7T/7Pro based on xtrme's GCam, try out the following General Libs Configuration:

Google Stock: High Contrast and Accurate Colors
Xlib: Lower contrast, warm colors and more HDR.
Gmm23: Higher saturation and better skin tone
For Brighter photos: Set skin tone to +0.4
Sharpness: 1.5 for Night Photos or 0.5 for selfies (1.0 is the Gcam default).

Urnyx05: Try the following settings for Google Camera Ports based on Urnyx05, on your OnePlus 7/7T/7Pro:

For Daylight Photos- LIB: Fi v4b | AWB: [OFF] or [Pixel 2]
Night photos- LIB: Saves v1 | AWB: [Pixel 2] or [Pixel 3]
Aux & Front Camera- LIB: Saves v1
Installation Instructions for GCam, XML and Libraries Setup
Now that we have provided you with all the required Google Camera APK and its respective XML files (plus libraries) for the OnePlus 7/7T/&Pro, its time to make full use of them. Follow the below instructions to set up each of them separately.
Installing Google Camera Port on OnePlus 7/7T/7Pro
Installing the Google Camera is pretty easy. All you have to do is tap on the desired GCam APK and install it as any other normal APK. You might need to allow installation from ''Unknown sources' on your Android device.
Placing the XML Files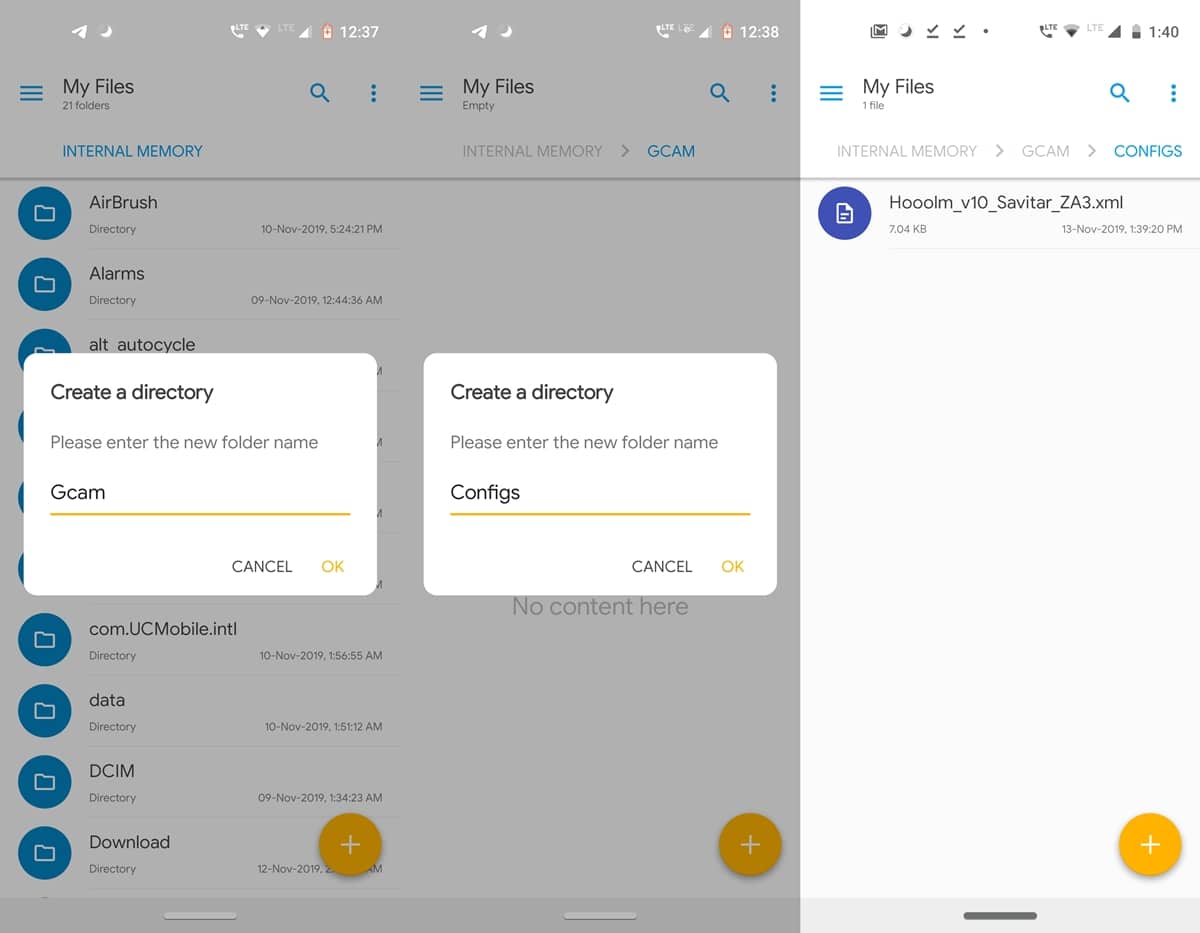 On your OnePlus device, create a new folder named GCam in the Internal Storage.
Inside the GCam folder, create another folder by the name of Configs.
Place the XML file corresponding to the installed Google Camera APK inside that Configs folder on your OnePlus 7/7T/7Pro device.
Now open the GCam app and double tap on the dark region between the camera shutter and image preview.

In the Choose Config dialog box, tap on Restore. For some GCams, this process needs to be done twice for the XML file to be loaded.
Setting up Google Camera Libraries for OnePlus 7
Now that you have installed the Google Camera APK on your OnePlus 7/7T/7Pro and placed the XML files, its time to set up the libraries. This is how the Libraries are configured:
Open the GCam app on your OnePlus device and click on More.
Navigate to Settings and select the Advanced option under the General section.
Search for the Custom Libs feature.
Finally, tap on "Get Updates" and choose the appropriate library for your XML file (as explained under the Advanced Functionality section above).
So these were the steps of installing Google Camera APK on your OnePlus 7/7T/7Pro device. Moreover, we have also provided the Config XML files and the instructions to set up its corresponding libraries. Do let us know if you face any issues with respect to installing or setting up any of these files on your device.
Read next: Google Camera APK for Honor Play & Huawei Mate 10/Pro