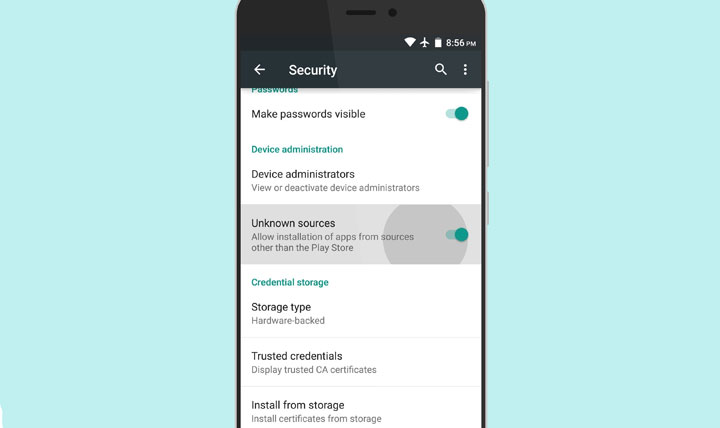 The primary source for installing apps on an Android device is the Google play store. It is one of the few sources you can blindly trust for providing safe & secure apps. Another option of installing apps is to sideload them. Sideloading simply means installing an app outside of the official play store. And, to do that, you have to enable the unknown sources option in the security settings.
What Is An Unknown Source?
An unknown source is such a source of apps that are not trusted. So, who decides which source is trusted & which is not? Well, Google does. And, not only Google, any company that you have paid money to in order to use their products or avail their services can tell you which source is secure. For instance, Google tells you that the play store is a trusted source. Samsung tells you that the Samsung store is a trusted source. Amazon tells you that the Amazon app store is a trusted source. So, why is that different companies call their source trusted & want you to use them? Because you have paid for it. Every company want their users to have a safe & secure experience; it's that simple.
Why Does Unknown Source Setting Exist?
Again, it's very simple – people don't like being told what to do & what not to do. The unknown sources settings exist just to give you a choice. Whether you want to use it or not is totally up to you.
It's not a good idea to give any unknown app access to your device. You never know which one could be a malware in disguise. That's why, even though Google provides the option to install apps from unknown sources, it's not enabled by default. You have to turn this setting on & by doing so you voluntarily allow apps from unknown sources into your smartphone.
Related article: How to Enable 'Unknown Sources' or Install APK Files on Android Oreo
Are Unknown Sources Bad?
Not all unknown sources are bad. There are a lot of trusted places to get apps & there is no need to turn on unknown sources in the first place. But, if you do turn it on, make sure to turn it off after you are done.
Even though you install apps from unknown sources, you are still protected. How?you ask. Google scans each and every app you install on your device no matter what its source is. Every phone running Android 4 or higher that has Google play services installed has various protection measures built in. But, not every protection measures is 100% full proof. That's why it is recommended to keep this setting disabled when it's not in use.
With Android Oreo, the way unknown sources worked is changed for good. On Oreo & above, instead of as a one-time enabled feature, unknown sources work as permissions. What this means is that every time you install an app from unknown sources, you will be asked to grant it permission. From now on, an app will not be able to trick you into installing other apps as you have to say yes each & every time you install apps from an unknown source.
So, that's our detailed information on unknown sources. Now you know about all the goods & bads. In the end, it's your choice whether you want to enable it or not.
Don't miss: How to Avoid Downloading Trojan Virus on Android Devices