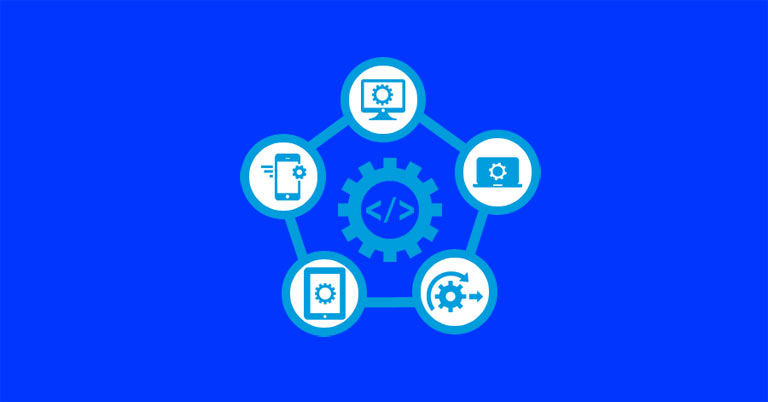 If some 10-15 years ago, humanity perceived software as a small part of their life, which only helps in performing specialized tasks, now it has actually become its life. It is with us at work, travel, leisure, sleep, and even now, reading this article, you are using some kind of application, and several more are open in the background. Let's see how custom software solutions can help you boost your business.
According to a study conducted by We Are Social website experts, in 2019 the number of Internet users grew to 4.39 billion (+ 9%) compared to January 2018. Moreover, today in the world there are 5.11 billion unique users of mobile devices, which is 100 million (+ 2%) more than in the last year. In other words, whatever your target audience is, it is very likely that it spends most of its time in the Web and various devices.
Business was one of the first to understand that the secret of its development is digitalization and creation of its own software products in various environments, whether it be the web, mobile, desktop or IoT. Companies that have not adapted their work using digital solutions are already becoming history. Moreover, underestimating the importance of their own software as the main component of their business successful development is a deliberately losing strategy.
But let us leave the lyrics and reinforce the written above with facts. For 2019, software has become one of the major investment expenses of large companies.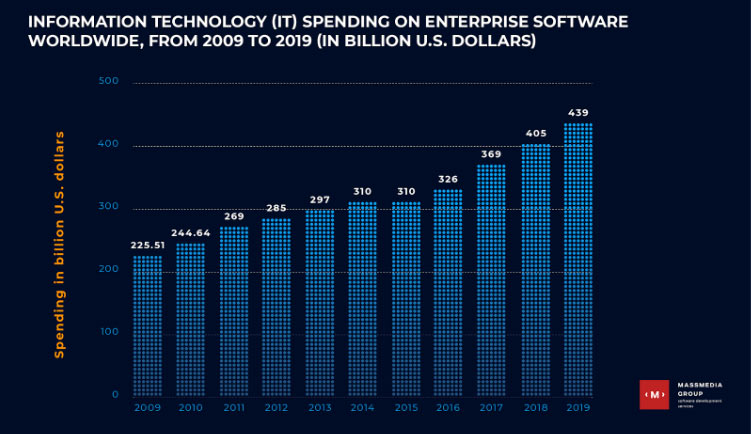 As you can see from the graph above, the amount spent on software has almost doubled over the past ten years, and according to forecasts, this trend will proceed.
Rapid change has a strong impact on overall investment in the R&D industry. In the first half of this decade, companies have increased the average distribution of R&D for software from 17% to 21%. Over the past five years, total research and development spending for the Global Innovation 1000 has increased by 34%, to $ 680 billion.
The result: an increase in spending on research and software development by 65%, to 142 billion dollars. Over the same period, spending on research and development in the service sector grew by 36% to $ 257 billion. The value of the proposals, although it decreased as a percentage of the distribution of R&D, increased by 21% and amounted to 280 billion US dollars. The only thing growing faster is the number of new Netflix subscribers:)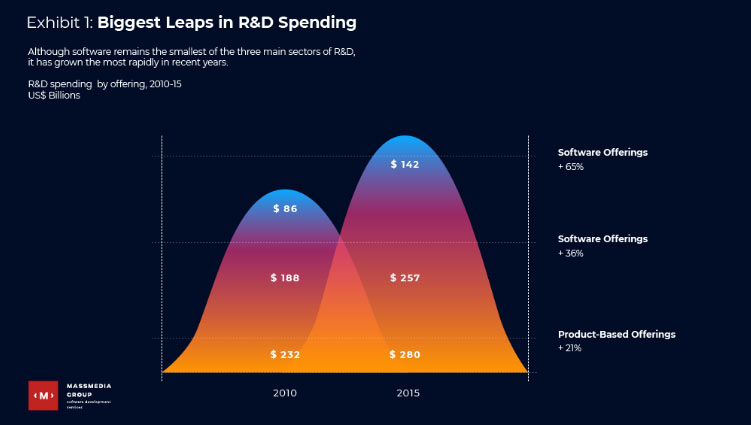 The share of R&D spending in software has been growing since 2010. At the same time, 59% of respondents said their companies spend 10% or more on software development. By 2020, 77% expect to spend at least this amount.
All this abundance of numbers and boring statistics says only one thing. Large companies understand the importance of developing this area both now and in the near future. Nevertheless, primary function of software is to satisfy the specific needs and requirements of the company or its target audience. The process of developing such solutions is called Custom Software Development, and within the framework of this material we will talk about the special form of this service, namely Custom Software Solutions. This type of software solutions involves a wider and more comprehensive approach to creating software and provides a number of pleasant advantages. Let's see what they are.
Custom software solutions designed specifically for your business
The concept of custom software solutions implies the creation of a new product from scratch or a substantial refinement of an existing custom project. A distinctive feature of this service is the development of a product for specific customer requirements, and the result is a ready-made individual web, desktop, mobile or IoT (or maybe all at once) application that fully meets the requirements of customers and perfectly fits into their business.
Custom software solutions consists of 3 key steps
IT consulting

is part of Custom software solutions, which includes evaluation, planning and preparing recommendations for creation and integration of software in terms of business processes, IT infrastructure, costs, as well as technical aspects.

Custom software development

– the direct process of developing and deploying custom client software.
This stage can be divided into several points:
custom software development;

design;

testing;

application launch and deployment
Software maintenance

is the final phase of Custom software solutions, following the phase of software transfer to operation. During maintenance, a number of changes can be made to the application, for example, the addition of new functionality in order to increase the usability of software. In addition, at this stage can be carried out the correction of defects and bugs discovered during use.
This approach significantly increases the final effectiveness, and also avoids possible errors in the process of creation and operation. As you can see, Custom Software Solutions is not just a complete development cycle, it is also consulting, prototyping, support and much more that gives the so-called "turnkey solution".
How it works?
Let's take a look at each of the above items in more detail.
The first link is IT consulting – a service that allows you to accurately understand the specific needs of the client, provide assessment, planning and recommendations for product development that will bring the best result. In total, the client will receive exactly what they expects, since at this stage all the needs of the customer are determined, business logic, adaptation to the business model are taken into account, the architecture is thought out and possible errors are identified in order to avoid them in the future.
At the preliminary stage of IT consulting, an agreement is concluded using an internationally recognized template, where all of the above is written down.
This is followed by direct development using various methodologies. Methodologies can be either flexible (Scrum, Kanban), sequential (Waterfall) or combined – the only thing that matters is that the chosen methodology suits the customer. During the development process, constant communication with the client is provided to monitor and coordinate all the nuances.
After the design has been developed for the application, as well as manual and automatic testing, it will be ready for release.
The final stage, post-release maintenance, includes comprehensive product service after its launch. During this stage, productivity, high-quality updates, processing of reports on work experience and the introduction of additional features and corrections based on the results of operation are ensured.
Who is custom software solutions best for?
Young companies that need to implement an innovative idea. For such companies, first of all, it is necessary to create a unique product, for a unique business model with functionality which wasn't encountered previously.
Companies that need innovation
Companies that need to implement innovative solutions in order to reach a new level in their niche and market. An application can give such company a huge competitive advantage, especially if the existing solutions in the industry are obsolete.
Companies whose main profile is the introduction of new technologies into life, and which need software for this purpose. Such companies may specialize in blockchain, Big Data, robotics, etc.
Of course, there are alternatives to custom software on the market. However, each of them has its own advantages and disadvantages. Let's take a look at the existing solutions, as well as their pros and cons in more detail.
Mass market software = COTS (commercial off-the-shelf software) –  software which is ready and accessible to the general public. COTS products are designed to be easily integrated into existing systems without the need for customization. Also: commercial software, packaged software, out-of-the-box software, ready-made software, "canned" app.
Pros:
The initial price may be relatively cheap, since the costs are distributed among a wide range of users;

The software can potentially be quite perfect because of the resources invested in its development;

Short implementation period;
Cons:
May have an annual payment;

Does not meet ALL customer needs, at the same time there are many functions that aren't used;

Poor adaptation to company scalability;

Software is not configured individually;

License availability – inability to add features;

Developer may stop supporting and developing the software, and it is also not clear how the software will be updated in the future;

Your competitor may have the same software;

The same software does not belong to you.
Low-code development platform (LCDP) – software that provides programmers and employees without technical knowledge, an environment for creating application software through a graphical user interface and configuration, instead of traditional code writing.
Pros:
Relieves the needs of the company in the implementation of point solutions, when a person who knows the problem comes up with an IT solution for it and can implement it

itself

without deep technical knowledge;

Allows developers to work on existing templates, which greatly speeds up the work;

Development speed.
Cons:
Ease of use and stereotyping do not make it possible to create a fully functional, comprehensive custom solution;

Payment may vary depending on the required storage, server resources, number of pages.
Value-Added Resellers (VARs) – companies involved in improving existing products and providing customized solutions for consumers. They also combine components obtained from different suppliers to create a new system according to customer requirements.
VAR's goal is to provide solutions that are ready to use and tailored to customer needs.
Pros:
Usually cheaper than custom software, at least  short intervals and not taking into account the competitive advantage that a properly built custom software can provide;

Initial focus on resellers;
Cons:
There are limits to the customization of finished products;

The right to software remains with the vendor and your competitor may have the similar software.
As you can see, there are alternatives to custom software, but each of them does not take into account a number of important points that are critical in the face of great competition and a changing market. Therefore, if you need a functional and effective solution that belongs to you, made for you and at the same time has the ability to introduce new features at any time, then custom development is exactly what you need.
The main advantages of custom development are as follows:
Personalized solution, which contains only the functionality needed for the customer;

The price in the long run is more attractive compared to software for the mass market.

The same cost of using for any number of users;

The product can be designed for future architecture and scalability;

Increased security, since hackers cannot know the vulnerabilities of all custom solutions;

Ease of use and increase productivity of employees;

Flexibility and scalability required for business growth and changing market conditions;

Software rights belong solely to the customer;

Competitive advantages of using such solutions;

Ease of employee training, due to the fact that software is built around the company's business processes, and therefore is less alien and will be easier to implement;

Software won't stop working due to the closure of the supplier's or developer's company;

Software adapts to the concept, strategy, business processes, previously evaluated with the help of IT consulting;

Possibility of stage-by-stage development: for the client, the plus is that you can start using part of the software earlier, start the return on investment earlier and stretch the development cost over time.
Of course, there are objective disadvantages, namely:
Initially high development cost;

There is no possibility of a demo or trial mode (unless the developer has a similar application for demonstration);

You can make a mistake with the choice of a developer company;

Long software development time;

Not every development company can correctly and fully identify the needs of the customer;
However, most of the shortcomings can be overcome by a competent approach to finding a developer company, providing detailed advice, performing work as quickly as possible, having the necessary experience, and also offering optimal rates.
So, in conclusion, we can say for sure – the game is worth the candle!
Why is it important?
The world does not stand still, moreover, we are on the verge of the 4th industrial revolution. Moreover, according to some experts, this revolution has already begun. Whatever the truth, it is impossible to deny that such phenomena as:
Big data;

Internet of things;

Virtual reality;

3D printing;

Quantum computing;

Blockchain
already become a part of our life. And they are based on the software.
According to Forrester Research Inc, the software development market will continue to grow rapidly in the near future! The same goes for custom software. Even today, the custom software market is valued at $ 130–140 billion, and it is believed that it will continue to grow.
To date, global software investment has reached an astronomical figure of $ 2.3 trillion.
In such a conditions, the question of how to prepare a business for the digital economy becomes incredibly relevant. Only unique products survive. Products that can give their target audience as much as possible, satisfy its needs better than others. To do this, you need to not only interact with users, but give them new methods to satisfy their needs, collect experience in communicating with them and find out their problems for the subsequent improvement of the service.
Another aspect is the ability to optimize and adapt processes within companies so that they are as fast as possible and with minimal costs give a qualitative result.
Needless to say, the most optimal way to do all this is to create your own application that is able to provide all of the above and is integrated into your business model. In addition, the key to survival are established processes and the quality of management, and most importantly – the ability to quickly change. Here suits the phrase of old man Darwin "It is not the strongest of the species that survives… it is the one most adaptable to change."
After all, about 137,000 new young technology companies are born every day, and this figure reaches 5 million a year. However, 90% of them fail … If you make simple calculations, 123,300 fail every day, and while you were reading this article, 85 businesses were probably shut down.
Looking at these disappointing statistics, you begin to understand how important it is to have planning, organization and control tools that can adapt and change with the market. An ideal tool in these conditions is custom software solution, which is not just created for the company, but also supported by it, quickly brings in the necessary features, reconfigures everything to fit the needs and market. A complexity of this kind can only be provided by custom solutions.
How to spend less but get more?
Despite the fact that many analysts talk about this type of software as rather expensive, there are ways to get a quality product by spending a relatively small amount of money.
So how to reduce the cost and get a quality service? The answer is IT outsourcing. In essence, cost reduction is a major factor in favor of IT outsourcing of software development to third-party developers. Thanks to IT outsourcing, a company can reduce costs to a large extent due to the fact that the cost of outsourcing is much lower than that of local specialists.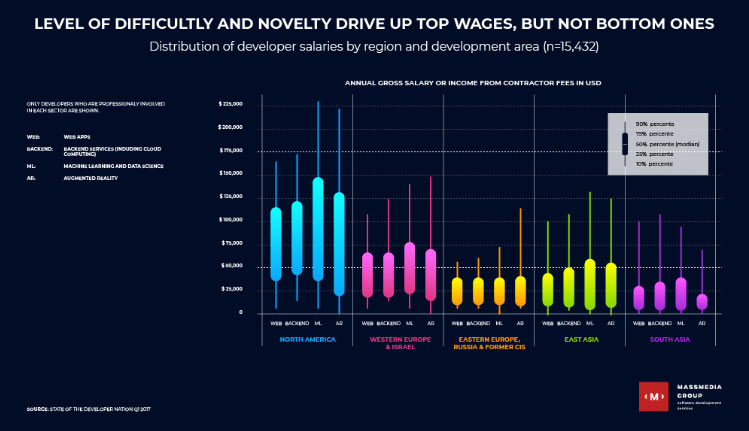 One of the most optimal regions for developing custom software is Eastern Europe, and among the countries in this region, Ukraine. 
Why Ukraine?
As you can see, prices in Ukraine are higher than in most Asian countries, but lower than in other regions. However, the quality of Ukrainian developers work is much higher than in Asia. As evidence, we can cite the fact that in Ukraine there are more than 100 research centers with more than 12,400 employees (Microsoft, Samsung Electronics, Apple, Wargaming, Skype, eBay, IBM, Oracle, Siemens, Ericsson, Huawei, Upwork, Grammarly, ABBYY, Opera Software, Boeing, etc.) Annually, there are more than 380,000 new IT graduates (as well as those who attend specialized IT courses).
The Ukrainian IT market is full of creative ideas and boasts over 2,000 startups, including Grammarly, InvisibleCRM, Readdle, Jooble, PetCube, Preply, DepositPhotos, TemplateMonster and Attendify.
As you can see, the statistics are impressive. However, numbers alone are not enough. Even giving preference to this region, it is also important to find a developer company that has the following qualities:
Focus on reliability and safety
This is the most important moment without which productive cooperation is impossible. When signing a contract, it is advisable to use official data protection laws, so that non-disclosure and protection of your corporate data is guaranteed by law. It is also desirable to store data on European and American servers, which are completely safe and reliable.
You need a team of professionals. The optimal result, if the company already has a number of successful projects that clearly demonstrate experience in custom software development.
Ability to develop a product from scratch
It's good if you already have certain solutions that just need to be improved, but it often happens that you need to develop a product from scratch. In such situations, you need a team that can do this.
A code warranty is a measure of product confidence. Even better if it's a lifetime warranty.
The quality assessment process is one of the most important aspects of software development. It is not recommended to contact companies that do not have this stage.
No matter how good the product is, something always goes wrong. In such situations, technical support is needed. The best way is for the development company to have this option in their list of services.
Choose a company for which it is commonplace to keep in touch with the client and adapt to their time zones, as well as instantly answer any of their questions.
Really good technical partners offer honest and open prices, which means that you can see how much each stage of development costs and thus understand what you are paying for. It will be also great to receive an internationally recognized contract in which all your requirements are documented.
To summarize all of the above, we can say that Custom Software Solutions is not so difficult if you work with professionals. At the same time, its implementation allows to achieve great success and obtain undeniable competitive advantages. Custom software is efficiency, flexibility and full compliance with your business and its goals. To learn in more detail what this can give and how to do it, simply follow this link. Custom Software Development has been the core business of the MassMedia Group for 12 years and we are so confident in our services and the quality of the final solution that we are ready to provide a free lifetime warranty for.
Read Next: Past and Future of the Linux Kernel on Mobile Devices