Discussions
Smartphone battery life is one of the biggest gripes that the current-gen of uber-social users have. Although there are certain
Google recently launched Android Q beta versions for limited devices. This is a super early vision of what Android Q wants to be like.
In the recent past, our payment systems have gone digital. You now rely on the digital payment systems like the UPI, wallets or the pay
Today, we'll be discussing all the aspects of display and touchscreen. The mobile phone display has evolved much over the years.
In a battle of notch vs hole-punch displays, which actually wins the favor? Which one do you prefer? As for my opinion, I hate notch
Like any other field impacted by technology, education has faced both advantages and disadvantages of tech. Policymakers, tutors, and
Which operating system do you think will supersede if we compare the OnePlus' OxygenOS vs stock Android? I own 2 phones, one with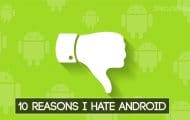 Android is undoubtedly the most popular operating systems because of its variety, flexibility, and ease of use. However, there are