Google recently launched Android Q beta versions for limited devices. This is a super early vision of what Android Q wants to be like. Android has evolved a lot since it's inception. However, there are still a lot of missing features in Stock Android that would otherwise have made the OS even more versatile. We miss these features especially because other OEM's provide them.
As a reviewer, I use multiple devices within a month. Sometimes, I get used to some of the features of the particular OS and when I shift to other OS it gets really hard to live without that. This is a compilation of features that are missing on Stock Android.
5 Features I miss on Stock Android
Long Screenshots (Scrolling screenshots)
Scrolling screenshot refers to the screenshots which automatically scroll down to capture more details. It has numerous use cases and I get surprised after every new Android release to see that it doesn't support it. I personally love using it to capture a webpage or a thread on twitter which I want to share among my friends. A lot of times, it is also helpful to capture the chats of WhatsApp or other messaging platforms.
It is surprising to not have this feature on Stock Android because it has been there on other Custom OS for as long as 3/4 years. Oxygen OS was among one of the first Android Skin to have this feature. To take the scrolling screenshot on Oxygen OS you have to swipe three fingers down on the screen and press the scrolling screenshot icon.
Gaming Mode
Gaming on Mobile devices has become really popular these days. Smartphone manufacturers have started creating features to enhance the gaming experience. Almost all smartphones come with a Turbo Mode, Gaming Mode, Boost mode to enhance the gaming experience.
I would again take the example of OxygenOS to show how it really helps in day to day usage. Once you turn the gaming mode on, you have a couple of features you can toggle on. It is really sad to see that on Stock Android you do not have any feature what so ever related to Gaming Mode. Learn how you can get Gaming Mode on any Android device.
Answer Calls via Speakers
This feature allows you to play the game without any distractions of calls. If you get a call when the gaming mode is turned on then it automatically receives the call and puts it on speaker. This is a huge advantage while playing online competitive games like PubG clash royale, etc.
How to show Notification
This feature allows you to change the notification display on your smartphone. I personally love to use the Text only mode which gives a transparent background to the notification and shows only the text. This is again a huge advantage while playing the games in landscape mode where the quarter of the screen is covered by the notification.
Notifications for 3rd party calls
I'm not sure about you but I have some annoying friends who tend to disturb me by doing a WhatsApp call or Google Duo call while I'm playing games. All these social media apps take up the entire screen when they place calls. This feature allows you to make them as a notification so that you don't get disturbed while playing the game.
Lock Buttons
This feature locks all the buttons when you start the game. This ensures that you don't accidentally click any button.
Don't Miss: Add Widgets to Android Screensaver with Widget Screensaver
Themes
Android is known for its customizations and theming. However, Stock Android really does not offer any customization on the UI level as of now. You can download third-party launchers to change the look and feel of the app, but you cannot do it on the system level. Xaiomi has been killing it on that end. You can also create your own theme for the public via Xiaomi's design website.
There's a different app all together named themes where you can change the theme of your device. It not only helps to change the look and feel but also helps in getting a few features on your device which are not available by default. For instance, when Poco F1 was released there was no option to add the battery percentage on the Status bar via its UI settings, however, it was made possible by downloading a theme from the themes app.
I also love how Oxygen has minimal UI changes on their device. You can change the Accent color of the System to your liking by going to themes. Android has been really kind and they have launched the dark mode recently with Android Q which will be released soon.
Parallel Apps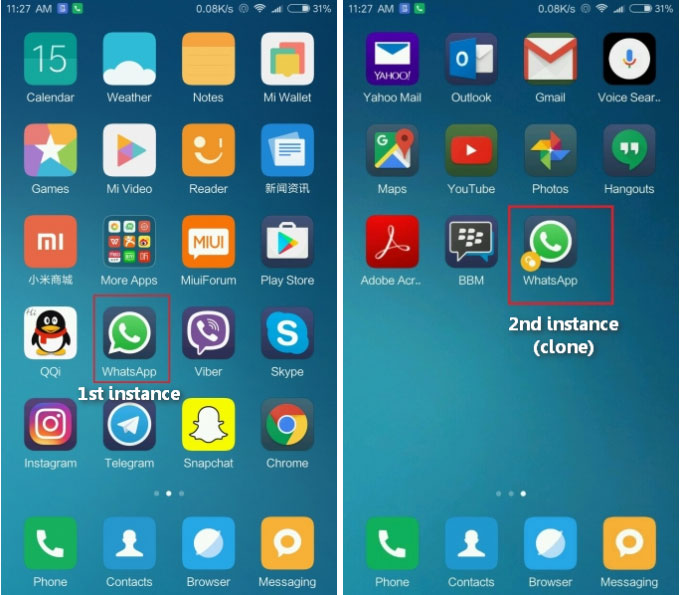 It's no brainer that people need to use a single app for different use cases. In India, there's a trend to have two sim cards. This, in turn, creates the need for two WhatsApp on one device. Ideally, there's no way you can do this via Stock Android. This is where other OEM's come in. Almost all the smartphones with Custom Android Skin offers the feature of using one app multiple times. It is named as a parallel app, clone app, duplicate app in different OEM's. I wish Stock Android brings this feature in the future.
Pro Mode on Camera
Google Pixel is one of the best examples of How Google wants Android to be. All the features mentioned earlier are missing in Google Pixel and this is yet another useful feature missing in Stock Android. Although Google Pixel is one of the best camera smartphones you can get in the market today, it lacks a basic camera feature which is really surprising. None of the Pixel devices comes with a Pro Mode on Stock Camera app.
Almost all other smartphone comes with the Pro Mode for the camera. In fact, some of the manufacturers leverage and create campaigns on it. With the Pro Mode, you can adjust ISO, aperture and shutter speed to capture mind-blowing images. You may also read our guide to learn using the Pro Mode to capture unique and sharper images.
Conclusion
Although I don't love a heavily skinned UI, I have learned that giving out a few additional features helps to retain a customer in your ecosystem. After using OnePlus devices for a while, I find it really hard to switch to some other OS. There are simple features like the few mentioned above which I miss on Stock Android. Google is also trying its best to bring new features to Android but at its own pace. Dark Theme in Android Q is a great example of Google trying to improve its OS.
In the end, I would not push any version of Android to you but I would like to conclude with a popular saying.
To each his own.
Read Next: 10 Things I Hate About Android – By an Android Fanboy