One thing for which Android OS has been more often than not criticized is the lack of regular and quick updates. It has to cover some grounds before it meets the expectation of the masses. But Google is always on the move in making these updates as fast and efficient as possible. And it's the latest project, Project Mainline, that will surely help him in making these updates reach everyone much faster and in a more efficient manner. So, what is Google's Project Mainline, what are its components, how does it work and how will it affect us as Android users? You'll find the answers below.
Mainline will make its way alongside Android 10. Now that the latest Android version is already in the market, expect this Project to make its way pretty soon as well. With that said, let us now begin this detailed article on Project Mainline. Also, don't forget to learn about what Android Security Patches are and should we care about them?
What is Project Mainline?
Project Mainline is the latest project by Google that will allow it to deliver updates of core components of Android pretty quickly. But this update will not be in the form of OTA or System Updates, rather these updates could directly be downloaded and installed from the Play Store. This will make your device receive critical Android updates a lot faster.
Reason being the fact that mobile manufacturers no longer need to act as a middleman. Earlier  Google used to release important software updates and device manufacturers would then take it from them to optimize it according to its device specifications. But now, Google will make these updates available for everyone, hence the manufacturers can take a backseat. Google further states that
"With this approach we can deliver selected AOSP components faster, and for a longer period of time — without needing a full OTA update from your phone manufacturer".
We could only imagine that Project Treble introduced by Google alongside Android Oreo, truly laid the seeds for Project Mainline. Now that Project Mainline is making progress, let us have a look at what all kinds of updates will it be able to provide.
Components of Project Mainline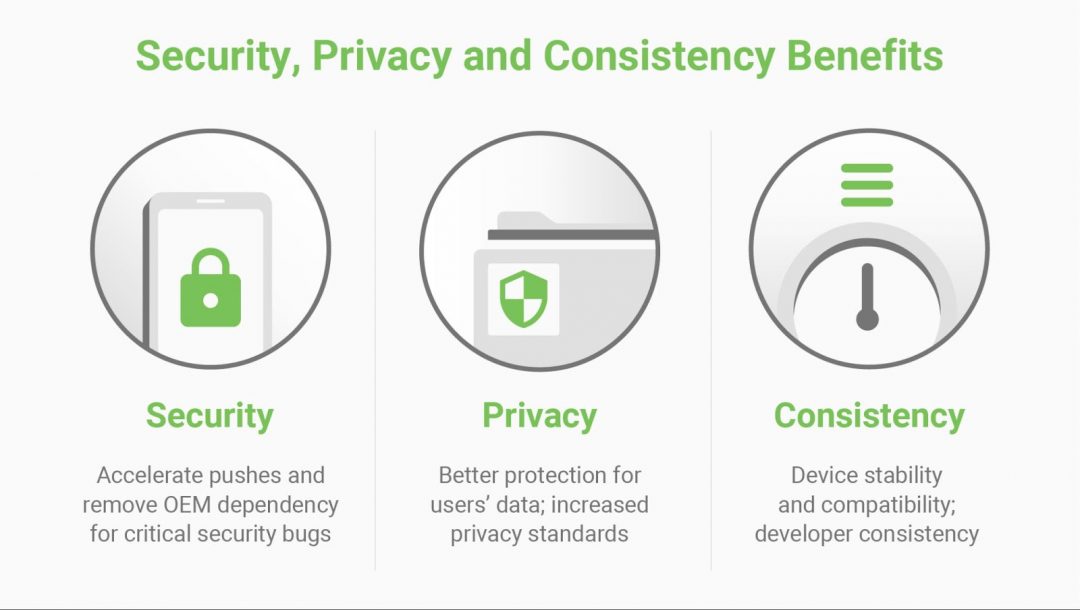 Project Mainline currently has 12 major components under it. All these 12 components earlier need to be updated via a System Update. But now, they could easily be updated from Play Store. Further, these 12 components have been broken into three categories by Google. They are:
Security: Media Codecs, Media Framework Components, DNS Resolver, Conscrypt
Privacy: Documents UI, Permission Controller, ExtServices
Consistency: Timezone data, ANGLE (developers opt-in), Module Metadata, Networking components, Captive Portal Login, Network Permission Configuration.
How will Project Mainline work?
As mentioned before, Project Mainline brings Android updates of major components via the Play Store. But these updates won't be in the form of Android Package (APK). Rather these updates will take the shape of a new file format called APEX, an acronym for Android Pony EXpress. These files, upon getting downloaded on your device, will decompress into a system image (.img). This image file will then get mounted on your device.
The containing files and data will be moved from the APEX file over to your device's system partition. Finally, the image will be unmounted and subsequently removed from your device. Moreover, the APEX file system will always load during the booting of your device. Hence, it is necessary to restart your device once you install this package.
Will these be as Stable as System Updates?
Although there may be some issues in the initial stages of Project Mainline, Google has made sure to minimize it up to a maximum possible extent. And it has put in various safeguard mechanisms for the same. These APEX would be released in a gradual rollout manner, meaning not everyone would be receiving the updates at the same time. As a result, if some bugs pop up, the users who have got the update will report it to Google. It ill then subsequently halt the update, until the bugs are removed.
However, if you belong to those unlucky ones who got this buggy update, then there is a fix for that as well. Your device's system will just restore the backup that it had created before installing the said APEX package. Quite a commendable job is done by Google, to say the least.
Moreover, every now and then any error might pop up in the Play Store. This may cause some issues while installing the updates provided by Project Mainline. Fortunately for you, we have covered an extensive guide on how to fix Google Play Store errors. Don't forget to check it out in case you get any error while installing core updates, that are part of Project Mainline.
Who will be left out of this Project?
Considering the fact that Google releases these updates via Play Store, so the devices having the Google Mobile Services (GMS) will only be able to get these updates. So may of the Chinese OEMs including Huawei, won't be able to get their hands on Project Mainline.
So what do you think of this latest Project by Google? Would you have still preferred the direct OTA method or this is indeed a useful method of releasing updates? Do let us know your views in the comments section below.
Read next: How to Report Malicious Android Apps