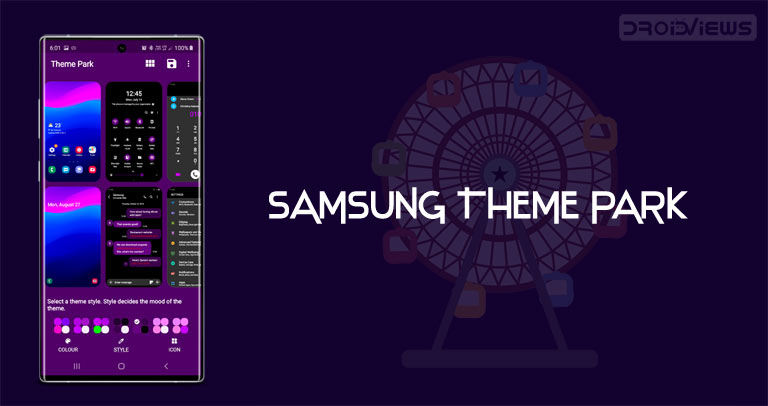 Samsung just released a new app called Theme Park that that's actually a new module Good Lock app suite. It lets users theme One UI in a few easy steps. Samsung has always been known for offering amazing customization options to users and with the Theme Park app, it has brought theming to the layman. Using this app, you can create themes based on the dominant accents of the wallpaper of your choice. Download Samsung Theme Park APK (v1.0.00.0) from below and follow the instructions.
Samsung's newly launched Theme Park module for Good Lock lets users customize their device running One UI with ease. If you haven't yet heard of Good Lock and what it has to offer, then you might want to check it out. Good Lock lets you install a bunch of cool modules from Samsung itself. Each module severs its own purpose and allows you to customize certain aspects of the UI.
The new Theme Park module which has been added to the Good Lock 'family' allows you to create a cool theme based on your wallpaper. Of course, you can customize it further to your own preference. Thus, if you have a favorite wallpaper and want your entire system UI to reflect certain colors of the wallpaper, then follow along to learn how to use Theme Park to customize your One UI device. Samsung devices already come with a dedicate theme store that hosts thousands of free and paid themes. However, if you are one who loves to customize things one's own way,  you must try Theme Park on your Samsung devices running One UI.
How to use Theme Park on Samsung devices
Using Theme Park is fairly easy even though it might seem a tad overwhelming at first. It's also worth noting that the Theme Park module for Good Lock isn't available for all countries and regions at the moment but you can try it now by downloading Samsung-ThemePark-1.0.00.0 APK. You can always get the latest version of Theme Park and other Good Lock apps in the Galaxy Apps marketplace.
Having downloaded the APK file, copy it to your device and install it. If you are prompted to turn on the Unknown sources on your device, do it. Once the app is installed, go to the app drawer screen and tap the app icon to launch it. Grant the required storage permission when you are prompted and then you'll be greeted with the Theme Park welcome page.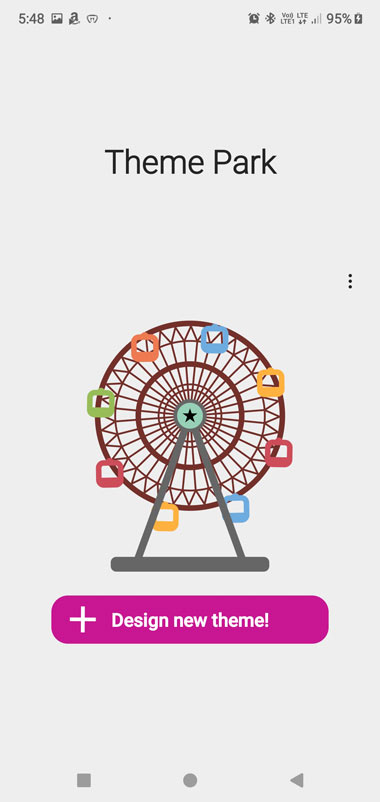 Tap on the 'Design new theme' button. Now you need to select a wallpaper for your new theme. Once you have picked it, Samsung Theme Park will automatically offer the color options based on the dominant colors of the background wallpaper. Pick the color you want and then tap on 'Styles'. The app will give you around 7 groups of different color combinations for your personal them.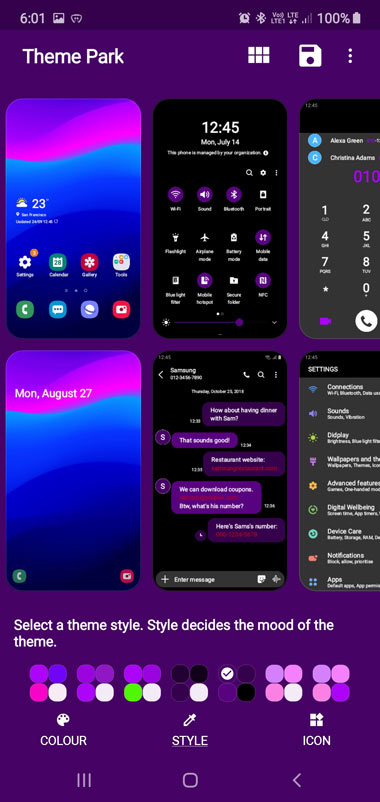 Tap the color combination you prefer and then tap the 'Icons' button and select a color to show as apps' icon background. That's it! Now, tap the 'Save' icon and give it a name.
Your newly created theme will be saved to your theme gallery. To apply your theme, open Settings> Wallpaper and themes> Themes, select the theme and hit the 'Apply' button. Enjoy your very own theme and do not forget to check out these best Samsung One UI themes as well.
Read Next: 8 Best Substratum Themes for Samsung Devices