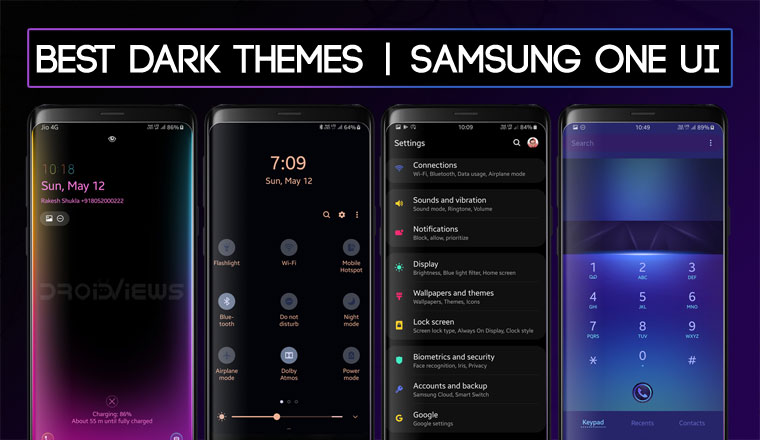 If you own a Samsung device, here are a bunch of hand-picked best Samsung themes for One UI or Android Pie in 2019. Most of the Samsung One UI themes in our list are either black or dark. Please note that if you have been looking for Samsung One UI theme apk, stop doing that and download the theme directly from the Samsung Theme Store.
Before I prepared my list of themes, I downloaded more than 80 themes and tested them on my Galaxy S9+, and a friend's S10. The dark Samsung themes listed below theme every aspect on the One UI including the lockscreen, phone UI, notification and quick settings drawer, messaging app, file manager, keyboard, calculator, and the systemUI. Some of them even have animation lockscreen animation. Try our 2019 edition of the 13 best black or dark themes for Samsung One UI or Android Pie.
There was a time when you had to root your Android device to be able to enjoy custom themes. The OEMs usually shipped their devices with one default theme (usually light or white). With the introduction of the Substratum theme engine, theming Android devices became easier. However, themes became a cupcake for all with Google integrating a dark or black theme with Android Pie. Just like other manufacturers, Samsung too rolled a dark theme known as "Night mode" which can be activated directly from the Quick settings panel.
The Galaxy S6/S6 Edge was the first Samsung device to come with an inbuilt theme store. Having made its first appearance in 2015, the Samsung Theme Store has come a long way. It now has thousands of free and paid third-party themes to choose from but not all themes support all devices. The compatibility of themes depends on Android OS version and devices. Thus, a theme that supports Android Nougat, may not work perfectly on Oreo or Pie. In this article, we have come with a list of the best themes for Samsung devices with One UI or Android Pie support. They should work on the Galaxy S10, Galaxy S9, Galaxy S8, Galaxy Note 9, and the recently launched Galaxy A and M series phones.
If you have been enjoying the One UI and are still not familiar with all its aspects, do not forget to check out our list of 10 interesting Samsung One UI features.
What Things do Samsung Themes Change?
According to Samsung's guidelines for theme developers, a good Galaxy Theme is one that includes:
Ringtones, notification and UI tones
Icon themes for Samsung apps and SystemUI icons
The backgrounds and elements of all default applications including Phone, Contacts, Messages, Email, Calculator, Clock, etc.
As a topping, to give your Samsung Galaxy device a completely unique look, you can also install 1000+ custom fonts on your devices without root by installing Samsung Wings Fonts 3 that supports One UI.
Best Samsung One UI Dark Themes
Not too long ago, we reviewed no less than 8 best Substratum themes for Samsung devices. Our today's list limits itself to the paid and free themes available in the Samsung Theme Store. Let's get to the best dark Samsung themes for devices running One UI or Android 9.0 Pie firmware. Most of the themes mentioned below are black or dark ones while the rest have a colorful background. By using a dark or black theme, you can save battery on your Samsung device.
I have checked all the themes thoroughly to make sure they cover every aspect of the One UI. With a hope that you like them, here's is the list in no particular order. Just pick the theme you like and search by going to Settings> Wallpapers and themes> Themes and tapping the search icon and typing the theme name.
1. High Contrast Theme
Theme Details
Developer: theme.seller
Price: Free
High Contrast is one of the first One UI-compatible themes to hit the Samsung Theme store. Since I don't like the One UI's default theme with gray-black combination, I was looking for a darker substitute. High Contrast is a perfect dark theme with yellow highlights that offers a complete theming on all Samsung devices running Android Pie firmware. It's one of the best dark themes for Samsung devices on One UI.
2. Black Onix (Best Samsung Theme)
Theme Details
Developer: Gabriel Santana
Price: Free
The Black Onix theme for Samsung has been there since Android Oreo days. However, the theme started giving errors when Samsung pushed the Android Pie update. The good news is it has now been updated and is fully compatible with Samsung One UI. Black Onix is undoubtedly the best Samsung One UI theme because it covers all aspects of the new UX and looks so cool with an awesome color combination of the blue and purple gradient.
The theme is completely free. I have been using it for months now without getting bored with it because no other free or paid theme is so appealing. You must try Black Onix!
3. Black – Samsung One UI Theme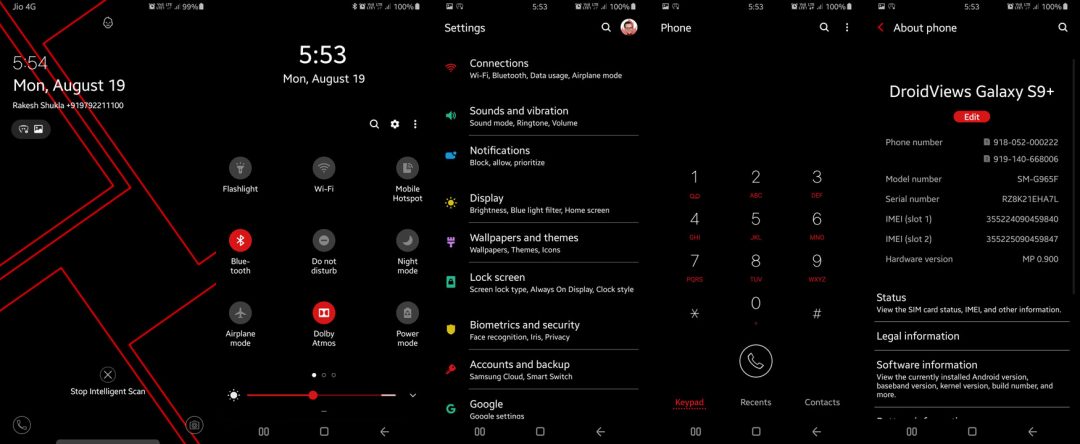 Theme Details
Developer: Anup Rode
Price: Free
'Black' is another beautiful free Samsung One UI theme for those who love dark themes. This theme comes with red highlights on a pitch-black background and looks amazing. The icons used in the Settings screen are colorful and look great. The theme developer has also provided the same theme with blue accent.
4. Halftone Contrast
Theme Details
Developer: butterfly-effectedGmbH
Price: $1.5
Halftone Contrast is another good-looking dark theme for Samsung Galaxy devices. It's a premium theme with an elegant background.
Don't Miss: 25 Hidden Android Tricks, Settings You Must Check Out
5. Blac UI
Theme Details
Developer: Lucas Kendi
Price: Free
Blac UI is my most favorite dark theme. With a black background and bluish highlights, the theme looks like some Substratum theme. It's a free and lightweight theme that looks cool on Samsung's high-end smartphones. The only issue with the theme is that it does not give you a black background in the Quick settings panel, otherwise it's a perfect dark theme. I have been using this free theme for a week now. This one is undoubtedly one of the best Samsung themes you must try.
6. Purple Gradation
Theme Details
Developer: aire design
Price: Free
Next in our list is a theme with dark gradient purple background and it's aptly called Purple Gradation. It's a free and simple theme but looks great when applied. It works fine on Android Nougat, Oreo and Pie firmware.
7. Neon Bright Lights
Theme Details
Developer: Beijing Curious Cat Technology
Price: $1.6 (currently free)
Neon Bright Light is one of the 23 themes I purchased last year and the only one that still works great and themes everything. It's a paid theme but it is worth the price. I love the colorful animation on the lockscreen and the awesome AOD theme.
If you like this theme, you should get it right now as it's free for a limited time.
Must Read: Change CSC on Samsung Devices – Samsung CSC Codes
8. Mans Power
Theme Details
Developer: aire design
Price: $1.99
This theme is called "Mans Power" while it should have been better named "Spiderman's Power." With its red and blue combination and cool background, Mans Power is a great-looking theme.
9. Metal Layered
Theme Details
Developer: aire design
Price: $1
If you prefer a textured black background to a plain one, Metal Layered might impress you. I really love this theme because it customizes everything globally. The dialer screen looks awesome in particular!
10. Polygon Bird
Theme Details
Developer: butterfly-effectedGmbH
Price: $1.6
If blue is your favorite color and you want to have your Samsung device's user interface wrapped with it, Blue Abyss is what you should get. Download this beautiful paid theme from the Samsung Theme Store.
Editor's Pick: Sign Out or Log Out of Android Devices Remotely
11. Color Neon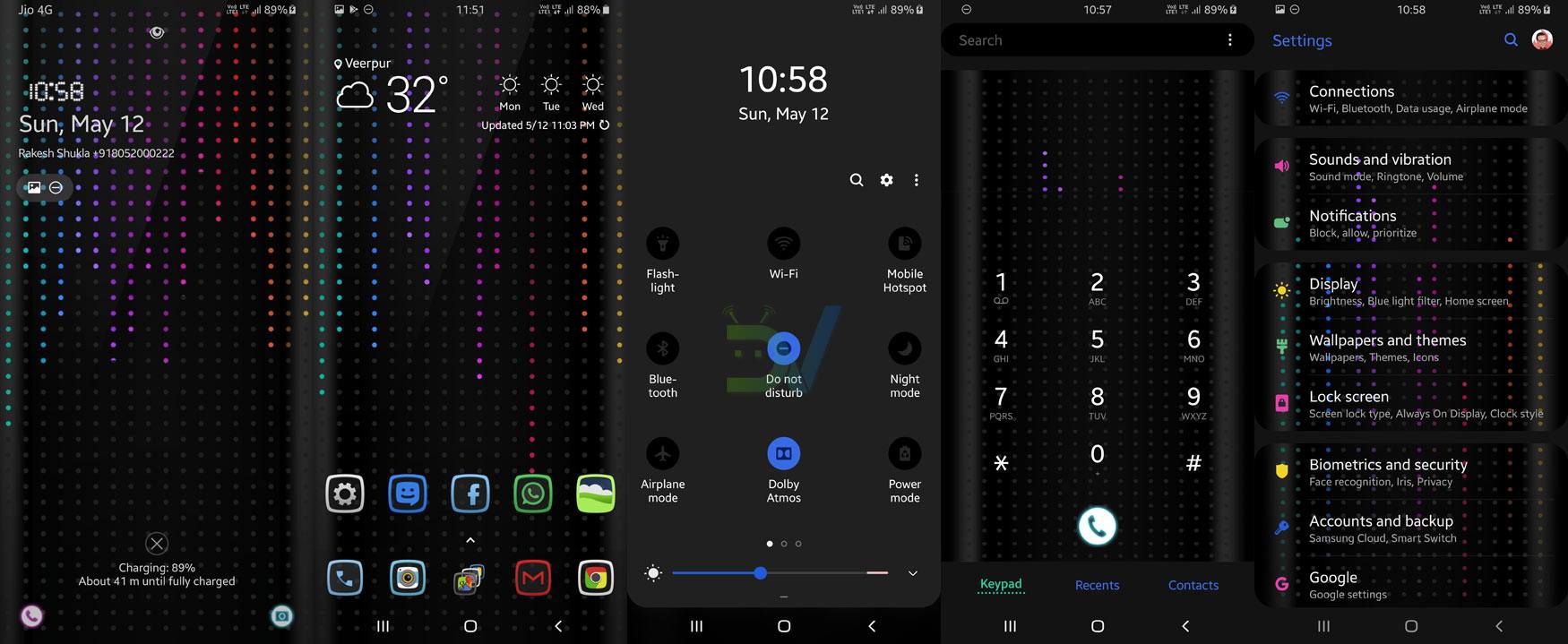 Theme Details
Developer: AIRE DESIGN
Price: $2.5
Color Neon is another dark theme with colorful neon dots and an amazingly animated lockscreen background. The theme looks really great and if you're willing to spend a few bucks for a good theme, you should get Color Neon.
12. Black Edition V2
Theme Details
Developer: Samsung
Price: Free
Looking for a pitch-black theme for your Samsung Galaxy smartphone? Black Edition V2 is a perfect theme for you. It's a free theme with white highlights. You will love this theme for its simplicity and also because you don't have to pay for it. 😉
Don't Miss: SamFirm – Download Latest Samsung Firmware Directly
13. Cute Smile
Theme Details
Developer: aire design
Price: $1.99
Cute Smile may not be a dark theme but it is certainly not a white theme. This semi-dark theme with mustard yellow and orange gradient looks really beautiful. The theme has an animated wallpaper on the lockscreen and looks amazing on all Samsung's AMOLED display.
Here ends my list of the best Samsung themes, especially the dark Samsung themes, for the One UI. If you think I forgot to mention some awesome theme that needed to be mentioned here, please let us know!
How to Download Samsung Themes
I am sure most people don't need any tutorial to download a theme from the Samsung Theme store. However, if you are new to Samsung, follow these steps:
Open device Settings.
Tap the Wallpaper and themes option.
The app will open the wallpaper area by default. Tap the Themes icon on the bottom bar.
Now tap the Search icon and type the name of the theme you want to download.