Samsung's own interpretation of Android Pie, which you may already know as One UI, has recently started rolling out. Samsung One UI comes with a host of new feature and improvements in the user inaterface. This new interface probably represents the biggest update since TouchWiz, and there are several major changes. While you'll easily recognize most of the graphical updates, there are also some useful novelties, which you may have missed. Here are 10 Samsung One UI features you should know about!
What is Samsung One UI?
Samsung One UI is the latest custom interface based on Android 9.0 Pie and designed for Galaxy devices. The new restyling focuses on simplicity and minimalism, while still providing all the extra features we know Samsung for. Among all things, the most significant change concerns the one-handed usability. In fact, the interface makes a separation between viewing and interaction areas and moves the clickable elements to the bottom of the screen. As a result, you don't have to stretch your thumb to reach elements at the top, even when you have a bigger phone. For more information, check out the full review!
How to Install Samsung One UI?
The One UI update has started rolling out a couple of weeks ago on the Exynos S9 and S9 Plus. The release will reach more countries during the newt weeks, so don't worry if you don't see it yet. However, if you cannot wait for the update to reach you, you can still flash it manually. We have posted a step-by-step installation tutorial, so we recommend to check it out if you're interested. Now, let's see the best new Samsung One UI features!
Not all models from all countries are compatible at the moment, so we advise to carefully read the requirements section before proceeding with the manual update!
10 New Samsung One UI Features
Knowing about the hidden features can significantly enhance your experience. Not only that, but being aware of the various settings puts you in control of your device, so it works exactly as you want. Let's see the 10 new Samsung One UI Features!
1. System Night Mode
Many of you will be happy to hear that, finally, Android integrates a system night mode. As the name suggests, the goal of this feature is making your device easier to use at night by making the interface darker. However, the feature is great even if you simply like dark themes, since you can keep it always on. Additionally, it can help to save some batteries, thanks to the way AMOLED displays work. You can activate it from Settings > Display > Night Mode.
2. Navigation Gestures
Android Pie has introduced a new gesture navigation system, which modifies the way traditional navigation bars work. However, Samsung didn't really like the concept, due to the size of the trigger area. As a result, their solution works just like a regular navigation bar, but you have to swipe up instead of tapping. You can also choose to show visual hints, or disable them and go completely full screen. All the various options are available in Settings > Display > Navigation Bar.
3. Camera Scene Optimizer
Artificial Intelligence now becomes a part of the Samsung camera app, thanks to the new Scene Optimizer feature. This is one of the best Samsung One UI features because it combines the true potential of the hardware with a software able to take advantage of it. The option is integrated into the auto mode, so you don't even need to think about it. When the app recognizes a scene, it automatically optimizes the settings just as if you were in Pro mode. As a result, you can take stunning pictures with vivid colors and well-balanced lighting.
4. Adaptive Battery
Adaptive Battery is something that works in the background for you, while you just appreciate the results. This tool analyzes the usage patterns and limits power consumption for the apps that you use less frequently. Due to the way it works, it needs a few days to start effectively providing benefits, as you would expect. If you want to try it out, you can go in Settings > Device Care > Battery > Settings.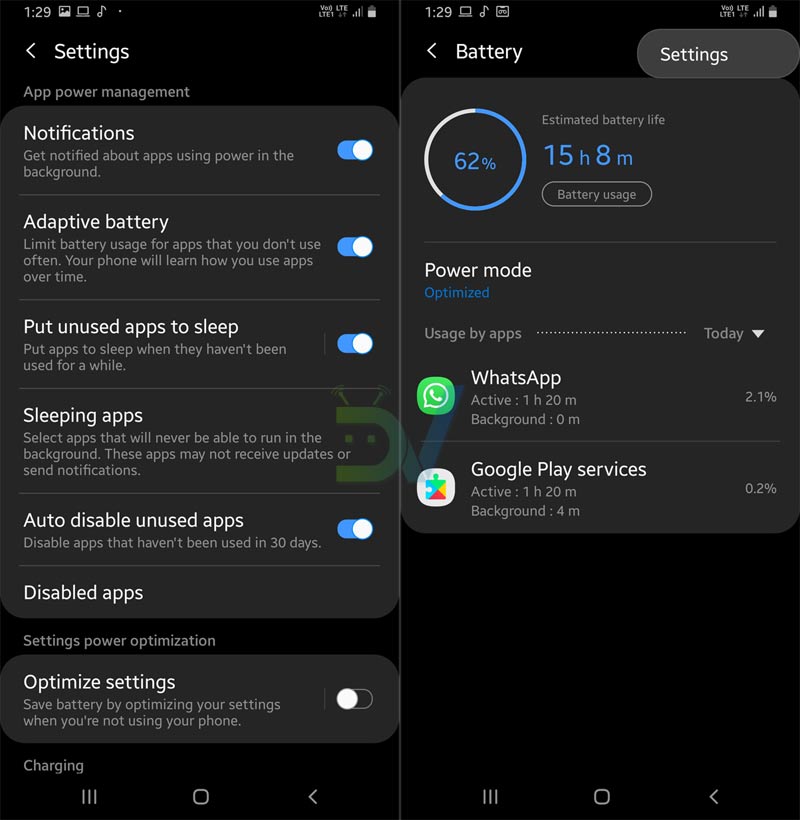 5. Private DNS Provider
Using a private DNS can be useful for many reasons, such as improving your privacy or blocking unwanted ads. This wasn't possible on smartphones until Android Pie, and Samsung has integrated the feature in One UI. We may cover some of the best DNS servers in the future, so let us know if you're interested. Meanwhile, if you want to access this option, you'll find it in Settings > Connections > More connection Settings > Private DNS.
6. Stay on Lock Screen
The Intelligent Scan feature is great for quickness and convenience, but it automatically unlocks the device when you look at it. If you want to take advantage of it, but you also use the lock screen to check notifications, One UI has got you covered. By going in Settings > Biometrics and Security > Intelligent Scan, you can activate Stay on Lock Screen. Once done, Intelligent Scan will unlock the smartphone, but you'll keep seeing the lock screen unless you swipe up.
7. Clean Status Bar
With One UI, Samsung has moved the clock to the left of the status bar just like in stock Android Pie. As a result, the notification icons will appear more towards the center, and some of you may dislike it. For the minimalists out there, there's a simple solution. In fact, you can completely disable the notification icons from Settings > Notifications > Status Bar.
You'll still receive all notifications as usual, but the status bar will look a lot cleaner. You can also enable battery percentage on the status bar from here.
8. Instant Screenshots
This one isn't really a feature, but it's totally worth mentioning. Taking screenshots is something we do very often, so it should be an easy action. Unfortunately, Samsung had configured the trigger to activate after pressing the buttons for one second, thus causing delays. Instead, with One UI, clicking the power and volume down buttons together instantly captures a screenshot.
9. AOD Timeout
The Always On Display's main advantage is the small amount of power it requires to function. However, the power consumption can become quite significant over several hours of standby. In fact, depending on the brightness, this feature can use up to 2% of battery per hour. The new timeout mode allows you to activate the AOD by tapping the screen and puts the device back to sleep after 30 seconds. You can toggle this feature from Settings > Lock Screen > Always On Display > Display Mode.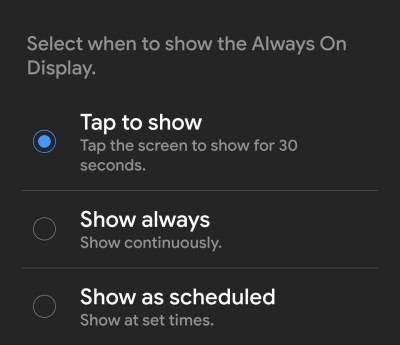 10. Auto Restart
Restarting our device at least once a week helps to maintain good performance and battery life. With the auto restart feature, you don't even need to remember doing that. This option was already available on Oreo, but it didn't allow you choosing the time or frequency of these restarts. With One UI, you can schedule these restarts precisely, and even select multiple days a week. The configuration menu is in Settings > Device Care > Auto Restart.
We hope these tips have been useful to enhance your experience. Let us know which are your personal favorite Samsung One UI features in the comments below!