The Samsung Galaxy S10 series are still one of the best Android smartphones you can buy in 2019. Packed with flagship specs along with a glass and aluminum body, it screams premium. If you want to keep your device looking brand new, then you should consider investing in a case. There are tons of cases for the Galaxy S10 series, however,  not all cases are worth your dough.
To help save your time, we've listed out the absolute best cases you can get for Samsung's S10 series in India. These cases range from rugged and durable to ultra-thin and lightweight. Therefore, you can pick the perfect case based on your preference. This list is in no particular order. Here are the best cases for the Galaxy S10 series.
Spigen Liquid Air Galaxy S10 case
Being one of the most popular case-makers, Spigen cases are easy to recommend. This slim and lightweight case for the Galaxy S10 series is perfect for those who do not want a bulky case. The Liquid Air cases for the Galaxy S10 series come with certified MIL-STD protection and Air Cushion Technology. This would protect your device from everyday scratches and minor drops as well. Moreover, the case does not interrupt wireless charging. It also has an anti-slip surface and is fingerprint-resistant to an extent.
Galaxy S10 | Galaxy S10 Plus | Galaxy S10e
Ringke Fusion Clear Case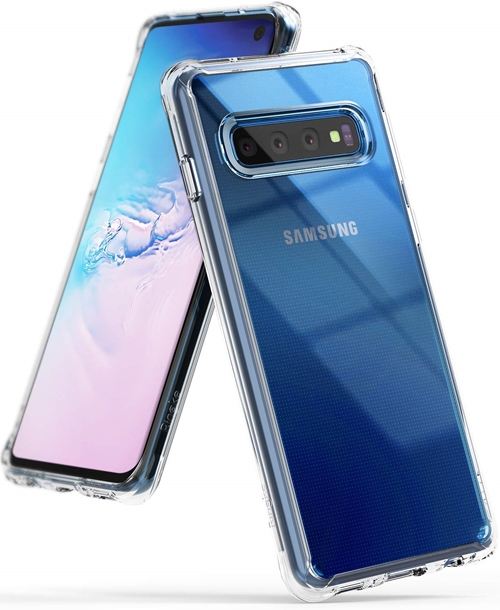 If you're looking for clear cases for the Galaxy S10, the Ringke Fusion is one that you should check out. This case is made from premium TPU and the clear case does not turn yellow-ish like most other clear cases in a few months. There is a lanyard hole at the bottom of the case to attach a wrist or neck strap to prevent your phone from falling. Thankfully, even if you drop the phone, the case has shock absorption technology which can protect the device. Additionally, it fits the devices precisely and all the buttons and ports are easily accessible.
Galaxy S10 | Galaxy S10 Plus | Galaxy S10e
Nillkin Super Frosted Shield
This minimal case from Nillkin is one of the most affordable cases for the Galaxy S10 series on our list. It has a hardback with rubberized fishing for an enhanced grip. The case is also fairly thin and light, therefore, you wouldn't have to worry about adding bulk to the device. It can protect your Galaxy S10 from dings and scratches. However, we wouldn't bet on it protecting the device from torso-height drops. Nonetheless, for its price, the Nillkin Super Frosted case is easy to recommend.
Galaxy S10 | Galaxy S10 Plus | Galaxy S10e
Anccer Colorful Series Thin Case
Anccer's ultra-thin cases for the Galaxy S10 series are another affordable and as minimal as it can get. There are no visible logos or lines on the back of the case. It's available in three color options — Sand Black, Silk Black, and Silk Blue. It offers decent protection from scratches and dings. The case is only 0.03 inches thick which makes it one of the thinnest cases you can get for a smartphone.
Galaxy S10 | Galaxy S10 Plus | Galaxy S10e
RhinoShield SolidSuit Galaxy S10 case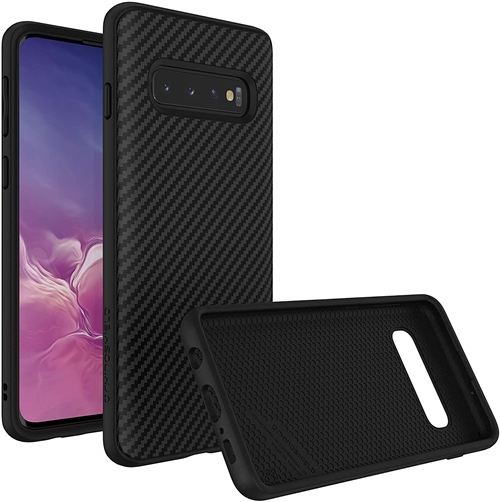 We've taken a look at some thin and light cases for the Galaxy S10 series. However, if you want a rugged and durable case, the RhinoShield SolidSuit is an incredible option. The case is built like a tank and offers drop protection from up to 3.5m/11 feet. This is thanks to the company's ShockSpread polymer material which helps in absorbing the impact from a drop. Moreover, the RhinoShield SolidSuit case isn't as bulky as most other rugged cases in the market. The carbon-fiber styled back adds some style to the case as well.
Galaxy S10 | Galaxy S10 Plus | Galaxy S10e
UAG Plasma Rugged Protection Case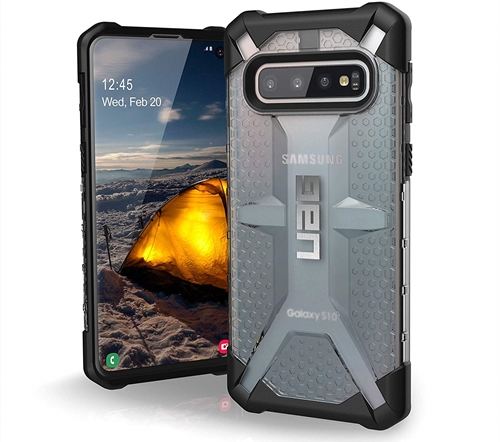 Here's another excellent rugged case that's worth checking out. The Urban Armor Gear Plasma case is stylish and offers incredibly overall protection for the phone. The case has been military-grade drop tested and the orthotropic honeycomb inner cavity absorbs impacts from drops. Thankfully, the case is compatible with wireless charging and NFC payments. However, you might run into issues while trying to reverse charge other devices through the case. The UAG Plasma rugged case fits the Galaxy S10 devices perfectly and all the buttons are protected as well.
Galaxy S10 | Galaxy S10 Plus | Galaxy S10e
Check out: Get a Notification LED on Galaxy S10 with Holey Light
Spigen Neo Hybrid Galaxy S10 case
This stylish case from Spigen is perfect for those who want an attractive case for their Galaxy S10 device. The dual-tone case looks unique and unlike any case you might have seen. The Neo Hybrid case is also fairly slim and lightweight. Moreover, it fits the device precisely and even protects the buttons. It also has a shock-absorbent TPU layer which helps protect the device from being damaged from a drop. You also wouldn't have to remove the case to use the wireless charging or NFC features on the device.
Galaxy S10 | Galaxy S10 Plus | Galaxy S10e
i-Blason Ares Series Rugged case
i-Blason's rugged two-part rugged cases for the Galaxy S10 series are worth checking out thanks to the incredible protection they offer. There's a front protection case that you could use to protect your device from all sides. The front cover comes with a built-in screen protector. It will help protect the display from picking up scratches or shattering from a drop. The clear bumper case also lets you show off the original color of your phone. Unfortunately, if you choose to use the screen protector, you would not be able to use the ultrasonic fingerprint sensor. Additionally, this case isn't available for the Galaxy S10e at the moment.
Galaxy S10 | Galaxy S10 Plus | Galaxy S10e
Case-Mate Waterfall Galaxy S10 case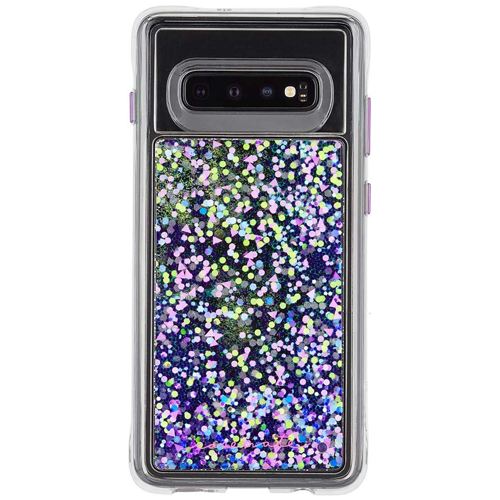 Case-Mate is well known for its amazing cases for smartphones. This cool glittery case is perfect for the ladies out there who're looking for stylish cases for the Galaxy S10. However, we are not just recommending the case for its glitter and style. It is also an excellent durable case that can protect your device from drops as high as 10 feet. The certified safe mineral oil within the case allows the glitter to float smoothly. What's even more impressive is that there are a bunch of different color and style options to choose from. We'd suggest checking them all out before you make your choice.
Galaxy S10 | Galaxy S10 Plus | Galaxy S10e
SUPCASE Unicorn Beetle Pro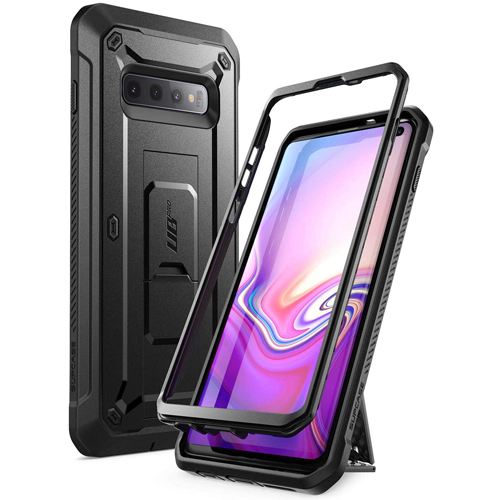 Last but not least, we've got another rugged Galaxy S10 case that you must check out. This ultra-durable case from Supcase offers an insane amount of protection and features. It features multilayered TPU and polycarbonate materials which can protect your device from drops as high as 20 feet. Yes! 20 feet. Additionally, the case even has covers for the ports to prevent dust and debris from entering. You could also use the front protection case to add further protection. The Unicorn Beetle Pro case comes with a built-in kickstand that lets you prop up your phone on a flat surface for hands-free usage.
Galaxy S10 | Galaxy S10 Plus | Galaxy S10e
These are the best cases for the Galaxy S10 series in India. Which one would you be getting for your Galaxy S10 device? Let us know in the comments below.
Read next: How Android Changed the Smartphone World