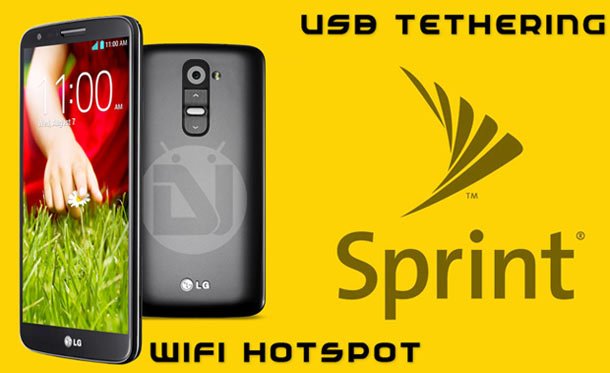 WiFi hotspot or tethering is one of the most useful and commonly found features in modern smartphones. It's a great and convenient way to share or use the 2G/3G/4G internet data of a portable device wirelessly with other WiFi-enabled devices like phones, tablets, netbooks, smart TVs, laptops and desktop PCs. On carrier unbranded Android devices, the WiFi hotspot feature can be easily enabled from device settings.
However, if you own a carrier-branded phone from a service provider, you might not be able to use it without subscribing for a service plan. Carriers like Verizon, Sprint and others use hotspot subscription policy to fetch more money from their users. If you own the Sprint LG G2 LS980 and want to enjoy WiFi hotspot or USB tethering on your phone, you need not pay Sprint extra money to get these services.
In the past, we wrote a tutorial on enabling WiFi tethering on the T-Mobile and Verizon LG G2 and today, we have come up with a working mod that can enable USB tethering & WiFi hotspot on Sprint LG G2 for free. The WiFi tethering mod for the Sprint G2 is available as a flashable zip and that simply means that it requires root access and a custom recovery installed on your device. The mod is available for stock Jelly Bean and KitKat ROMs.
Requirements:
A rooted Sprint LG G2 LS980. If you do not have root access on your phone, read this rooting tutorial.
TWRP Recovery version 2.6.3.3 or 2.7.0.0 installed on the device. You can install TWRP recovery on Android 4.2.2 using this guide, or on Android 4.4.2 using AutoRec app.
You must be running either stock LG firmware or a stock-based custom ROM.
Download the WiFi hotspot mod file that corresponds to the firmware version of your Sprint LG G2. You can see the firmware version from Settings> About:

Android 4.4.2 (KitKat) ZVC Odexed Firmware
Android 4.4.2 (KitKat) ZVC Deodexed Firmware
Android 4.4.2 ZVD (KitKat) Odexed Firmware
Android 4.4.2 ZVD (KitKat) Deodexed Firmware
HotspotModZVE-Odexed.zip
HotspotModZVE-Deodexed.zip
HotspotModZVG-flashable.zip
Android 4.2.2 ZVA (JB) Odexed Firmware
Android 4.4.2 ZVA (JB) Deodexed Firmware
Android 4.4.2 ZV8 (JB) Odexed Firmware
Android 4.4.2 ZV8 (JB) Deodexed Firmware
Enable WiFi Hotspot on Sprint LG G2
Okay, if you have already downloaded the mod file from above and taken care of other things, let's do the thing. If you have ever flashed anything in TWRP, you should not need steps for flashing this mod.
Copy the mod file in zip file to your phone.
Boot your LG G2 into Recovery Mode:

Turn off your device.
Press and hold Volume Down and Power buttons together.
As soon as the LG logo appears, release both buttons.
Now hold the Volume Down and Power buttons again and keep them pressed until you see the hard reset screen.
Press the Power button. You'll see a message that doing so will reset your phone. Ignore it as it will not reset your device as long as you have a custom recovery installed on it. Just press the Power button again to confirm.
Your LG G2 will boot into TWRP/CWM recovery mode.

First of all, create a backup of your ROM using Backup option.
Now tap the Install button in TWRP and select the mod file.
Confirm installation by swiping the slider.
When the mod is installed, tap the Wipe dalvik cache button.
Finally, reboot your device.
Done! When the device boots up after flashing the mod, update Profile/PRL and reboot again to ensure functionality.  Enjoy!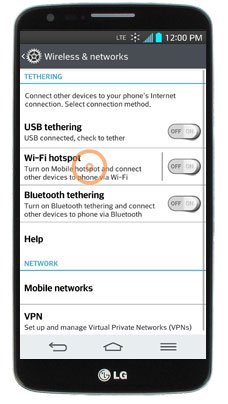 More Tips and Tricks for LG G2:
Tweak and Customize LG G2 with G2 TweaksBox and G2 Xposed Modules