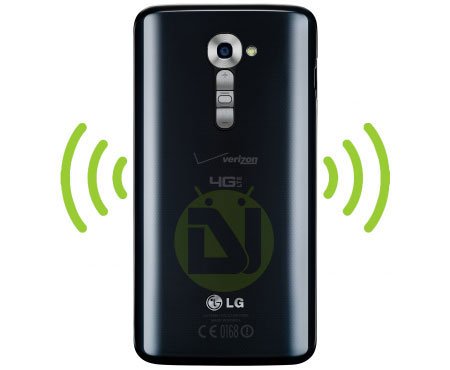 Turning a mobile device into a WiFi hotspot to share its 3G/4G data connection with other WiFi-enabled devices is called tethering. Tethering has become a very familiar feature of modern smartphones and is found on most of them regardless of what OS they run on. On Android devices, the portable WiFi hotspot option can generally be found under network settings. If you got an Android phone that supports data tethering but you do not find this option in settings, it simply means that your carrier has disabled the feature because tethering isn't part of the deal.
WiFi tethering is really a very convenient feature for those who own more than one WiFi enabled gadgets like smartphones, tablet devices, laptops, smart TVs, etc. It's a great thing to carry a virtual WiFi router in one's pocket. If you own the Verizon LG G2 VS980, and are unable to use it as a personal WiFi hotspot because of the check put by Verizon, you can force things in your favor. As the very post title says, today we shall see how to enable WiFi Tethering on Verizon LG G2.
In order that you can turn your LG G2 into a WiFi hotspot, you must have root access on your phone. In case you have not rooted your device yet, we already have a very easy-to-follow rooting tutorial for the Verizon LG G2 VS980 on the latest OTA update.
See this: How to Root Verizon LG G2 on the Latest OTA Update
Enable WiFi Tethering on Verizon LG G2
If you already have a rooted device, you can directly jump to the simple steps given below and start enjoying WiFi tethering on your G2. The procedure involves replacing the stock HotspotProvision app from Verizon with a modded version that lets you configure and create your WiFi hotspot. Just follow these steps and you are good to go:
Download the modified Verizon Hotspot Provision app and copy it to your phone. If you download Vzw-G2-VS980-HotspotProvision-39A.zip from below, unzip it to find the HotspotProvision Apk:

For Android 4.2.2: HotspotProvision.apk  
For Android 4.4.2 (after downloading, rename it as "HotspotProvision.apk"): HotspotProvisionNewHack.apk
For Android Lollipop (tested on 39A): Vzw-G2-VS980-HotspotProvision-39A.zip

Download and install a root file explorer app, if you do not have it already installed. We recommend one of the following: [googleplay url="https://play.google.com/store/apps/details?id=com.jrummy.root.browserfree"]
Open the root browser app and go to system/app directory. Scroll down and look for the following system files:

HotspotProvision.apk
HotspotProvision.odex

Now tap and hold each of these files one by one and rename them as shown below using Rename option.

HotspotProvision.apk.bak
HotspotProvision.odex.bak

Go back and navigate to the modded HotspotProvision.apk file that you downloaded from above. Copy it and paste the APK file to the system/app directory.
Now tap and hold the new app and choose Permissions option.

Fixing file permissions (rw-r–r–) for HotspotProvision.apk

Then set the file permissions to  rw-r–r– (0644) as shown in the above image.
When you are done with this, exit Root Browser app and reboot the device.
After your LG G2 boots up, open the app drawer and launch the Hotspot Provision app.

Verizon LG G2 WiFi Tethering on Lollipop

You will now be able to set up the portable Wifi hotspot.
Enjoy WiFi tethering on your Verizon LG G2 VS980! And yes, before you leave this page, do not forget to share your experience and browse more tips and tricks for the LG G2.
If you accidentally deleted the original/stock HotspotProvision.apk and HotspotProvision.odex files.
Don't Miss: YouTube Go APK Available With Offline Usage