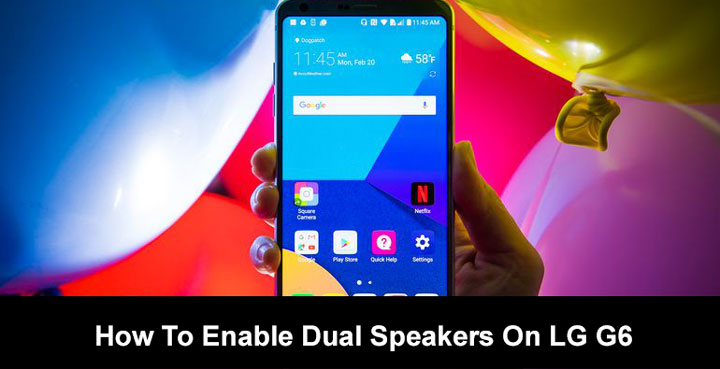 Everyone knows the LG G6 has all but one speaker like most new Android smartphones. Like IR blasters and removable batteries, dual stereo speakers seem like a dying trend these days. Of course listening to music on the single bottom facing speaker on the LG G6 is tolerable, but it's definitely not what you would call impressive. At least not as impressive as dual speakers. We've seen quite a few mods that have enabled dual stereo speakers on other devices with single speakers like the Galaxy S8 and S8+, S7 and S7 Edge, Note 7, Note 5, OnePlus 5 and more. Thanks to developer nima0003, we now have a similar mod for the LG G6 as well.
I've used previous such tutorials to rant about how dual speakers are awesome, even more so when they're front facing. And also how in 2017, single speakers are a big no no, especially now that even Apple has adopted stereo speakers on its iPhones. And that's because I think Apple is usually the last one to adapt to industry changes unless it really gets "courageous" to be one of the first as in the case with the headphone jack. But this time let's just get on with what we're here to do.
Warning: The mod makes changes in a system file named mixer_paths_tasha.xml so obviously it involves a certain amount of risk. That is the case with any mods that you install on your phone. Make sure you create a backup of your data, in case something doesn't work right and you can't boot up your phone. A NANDroid backup is best suited for such a scenario. As always, DroidViews does not take any responsibility if you decide to go ahead and fiddle with your device's system files. The risk is your own to take.
Also, consider that the earpiece speaker on your phones is not usually designed to carry full audio. There may be a chance your earpiece speaker would get busted by the unusual heavy volume being required of it with this mod. It's chance you'll have to take if you want to try this out.
The mod may also break some services such as Google Assistant's voice commands. A user has also reported that Bluetooth in his car does not work for him.
Requirements
All you need is an LG G6 with root access.
A file explorer capable of performing operations in the root directory.
Note that the mod is not in the form of a flashable zip so you will not need a TWRP recovery for that. But if you want to create a NANDroid backup, you will need a recovery.
Download
Also read: 5 Must Have Root Apps in 2017
How to Enable Dual Speakers on LG G6
Download mixer_paths_tasha.xml from the Download section above and transfer the file to your phone.
Now on your phone, open a file explorer capable of performing operations in the root directory and head over to the system folder in the root of your device.
In the system folder, enter the folder named etc and you will find a file named mixer_paths_tasha.xml that is there already.
Rename this file to mixer_paths_tasha.xml.bak just to be safe and move the downloaded mixer_paths_tasha.xml to this folder (/system/etc/).
Now make sure the newly modified mixer_paths_tasha.xml has the correct permissions. To set permissions, long press the file to select it and access its properties. The method to do that depends on the file explorer you are using. On ES File Explorer and Solid Explorer, you can do this by tapping the three dot menu button in the top right. Refer to the screenshot below to set the correct permissions.

Once done, just reboot your phone and that's pretty much all you had to do.
The mod works perfectly but if for any reasons you wanna revert back to stock just delete the mixer_paths_tasha.xml that you've placed in the /system/etc/ folder. Then rename the mixer_paths_tasha.xml.bak back to mixer_paths_tasha.xml. When done, reboot your device and you should be back to the stock single speaker audio.
Must read: Download and Install Stock Firmware on LG G6
Source: XDA