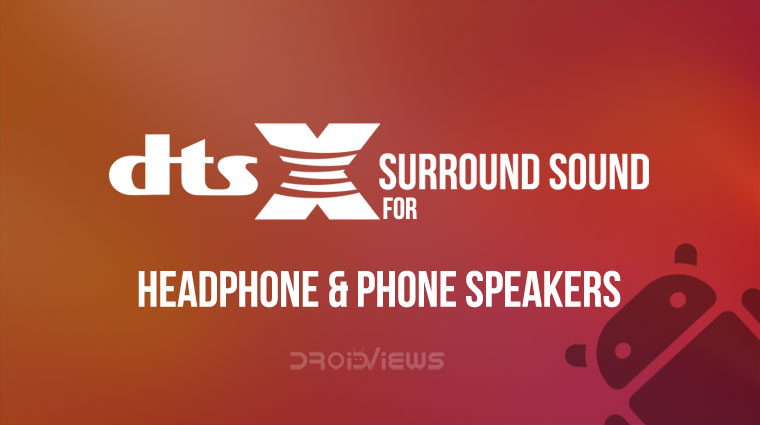 Smartphone displays have improved significantly over the years. As have the processor speeds, and overall specs. A couple of things haven't changed all that much. The battery, of course, as everyone might have guessed. But there's another thing that hasn't changed much and it's the audio experience. Some OEMs take it more seriously than others. But if you have root, you can install LG's DTS:X Ultra & DTS Headphone:X surround sound on your Android device.
LG originally announced the DTS:X Ultra and DTS Headphone:X Surround Sound features for the LG V30. DTS:X® Ultra is designed for gaming and XR/VR experiences with support for static, multi-channel and object-based audio. There are 3 main presets: for movies, music, and games. It shares pretty much same engine as Headphone:X with extra stuff on top. XDA Senior Member UltraM8 decided to port the said feature to other Android devices, so he did. In his own words, "DTS:X Ultra is aimed to bring spatial audio to any smartphone."
DTS:X Ultra and DTS Headphone:X Surround Sound AML compatibility
UltraM8's DTS:X Ultra and DTS Headphone:X Surround Sound port is AML compatible too so you don't have to worry if you're already using another mod. On Android, you will find a variety of Audio Mods each with a different take on how to better improve the sound that comes out of a device.
Some of these audio mods are universal, i.e. work with every smartphone running a particular version of Android, while some are device or ROM specific. Also, these mods might be dependent on making changes to the same library files.
So if you install more than one audio mod, there's a good chance it will result in a conflict breaking one of the two or both. This is where AML comes in. The Audio Modification Library Framework does not do anything in itself but provide a base for other developers to build their audio mods on top of. This means Magisk modules built utilizing the AudioModLib framework only will work without conflicting with other mods.
Suitable for
Movies: Headphone:X delivers an immersive, cinematic audio experience to your headphones. An experience that you've come to expect from a full, 11.1 channel surround sound movie theater.
Music: If audio tracks are recorded in Headphone:X surround sound, you can enjoy the full benefit of Headphone:X technology. But it can also improve the overall quality of your existing music as well.
Games: Immerse yourself deeper in your gaming experience. Headphone:X gives you an unfair advantage by giving a new dimension to your hearing. So now you can hear your enemy before you see them.
Download DTS:X Ultra and DTS Headphone:X Surround Sound
Must Read: Install Multiple Audio Mods with Magisk Audio Library Framework
Requirements
A rooted Android device with the Magisk systemless framework installed.
Android 9.0 Pie or above.
It'd be preferable if the device is running stock Android or something close to it.
The device must have TWRP recovery or any other custom recovery installed.
Permissive kernel.
Warning
Installing mods that require root can end up messing your system. Although the mod discussed here is rather harmless and shouldn't cause any serious issues if any issues at all, be warned that DroidViews or anyone else can't be held responsible for your actions.
Install DTS:X Ultra and DTS Headphone:X Surround Sound
Magisk
Open Magisk Manager and head over to the modules section using the side menu drawer.
Here, tap on the floating + button at the bottom.
Navigate to the downloaded zip file and select it to install it.
Once installed, tap on the Reboot button to reboot your device.
TWRP
Reboot your device into recovery mode. Before proceeding any further now would be a good time to create a backup, just in case. To do this, select Backup, check the system partition and swipe at the bottom to create a backup. This will backup only your device's system partition, which is what the mod will be modifying. If you want you can create a full NANDroid back up by selecting all the partitions, although it will take a lot longer.
Select Install from the TWRP main menu and navigate to the downloaded zip file.
Select DTSX_Ultra.zip and swipe at the bottom to flash it.
Tap on the Reboot system button that appears after the process is complete.
Congrats! You can now enjoy DTS Headphone:X surround sound on your Android device. Try it with your phone's headphone to feel the difference it brought to your phone's audio quality.
Read Next: Enjoy YouTube Audio Playback with Suamp – Audio Media Player