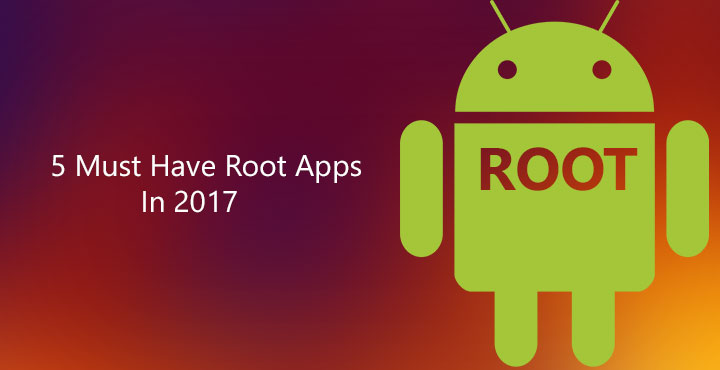 Once you root your phone, you gain access to a lot of stuff that you previously couldn't access. The root of your device has the secrets to all of the magic that can happen on your Android device. The Google Play Store is home to numerous apps that help you take advantage of the situation without having to learn all the nitty-gritty. Check out the following 5 must-have root apps for Android.
If you're new to the world of rooting, you probably are looking for some great root apps. Luckily, the internet is full of help and you can find numerous articles about the best root apps. We have a similar list of 50 best root apps as well that you should definitely check out. But today is not about listing about all the root apps you can get. Today, we're going to narrow down your selection to 5 must-have root apps that you should have.
Of course, a list of essential apps will always be subjective to a user's needs. However, the apps listed below are almost universally useful. If you're a root user, you will most probably need all of these.
Related article: 5 Android Apps worth Rooting For
1. Magisk Manager
Magisk Manager is really a must-have root app for Android devices. A year ago, if you would have asked anyone about the hottest root app, many would probably name Chainfire's SuperSu. After all, you need a root access manager if you want apps to be granted or denied root access. But times are changing now and with Google's SafeNet check in place, rooting has become slightly less lucrative. Especially if you like using apps like Android Pay, Snapchat, Pokemon Go and Netflix. With Magisk Manager, however, you get the ability to mask the presence of root on your device from Google's SafetyNet. This makes it the essential root manager app that was once SuperSU.
Although this does require that while rooting, you root your device with the Magisk systemless framework instead. The framework also provides a way for you to install several mods without triggering the SafetyNet check. If you need to learn more about Magisk, we have more than enough stuff on Magisk for you here at DroidViews.
2. Root Essentials
[googleplay url="https://play.google.com/store/apps/details?id=com.superthomaslab.rootessentials"/]
The name is sort of self-explanatory but let's explain it a little further. Root Essentials is your one-stop shop for … I wouldn't say all root functions, but a variety of them. It's a perfect starting point if you're just starting your rooting career and are not sure of what all you can do with this newfound power. Root Essentials contains a root file explorer, a dedicated build.prop editor, flashing tool, fingerprint gesture controls among a lot of other features.
There's also the option to change your system font and the app provides you with a choice of over 700 different fonts. Other UI altering features include a DPI changer and the ability to install custom Emojis from various versions of Android, including that of Samsung devices and the upcoming Android O.
Don't miss: How to Uninstall System Apps or OEM Bloatware without Root
3. Titanium Backup
[googleplay url="https://play.google.com/store/apps/details?id=com.keramidas.TitaniumBackup"/]
No list of root apps, however compact, can ever be complete without Titanium Backup. It's one of the old school root apps that have yet to receive an updated UI. It probably will, or it may never but it's still an essential app if you are someone who likes flashing ROMs. For some reason, creating a complete back up of your device, including all the apps and their data remains a much-complicated task on Android. Titanium Backup simply fills that gap making it as easy as it gets for rooted users. It's the gold standard of back up apps that you'd find many comparing other apps against. What it lacks in looks, it more than makes up for in functionality.
Not only can it save all your apps along with their data, but also harder to reach things like SMS messages and browser bookmarks. It can make scheduled backups and save them to Dropbox or Google Drive. Moreover, it can freeze apps, system or otherwise and uninstall them even. It can also convert a user app into a system app when the need be. Should you ever find yourself needing to recover data from a NANDroid backup, Titanium can do that too to an extent.
4. Adaway
If you hate ads, there is not a lot you can do on an unrooted Android smartphone without sacrificing a significant chunk of your device's battery juice. If your phone isn't a top of the line piece of tech, it may even take a performance hit. There is one way to block all ads on non-rooted Android smartphones without any of those caveats. Although, it too requires using a VPN all the time. Rooted users have it quite easy thanks to Adaway. It's the ultimate ad-blocker on Android if you would call it that. It can not block YouTube video ads anymore but it does block ads in most other apps and also while browsing the Internet.
Adaway is completely free, but it is not available on the Google Play Store for obvious reasons. You can download it as an APK and install it on your device. After that just launch the app, download host files and reboot. Remember to say goodbye to ads. Adaway is another must-have root app you should try.
Must read: 5 Must-Have Utility Apps for Android
5. Solid File Explorer
[googleplay url="https://play.google.com/store/apps/details?id=pl.solidexplorer2″/]
When you have root, the default file explorer on your phone is just not enough in most cases. You need a file explorer capable of performing operations in the root folder. Sure our first app Root Essentials does have a root file explorer but nothing beats the ease and usefulness of a dedicated file explorer. Solid Explorer is a paid app with a free trial and perhaps many might recommend ES File Explorer, a free alternative.
However, with the current situation, especially when dealing with root access it might be better to keep privacy in mind. Moreover, after you pay for it once, there is not a lot that Solid File Explorer can't do that any other file explorer might. It's also much easier when applying permissions to root folders and files.
So, these really are the must-have root apps for rooted Android devices. Let's us know if you have any suggestions for the list.
Recommend for you: 5 Amazing Android Apps You Won't Find in Google Play Store