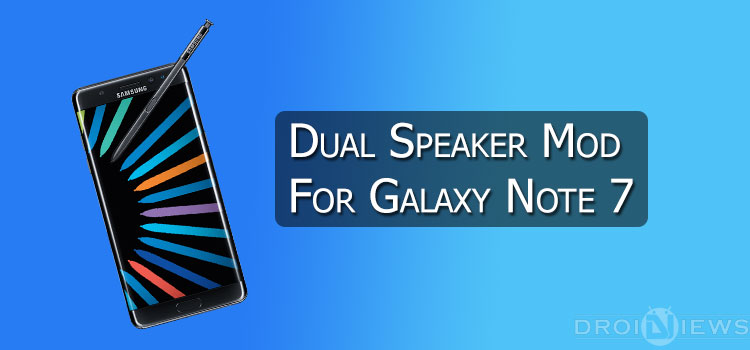 Though the sales of Galaxy Note 7 have been halted for a while, there are quite a lot of users who are enjoying their Note 7 without any issues. Samsung has halted the sales of Galaxy Note 7 due complaints of users reporting explosions of their devices due malfunctioning batteries.
If your Galaxy Note 7 is working fine and you are enjoying using it. Then we have a mod for you that will enable dual speakers on your Note 7. This mod is popular among Samsung Galaxy S7 and S7 Edge users. As you would know that these Samsung devices come with the bottom firing single speakers. Though the sound output may be loud enough but it cannot compete stereo speakers or forward firing speakers.
If you want to improve the sound experience on your device you can enable the dual speaker. Basically, your earpiece will now act as the secondary speaker giving you a stereo effect. Here are few of the features of this sound mod for your Galaxy Note 7.
To install the dual speaker mod on your Galaxy Note 7, you will need a device with a custom recovery like TWRP installed. If you do not have TWRP on your Note 7, you may follow the guide linked below to do so.
Install TWRP and Root Galaxy Note 7 SM-N930F / FD (Exynos Variants)
Features
The sound mod includes following features:
Activate dual speaker when playing media
Increase in-call volume
Louder handsfree volume
Increase multimedia playback volume
Better Bluetooth multimedia playback volume
Increase Bluetooth in-call volume
Louder VoLTE in call volume
Increase Wifi Call volume
Improved mic sensibility on video recording
Better mic sensibility on voice recording
Improved mic sensibility during calls on speaker mode
Things You Will Need
Enabling Dual Speaker Feature on Galaxy Note 7
Step 1. Download the zip file from the link given above and transfer it to your device's storage. (Remember the location where you copy this zip file)
Step 2. Reboot your device to recovery mode. To do so press and hold Power and a Volume Down buttons for few seconds.
Step 3. Make a backup using Backup option of the TWRP recovery.
Step 4. Once you have created a backup go back to the home of TWRP. Then select Install option of the TWRP recovery and browse for the mod you downloaded in Step 1. Then swipe to start the installation.
Step 5. Now Reboot your device and Enjoy.
That's all! Enjoy the dual speaker mode on your Galaxy Note 7. Do share your experience with the sound quality after installing this mod.
Feel free to drop your queries in the comments section below. We will try to resolve your issues as soon as possible.