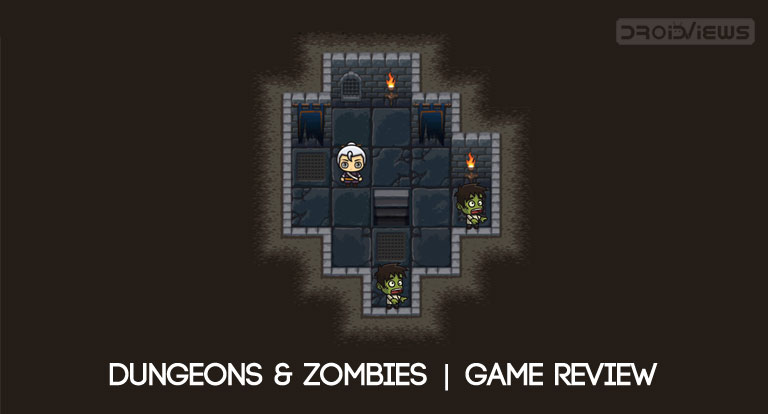 There are thousands of games available on the Google Play Store. However, not all games are actually worth your time. If you're someone how enjoys solving puzzles in your pastime, we've found a game that you must try out. Dungeons & Zombies is a free to play puzzle game that would get you hooked on within no time. There are relaxing puzzle games, and then there are entertaining and stimulating puzzle games. Dungeons & Zombies falls into the latter category and it's amazingly addictive too.
Unlike a few other games in its category, Dungeons & Zombies is not only challenging but it is also entertaining. The game is free to play for the most part and is supported by in-game ads. Fortunately, the in-game ads aren't intrusive and you would not be interrupted mid-game by them.
Developed by Manic Player Entertainment, the addictive new puzzle game would leave you wanting to play more. Here's everything the game offers and what you should know about Dungeons & Zombies. While this game tests your brain, games like Touches test your reflexes and memory.
Gameplay and Controls
First off, its worth mentioning that the Dungeons & Zombies game runs perfectly even on budget smartphones. There aren't any complicated setup menus to go through and you do not need to create an account to begin playing the game. It would automatically link to your Google account. You could begin playing the game within a few seconds of launching it.
The subtle yet spooky background music adds a bit of character to the game. Right off the bat, you would be able to choose from 36 levels to play. We'd suggest starting off with the Starter Pack levels to understand the basics of the game.
The controls are also extremely easy to understand since you can control your character's movement by simply swiping left, right, up, and down to move the character respectively. Dungeons & Zombies revolves around swiping actions and of course, a lot of focus.
To win a level, you would have to move your character from the current position to the stairs. While it might sound easy, it definitely isn't. You have to avoid being caught by the zombie and you must take the least number of steps possible to the stairs to receive a perfect 3-star score.
Don't Miss: 5 Best Endless Running Games for Android
The first few levels might seem like child's play if you've been having a go at sliding puzzle games before. However, as you progress and move up the levels, you'd be hard-pressed to find the most effective way to clear the stage without being gobbled up by the Zombie.
Dungeons & Zombies In-Game Features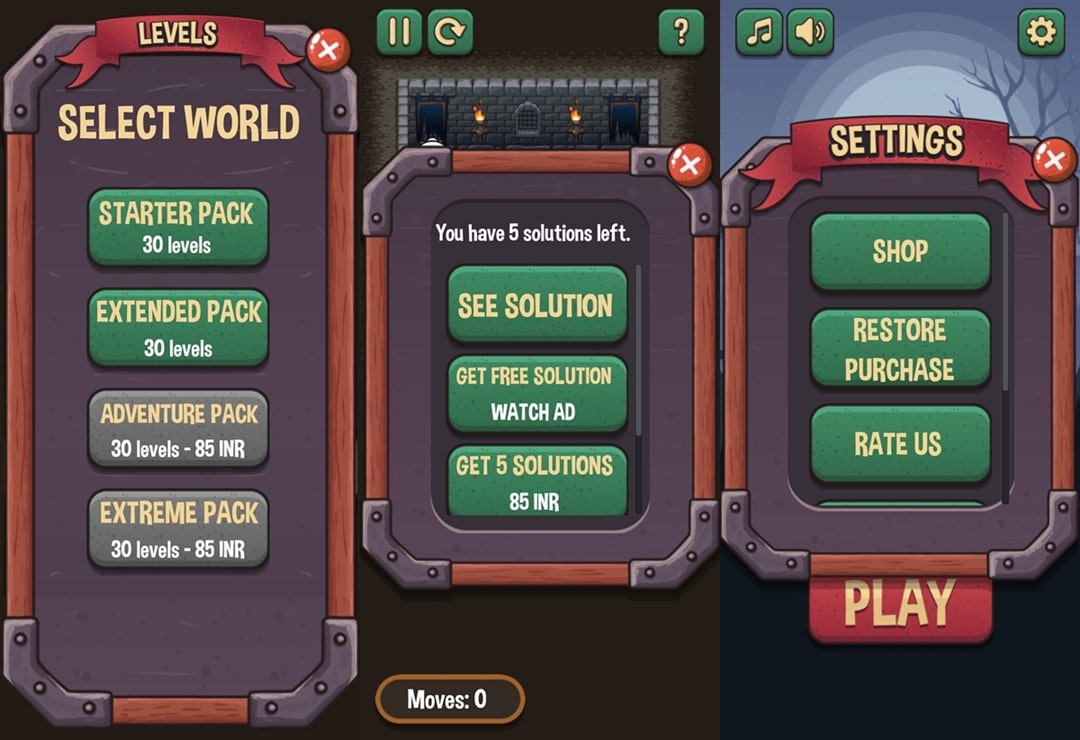 Dungeons & Zombies has a few useful features that are worth knowing about. You can toggle off the background music and other sounds separately. The icons to toggle of the background music and in-game sound are easily accessible. They are located at the top left of the screen. Tapping on the buttons would either turn off or turn on the in-game sound or music.
Another incredibly useful feature to check out is the option to see the solution to a stage. This would help you complete a stage you might be having trouble with. You do have 5 free solutions, however, use these only when absolutely necessary.
If you manage to clear all the levels or want another user to play the game from scratch, you can use the Reset game. This is available in the games setting menu located at the top right of the screen. Scroll down the settings page and you would see the Reset game option.
Must Read: 5 Best War Games for Android in 2019
Unlockable Features
We mentioned that Dungeon & Zombies has 36 levels to play right from the get-go. However, you can unlock the remaining levels from the Starter pack and Extended pack by simply collecting 25 stars in each pack. This means you would be able to play a total of 60 levels for absolutely free.
However, we have a feeling you would want to have a go at more levels in the game. You can unlock the Adventure pack and the Extreme pack. These new packs would bring along 30 new levels each giving you access to a whopping 120 total levels in the game to keep your mind sharp.
If you run out of the 5 free solutions, you could opt to watch an advert to get the solution for a level. However, if you don't want to be spending much time watching ads, there's an option to pay to unlock 5 more solutions. You could even be sneaky and use the solutions to get ahead of your friends. Although completing a level without the solutions would give you great satisfaction.
You could also visit the in-game Shop from where you can choose to remove the in-game ads and buy 5 solutions. There's also an option to make a purchase to remove all ads, unlock all level packs, and even unlock all the solutions to each and every level in the game.
[googleplay url="https://play.google.com/store/apps/details?id=com.manicplayer.dungeonszombies"]
Read next: 15 Best Offline Games for Android