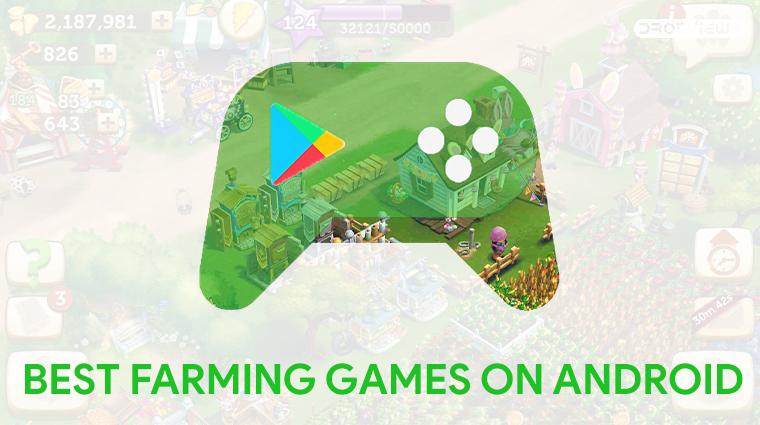 Back when Facebook was getting in on the online gaming scene, before smartphones, a certain farming simulator was quite popular. These days, farming simulator games aren't the most popular. Still, there is a sizeable fan base for such games. For one, farming games tend to be a more relaxed experience compared to something like Call of Duty. If you're interested, these are the best farming games on Android in 2020.
Hay Day
[googleplay url="https://play.google.com/store/apps/details?id=com.supercell.hayday"]
Hay Day is not the most popular game from its creators because that's Clash of Clans. But Supercell's Hay Day is still a huge hit and very popular amongst people who actually enjoy farming games. If you have never played a farming game on Android before, Hay Day would be the perfect starting point. Your job is to clean up the old farm, plant crops, tend to livestock, etc. While doing that and gaining points you unlock various new buildings and upgrades.
This is a huge game considering it is a farming simulator. There is a town to explore, a fishing mini-game, and a roadside shop that you can run. The farming game even lets you build your own town. As I said, this is a huge game and has a ton of things for you to do. While it is one of the very best farming games on Android, it follows the freemium model of Clash of Clans. Therefore, it also suffers from the same problems a bit.
FarmVille 2: Tropic Escape
[googleplay url="https://play.google.com/store/apps/details?id=com.zynga.FarmVilleTropicEscape"]
Farmville is the original farming game or at least the first one to get really popular. This farming game predates smartphones and owes much of its popularity to Facebook. Regardless, it claims to be the number one farming franchise. Farmville 2, as the name suggests, is an evolution of the original game. This one takes you to a tropical island.
Other than that its the typical Farmville game where you start a farm, plant crops, earn money, modify your farm, raise livestock, unlock new buildings, etc. If this sounds similar to Hay Day, that's because Hay Day is a lot like Farmville. There's also Farmville 2: Country Escape which is pretty similar except it is set in the countryside.
Tiny Sheep
[googleplay url="https://play.google.com/store/apps/details?id=com.superfine.tinysheep"]
Tiny Sheep is indeed a farming game but the sheep are the title characters here. It's a mobile farming game where you raise sheep, buy more sheep, feed sheep, etc. You earn money by selling their wool and then buy new supplies to make your farm more efficient and bigger. It's a cute little game with graphics to match. It also feels a bit like a pet simulator while being a farming simulator.
The game has a pretty nice tutorial at the start with visual instructions. Like the others, this too is a freemium game and contains not only in-app purchases but also ads.
Egg, Inc.
[googleplay url="https://play.google.com/store/apps/details?id=com.auxbrain.egginc"]
It's not hard to guess that this game is based around eggs, chicken eggs, to be exact. Your goal in the game is to build a massive poultry farm which is basically a massive profit-making machine. It's one of those automated tapping games, however, so if you don't like mindlessly tapping on the screen this might not be for you.
To achieve your goals, you have to keep tapping on the screen to lay more eggs. With the profit, you earn you can research new chicken-raising technologies and upgrade your farming supplies making each tap worth more and more. ou probably wouldn't play this game more than 10 minutes at a time.
Blocky Farm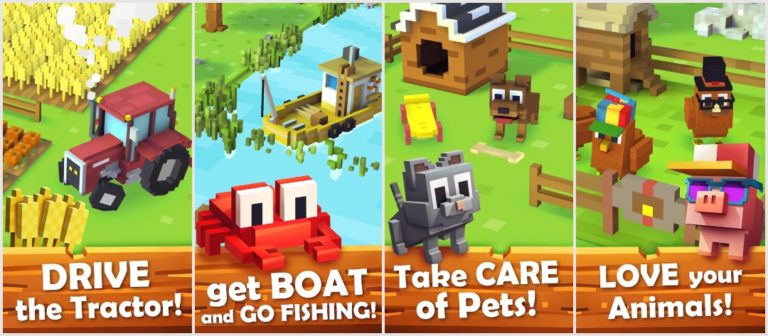 [googleplay url="https://play.google.com/store/apps/details?id=com.JetToast.BlockyFarm"]
In short, Blocky Farm is Hay Day in a different skin and style. There are similar levels of in-app purchases and ads, easy-to-understand instructions to help you build a profitable farm, and the way to profit is to plant crops and raise livestock. The retro-style pixelated graphics is the biggest difference between Blocky Farm and Hay Day. We can't tell you which of these two to pick. The choice pretty much depends on whether you love the retro-style graphics or you don't.
Farming is a labor-intensive job but these mobile farming games allow you to have the fun of growing your own food without any of the hard work involved. Do you play any other farming simulators that you'd want on this list? Let us know!