War is not a game, but war games have been pretty popular on PC and consoles for a long time. Call of Duty is a popular example. With the rise of Android though, people have also been playing a lot of games on their smartphones. Call of Duty is, therefore, also available on Android as well as many other war games. Here are some of the best war games available on Android in 2019. Using the recently introduced Google Play Pass subscription, you can enjoy a host of Android games without irritating ads or in-app purchases.
1. Frontline Commando: D-Day
[googleplay url="https://play.google.com/store/apps/details?id=com.glu.flcn_new"]
Frontline Commando: D-Day is one of the best war games in 2019 to start with. The sequel to the original, Frontline Commando, this war game takes place in the World War II setting. The amazing yesteryear console-level graphics and the slick touch controls make it a stunning war-themed third-person shooter. The game features real-life guns and even places like Utah and Omaha beaches are modeled exactly like the real places.
There are over 100 levels and they're not easy. All of these factors together make the game engaging and just the right amount of tough. It's a highly recommended game even if you're into any third-person shooters, and not necessarily just warm games.
2. Brothers in Arms 3
[googleplay url="https://play.google.com/store/apps/details?id=com.gameloft.android.ANMP.GloftA3HM"]
The original Brother in Arms was amongst the best Gameloft games. The third iteration, as you would guess, is an action-packed war game but it is described mostly as an arcade shooter. The mobile version can't really be compared to the PC counterpart. But it's an enjoyable first-person shooter for your Android. There's not much in terms of story in this one but if you enjoy some mindless shooting action, the third game in the installment is still decent.
Most importantly, it's an action-packed shooter that comes in exactly at 62 MB as of the latest version yet. Missions are linear but they have some variety to make sure players don't get bored. Therefore, it is suitable for most Android smartphones, not just flagships.
3. Great Battles Medieval
[googleplay url="https://play.google.com/store/apps/details?id=com.slitherine.gbmfree"]
Wars have not always been fought with guns you know. If you're into war games but not so much into modern warfare, this might be the game for you. Great Battles Medieval is a historic strategy title with quasi-RTS gameplay. It takes place during the Hundred Years' Wars and has plenty of skirmishes along with a campaign mode and a multiplayer mode.
The combat system is what makes the game fun to play and even watch. The battles are quick so you have to utilize the time you have efficiently. While fighting AI soldiers and cavalrymen you can pause the game to give instructions to your units to move to better positions. After each battle, you can upgrade troops and their skills. The experience earned can be used to boost their stats.
This is a must-play for fans of historic titles such as Total War.
4. World at Arms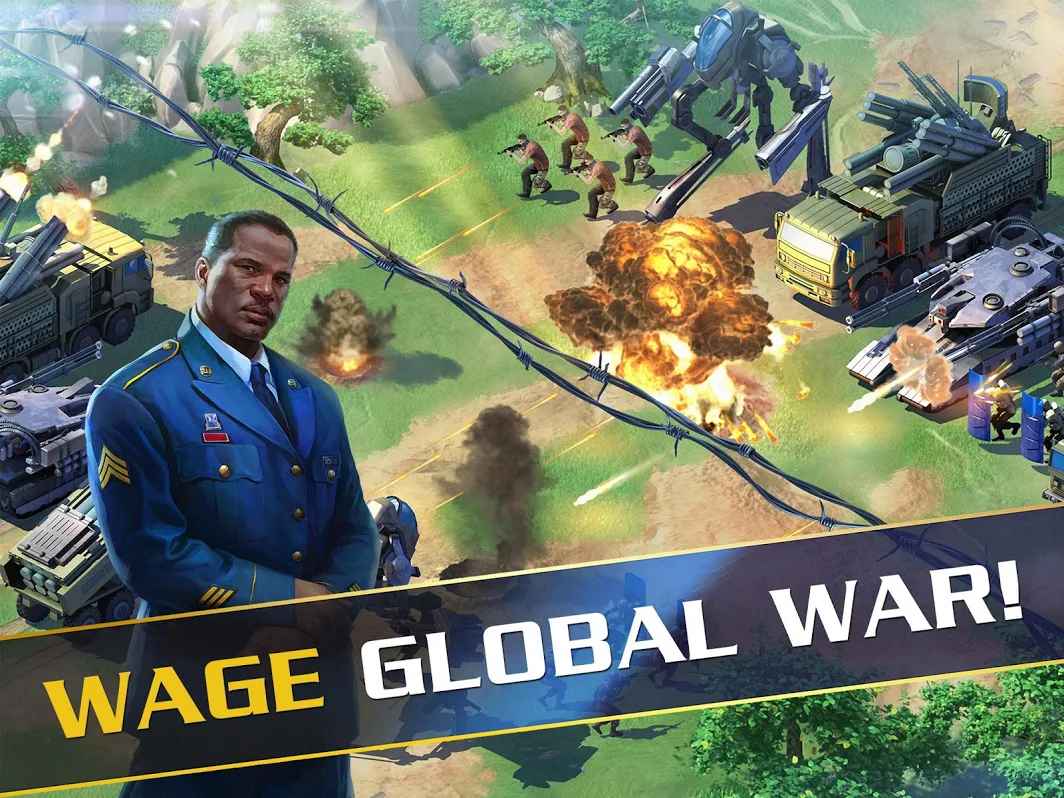 [googleplay url="https://play.google.com/store/apps/details?id=com.gameloft.android.ANMP.GloftMTHM"]
It shouldn't surprise anyone to see another Gameloft game on the list. The company does make some of the best war games on Android, or just mobile games in general. Even though the name suggests a world war type scenario, World at Arms is about America fighting a terrorist organization by the name of KRA. It's a base-building strategy title with a split-screen combat system that might be refreshing to most people.
You can control unit positioning and placement and also use special weapons like missiles. That just means you can also be targeted by enemy missiles but you can swipe them away to reduce damage to your troops. Leveling up your base unlocks more special weapons like an airstrike, nuclear strike, explosive shell, etc. Hardcore war strategy players may not find the split-screen style very appealing, however. This is one of the best high FPS games for Android with amazing gameplay.
5. Army of Heroes
[googleplay url="https://play.google.com/store/apps/details?id=com.plamee.aoh"]
With the motto 'Fight, destroy and defend', the Army of Heroes is an online action and strategy war game for Android. Since you're playing against actual people, you have millions of enemies to conquer. Your motive is to train your army to defend your base against potential enemies coming to capture your base. Meanwhile, you'll also be trying to build a strong outpost territory to defend your base and conquer the world. In games like these, survival is the key to victory. Here are some of the best survival games for Android you should check out.
Here ends our list of the best war games in 2019 available for Android users at the Google Play Store. Should you know about some amazing games that deserved a place in our list, let us know via comments.
Read Next: 5 Best Racing Games for Android in 2019