Android has really cashed in on the freemium game model. Most Android games are free and most of them also have either in-app purchases on annoying ads that force you to buy it. Some of the biggest titles on Android such as PUBG Mobile, Clash of Clans, Pokemon Go, etc. all have in-app purchases. Therefore, they aren't truly free. But here are 5 truly free Android games with no in-app purchases and no ads.
1. MINESWEEPER

To start the list, we have the classic computer game Minesweeper. In Minesweeper, your objective is to clear a grid while avoiding hidden mines by strategically revealing squares and using numeric clues to identify safe locations. The addictive nature of the game is due to the perfect mix of strategy and luck required to win. Start at beginner level and eventually master the game at expert. Minesweeper is sure to provide hours of dynamic entertainment. Try playing Minesweeper now.
2. DATA WING
Blast through a stylish, neon landscape in this story-driven, racing adventure.
DATA WINGs deliver critical data throughout the computer system, following Mother's orders without question. But when the system comes under attack, and Mother becomes irrational, something must be done!
Free Android Game
No In-App Purchases
No Ads
[googleplay url="https://play.google.com/store/apps/details?id=com.DanVogt.DATAWING"]
DATA WING is a basically a futuristic racing game with retro style graphics.  The sleek racing game has a focus on thrusting off walls and features intuitive two-touch controls with an arcade feel. The races are driven by a 2+ hour story with over 40 levels. All of that combined with the amazing soundtrack is sure to get your adrenaline pumping.
Don't Miss: 5 Best Heaviest Games for Android | 2019 Edition
3. Underhand
Ever wanted to start your own cult? Or wished you could summon eldritch horror-terrors from the abyssal depths from whence we all came? Well here's your chance!
Free Android Game
No In-App Purchases
No Ads
[googleplay url="https://play.google.com/store/apps/details?id=edu.cornell.gdiac.underhand"]
Underhand defines itself as a CCG which traditionally stands for Collectible Card Game. However, in this case, it stands for Cultist Card Game. You take on the role of a cult leader and your decisions will affect the progress of your cult. Your primary job is simply, resource management. How well you do it will define how successful your cult is. The goal of the cult is to summon an "Ancient One," which will again depend on your resource management skills. The game provides a thrilling choice-based adventure.
Must Read: 10 Best Gameloft Games Under 50MB for Android
4. Stranger Things: The Game
Stranger Things are afoot again in Hawkins, Indiana. Join Hopper and the kids on a new, action-packed adventure!
Free Android Game
No In-App Purchases
No Ads
[googleplay url="https://play.google.com/store/apps/details?id=com.bonusxp.legend"]
Stranger Things is a very popular Netflix show if you haven't heard. The game was mostly meant as promotional material for the show but it turned out to be more. Generally, promotional games aren't very original and aren't much fun either. In other words, they suck. But not this one. Stranger Things: The Game sends you back in 1984 Hawkins, Indiana.
The game takes place between the first and second seasons of Stranger Things so it makes the most sense to fans of the series. This is like the Lord of the Rings or Star Wars games on PCs and Consoles where the game is set in the same universe but in a different time. The game features 16-bit graphics taking you literally back to the 20th century. It combines puzzles with a beat-em-up kind of adventure, and it's sure to delight everyone.
5. OHM – A virtual science centre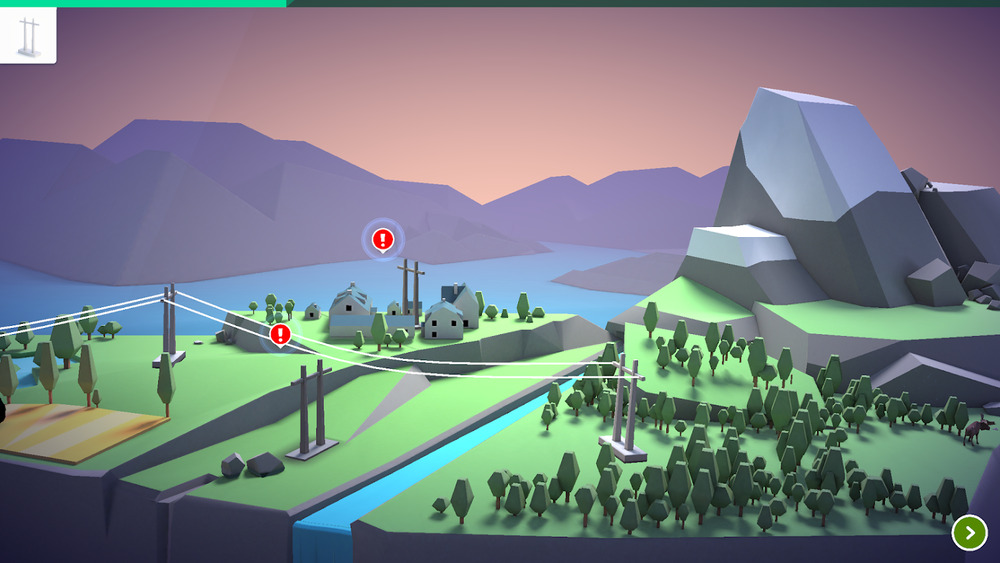 OHM is an exciting and interactive way to learn about energy and electricity, and how our society has developed since the dawn of electricity, and not least to catch a glimpse of what an electric future would look like.
Free Android Game
No In-App Purchases
No Ads
[googleplay url="https://play.google.com/store/apps/details?id=no.statnett.ohm"]
If you're looking for a free educational game for your kid or even yourself, this is it. The game features a gorgeous, low-poly design making it one of the best looking games around. The game comprises of several puzzle-based chapters on different topics. These are explained in a fun and interactive way. During the game, players learn about what energy is, how it works, how electricity is generated from an atomic level, etc.
6. (BONUS) Wicked Lair
A unique take on a Tower Defense / Dungeon Building Hybrid. Build your dungeon as deep as you can, spawn powerful creatures to defeat the heroes that enter your domain and learn spells to aid your minions in battle. Send your own invaders to destroy the town before the heroes raid your lair to win the game.
Free Android Game
No In-App Purchases
No Ads
[googleplay url="https://play.google.com/store/apps/details?id=com.stefanpratter.wickedlair"]
Tired of always being the good guy? Well, this game lets you be the bad one. You get to create your own evil dungeon which goes as deep as you want. You fill it with nasty monsters and minions. These are dispatched to nearby towns to invade and destroy them. Naturally, Heroes arrive in your Dungeon and test the defenses of your dungeon, tower defense style. The game uses a retro pixel art style for the graphics which looks pretty good.
The games listed above are truly free Android games with no ads or in-app purchase option. You can enjoy them all completely free!
Read Next: 10 Best Android Games Under 20 MB