Mobile gaming is generally not taken as seriously as on consoles or PCs. However, the platform has certainly brought forth new possibilities. Something like Pokemon Go wouldn't really be possible with a PC or a console, for instance. Then there is the category of endless running games that are so popular on Android and other mobile platforms. They're fun and your goal is to beat your own score so there's always room for improvement. Here are the 5 best endless runner games for Android.
5 Best Endless Running Games for Android
Temple Run 2
[googleplay url="https://play.google.com/store/apps/details?id=com.imangi.templerun2″]
Of course, Temple Run had to be included here. It may not have pioneered endless runner games as a genre but it certainly helped elevate its popularity. The original Temple Run was a game people wanted to have on their phones because it was trendy. It was trendy because it was a lot of fun. This is why the developers decided to launch Temple Run 2.
It improves upon its predecessor in so many ways. The sequel has better graphics, unique gameplay, new obstacles and power-ups, different characters, and advanced path variations. The premise of the game is still the same: you control an explorer who steals an ancient artifact, and you have to run from evil demon monkeys who are after you.
Temple Run 2 was launched all the way back is 2013 so yes, it is old. But it is what almost all best endless runner games for Android are modeled after so it definitely holds its fun quotient. Besides, the game still receives regular updates. If you like Temple Run, you will surely love another endless running game named Two Roads.
Subway Surfer
[googleplay url="https://play.google.com/store/apps/details?id=com.kiloo.subwaysurf"]
If you've never played or liked Temple Run, chances are you have played or like Subway Surfer. While it was never as much part of the pop culture as Temple Run it still had its place in the realm of best endless runner games. Subway Surfer has inspired many game developers and you'll find plenty of ripoffs on the Play Store. Everyone wants to cash in on the game's popularity after all.
The premise is simple, in that you have to avoid obstacles, collect coins and power up, and run as long as you can. You play a young delinquent who gets caught spray-painting on a train. Naturally, you must run away from a police officer and his dog. You run through a never-ending train station, running on top of trains, across platforms, and through the air. And sometimes there's a jetpack involved.
The game also offers multiple characters to play as, as well as multiple locations. There are no sharp turns like Temple run but you'll find the game creates more havoc as you run. While the size of these games in 81 MB, there are some interesting Zero MB Android games you should also check out.
Jetpack Joyride
[googleplay url="https://play.google.com/store/apps/details?id=com.halfbrick.jetpackjoyride"]
Jetpack Joyride is also a hugely popular endless runner games although you'll spend most of your time flying on your jetpack instead of running. It takes a different approach to the genre. It pays homage to 16-bit games and is a 2D side-scrolling endless runner unlike the ones above. The game is developed by the same people that brought us another popular game called Fruit Ninja.
Don't Miss: 15 Best Offline Games for Android
The scenario here is a bit unusual. You play Barry Steakfries who is a struggling salesman. He happens to stumble upon a laboratory where they're testing jetpacks. As it would come naturally to a salesman, he decides to steal one. Now the whole point of the game is to escape the lab. But this is an endless runner so obviously, you won't ever escape.
Instead of swiping you simply have to tap or tap and hold. As long as your finger is on the screen the jetpack will be active. It's a lot like flappy bird but it precedes flappy bird. The game was released all the way back is 2011.
Alto's Odyssey
Alto's Odyssey is the follow-up to the critically acclaimed Alto's Adventure, but you don't need to have played one to enjoy the other. In fact, if you've never played the original, you shouldn't even bother because Alto's Odyssey is much better. It's another 2D side-scrolling endless runner game for Android. However, there's no running involved, technically since you're skiing.
Somehow you manage to do it on hot summer days on sand and rocks as well instead of snow like the original game. You ski down a slope and perform jumps and wall slides, while collecting coins, completing objectives and seeing how far you can go before falling. As you progress through the level you encounter hot air balloons, waterfalls, temples, and more. The good part is many of these items are interactive and not just there for the sake of being there.
Odyssey also includes the Zen mode which was added to the previous game on public demand. Basically, it just lets you play without any score or deaths, so you can play without any distractions.
Blades of Brim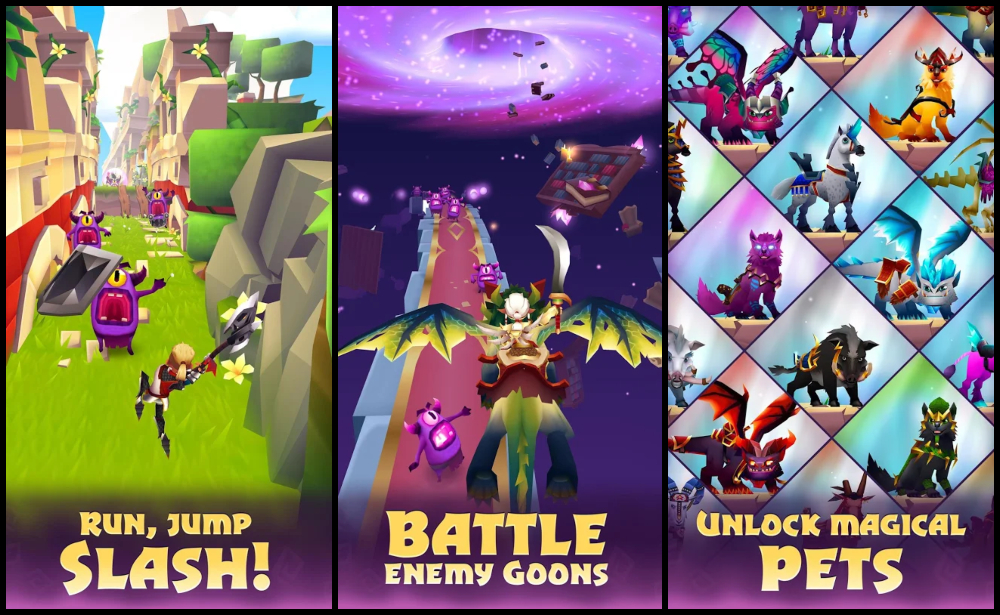 [googleplay url="https://play.google.com/store/apps/details?id=com.sybogames.brim"]
Probably the least popular game on this list, Blades of Brim was created by SYBO Games, the co-creators of Subway Surfers, soon after the success of Subway Surfers. Another endless running game from the same people may make you think it's the same thing. But don't worry, SYBO Games have included quite a few improvements to make the game not feel like an exact ripoff.
You play a young knight carrying a large sword, tasked to fight off a variety of monsters, break vases, and collect coins while running endlessly through a kingdom. You interact with the in-game environment instead of avoiding it. For instance, you can swipe down to attack monsters in front of you and swipe up and to the side to attack goons to your left or right.
Unlike other endless runner games, you don't die because you got caught because of one silly mistake. You're not being chased here, after all. Instead, you lose a portion of your three hearts if you miss a monster.