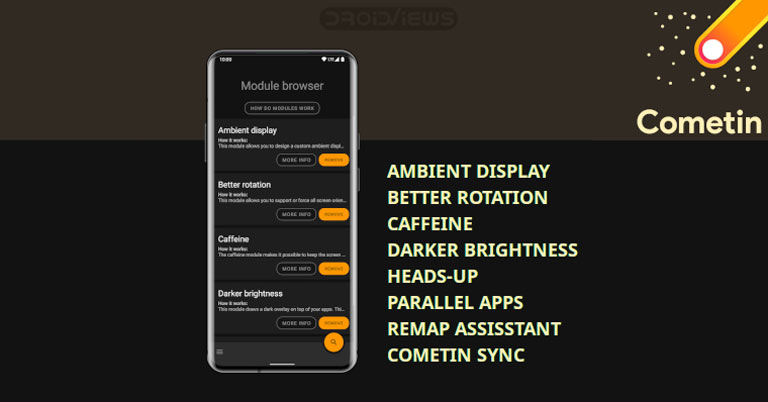 Stock Android, even though still lacking many features that some OEM skins have, is a good enough experience these days. OEM skins have also come a long way to the point where most people don't feel the need to install a custom ROM. Yet, this does not mean stock Android or your OEM's skin is flawless. There may be some feature that you want but isn't there. Usually, that makes people root their device and install mods. Cometin is an app by Stjin, is a collection of some tweaks like that. It can add fresh and more exciting Android tweaks and mods like Ambient display, parallel apps, a universal clipboard, and a lot more to your Android device without root. Don't forget to learn how you can hack Android games without root to enjoy unlimited lives and more.
Cometin
The best part about it is that all of these Android tweaks and mods can be installed without rooting or even any kind of special privileges. However, this does mean that the app requires a whole lot of permissions. All the tweaks in the app are available as modules, like in the Xposed Installer or Magis Manager app. One difference is that these modules are hosted on the Play Store itself, and not in a third-party repository. Moreover, unlike some Magisk or Xposed Modules, you won't see any Cometin modules in your app drawer. The app uses Dynamic Delivery Modules to deliver modules within the app as needed. This way, you can choose to not have a module installed on your phone if you don't want it.
List of Cometin Android Tweaks and Mods
What makes Cometin the best clipboard app for Android are the cool plugins or modules. So far there are 8 modules in the app. You can download and install them all at once if you wish to. The Android tweaks and modules and what they do have been listed below.
Ambient display: Select a custom ambient display that pops up when you receive a notification.
Better rotation: Force all screen orientations for all apps
Caffeine: Keeps screen on for a limited period of time, or alternatively, switches the screen off only after a set time
Darker brightness: Draws a darker overlay for further lowering the brightness of the phone
Heads-up: Dismiss and recreate notifications with minimum priority, preventing notifications from appearing as heads-up notifications
Parallel: Create a second installation of an app such as WhatsApp.
Remap assistant: Sets the module as an assistant, thus allowing users to have different shortcuts executed
Cometin Sync: Syncs notifications, URLs and text between PC and Phone. Kind of like having a universal clipboard on Android.
Tweak Ambient Display on Android
The Ambient Display module allows you to design custom ambient displays that will pop up whenever you receive a new notification. When your device's screen is turned off and a notification arrives, it will display an animation followed by the message. But if your device already has an Ambient Display, you will have to turn it off to avoid any conflicts with the tweaking of default on your Android device.
Better Rotation
As the name suggests, this module allows you to perform a force screen rotation, including a reverse portrait (180 degrees) for all your apps. You may, however, experience some display resolution issues on one or two apps. In my case, one of the apps had half of its contents being cut from the screen. In those cases, it is advised to turn off this module.
Caffeine
The Caffeine module performs the dual functionality of tweaking your Android device. It allows you to keep your screen on for a certain time. And it also works in reverse, i.e you may use this feature to force the screen to turn it off after the said period expires. Watching movies on Netflix and slept without realizing the phone is up all night? From now on you, take the help of this feature. Or if you are reading an e-book on your Android device and don't want the device to sleep in between, this module works pretty well in those scenarios as well.
Tweak for a Darker brightness on Android
It's no hidden fact that even the minimum brightness level on our device doesn't do full justice. We often end up taking the help of various third-party apps to even further lower the brightness. But the same could very well be achieved via this module. It tweaks the minimum brightness on your Android device by drawing a dark overlay on top of all your apps.
By doing so, it achieves a much lower brightness level than what the default screen brightness is capable of. As with other night filter apps, this module too couldn't draw the darkness overlay on Notification or Status Bar. It is due to the restriction imposed by Google on Android Oreo and the above versions. Apart from that, everything works perfectly fine.
Parallel
Another pretty handy tweak for your Android device. Similar to what the Parallel Space app does on your device, it allows you to set up two different profiles for a single app. For example, you may create a work profile for an app that will have separate settings, data, and apps. Recommended if you wish to separate your data from work data.
Tweak or Hide the Heads-Up Notifications on Android
Heads up notifications are notifications that appear from an app when your device is turned on. You may dismiss or act on these notifications without actually opening the app. You may further prioritize these notifications based on their importance. The Hide heads-up module will dismiss all those notifications that are set to low priority. An efficient way of tweaking these heads-up notifications on Android.
Remap Assistant on Android without Root
This module will replace will your device's default assistant. You could activate this assistant the same way you do so for the default one. These include pressing the Home button or the navigation pill. But this couldn't remap a dedicated Assistant button on Samsung devices. Following are some of the actions that the Assistant is capable of performing:
Switch to last used app, Put the device back to sleep, Take a screenshot, etc.
Open Recents Menu, Notification Panel, Quick Settings Panel, Power dialog, etc.
Tweaking Rotation Lock, Flashlights, Silent Mode, etc on your Android device.
Although its performance is decent enough, still I couldn't find any reason as such to replace it with the Google Assistant app. A no-go for me, for this feature at least.
Cometin Sync
It provides an easy to use interface for syncing your Android device with PC. A separate Cometin desktop extension needs to be installed on your PC for this module to work. Its feature includes the ability to sync notifications, share texts and URLs across platforms and save and access sticky notes. A small yet handy tweak for your Android device
You can find ever further detailed explanations about what each tweak and module does, how it works, the permissions it needs, etc.within the Cometin app. In brief, these are all the app permissions the Cometin app requires:
Accessibility
Internet
Camera
Device admin
Draw over other apps
Foreground service
Wakelocks
Write settings
System alert window
Launch on boot
Don't Miss: 10 Best Gallery Apps for Android
How to install Cometin Modules
To be able to enjoy the Android tweaks and mods, you need to install the Cometin app first. The app is free on the Play Store although it does have in-app purchases, more on that later.
[googleplay url="https://play.google.com/store/apps/details?id=host.stjin.cometin"]
Once it is installed, launch the app and grant it all the permissions it needs.
Right on the main page, you'll see the option to Browse all modules.
Each module presents a short description along with options to install it or view more info.
Obviously, tap on Install to install it.
Installed modules can be accessed from the side menu drawer. Each module has a specific set of features and therefore a specific set of options.
Unlike Xposed or Magisk, these modules simply use the Cometin app to provide an interface instead of building their own. This makes for a more consistent experience across the board. Granted, the number of modules and the extent of customizations they offer are far limited here in comparison.
In-App purchases
As mentioned before, the app does have some in-app purchases. While there are 8 modules and you can install all of them at once, that's only true if you buy that privilege. Out of the box, users are limited to 5 modules, which is not bad. Most users might not even need 5 modules. Moreover, the Cometin Sync module requires the use of Cometin cloud. Cometin cloud is another in-app purchase so you cannot use the module without it. Individually, these two in-app purchases would cost you plenty.
However, there is another IAP named Halley's Bundle which unlocks both 5-module limit and Cometin cloud access for a slightly cheaper cost. If you are using their cloud service, it makes sense that they'll need you to pay for it to keep it running, so it's not cheap monetary tactics. Given the design and aesthetics of the app, the attention to detail, the things it can do and the clear transparency from the developers, the costs seem justified. That is, of course, if you do want those features. All the above amazing features do make Cometin the best option for users who want to enjoy the best Android tweaks and mods without root privilege.