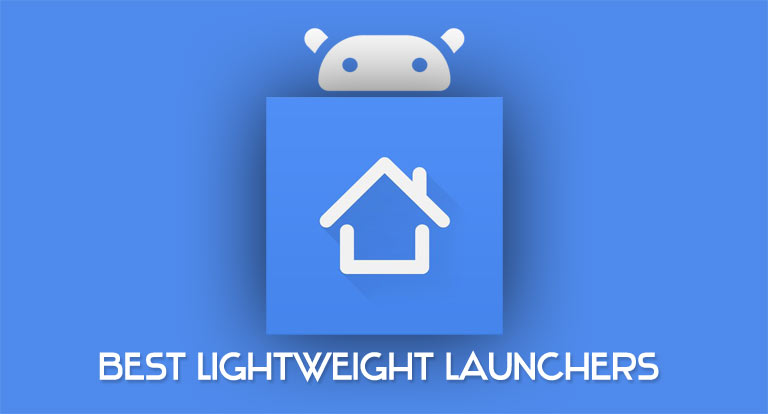 Android offers a ton of customization options including the option to replace your existing homescreen launcher with a third-party alternative. There are plenty of great options for homescreen launchers, however, we've tried and tested every launcher worth checking out and have picked the best lightweight launchers for Android.
These lightweight Android launchers do not hog up the resources on your smartphones thus giving you a faster and smoother experience. You should also take a look at these best lite apps for Android to save space and data.
Lawnchair Launcher
If you've been following any content related to Android customization, you probably might have heard about Lawnchair. This lightweight Launcher for Android is highly customizable and is easily one of the overall best Android launchers out there.
Lawnchair lets you use third-party icon packs and you could also set a default icon shape. There are a bunch of settings to tweak and experiment with. You could even make use of gestures to quickly launch apps or turn off the screen and more. It also supports integration with Google Search and Sesame which is a powerful search tool for Android devices.
[googleplay url="https://play.google.com/store/apps/details?id=ch.deletescape.lawnchair.plah"]
Niagara Homescreen Launcher
Niagara Launcher offers a clean and minimal user interface. The straightforward layout allows you to access your most-used apps with just a single tap. To view all other apps on your smartphone, you could simply use the A-Z slider towards the right. This would show you all the apps on your smartphone in alphabetical order.
On the customization front, there isn't much you can change. However, there is support for third-party icon packs and custom text colors. There's a 'Pitch black theme' option which enables an OLED-friendly total black mode. This theme only affects the settings panel and menus.
[googleplay url="https://play.google.com/store/apps/details?id=bitpit.launcher"]
ap15 Homescreen Launcher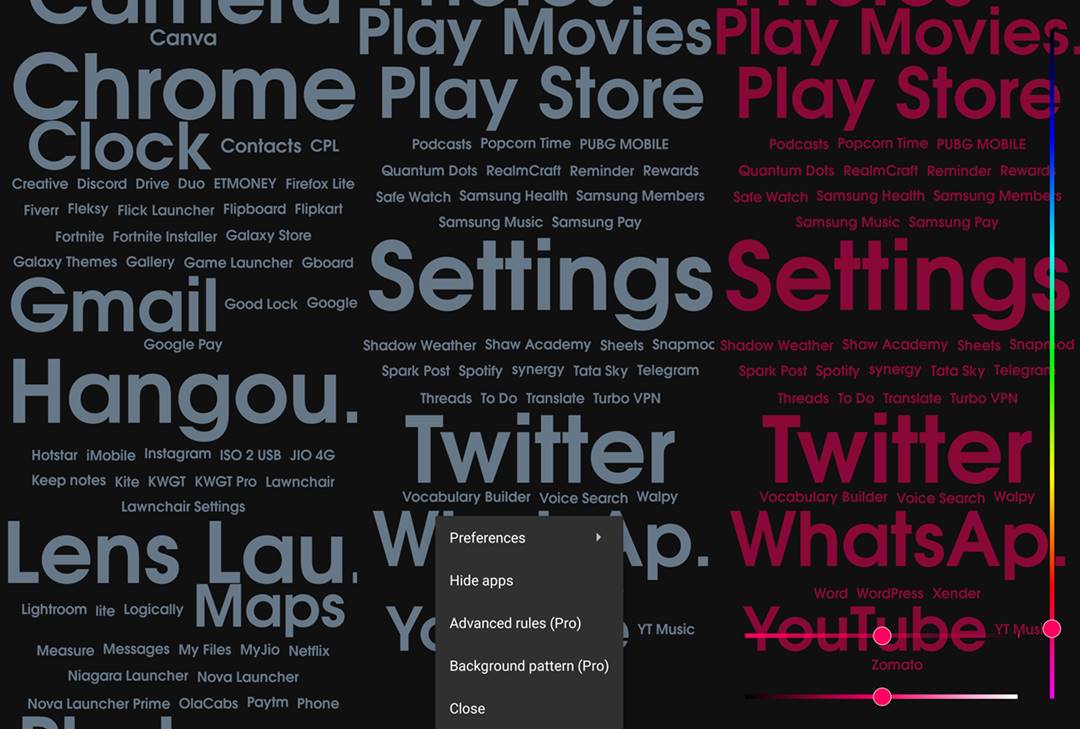 This Android launcher is literally the most 'lightweight' app on the list. Coming with a download size of just 339kb, you can't get any better than this for its size. ap15 launcher automatically understands which apps you use the most and uses a bigger font for them. It helps you quickly spot the apps you use the most with just a quick scroll.
You could also long-press anywhere on the homescreen to tweak the launcher by heading into the preferences option. It also allows you to long-press on an app's name to uninstall it or go to the apps settings page. With the non-pro version of the app, you can change the text color as well as the background color. However, if you choose to support the developer by paying, then you get access to further customization options.
[googleplay url="https://play.google.com/store/apps/details?id=com.aurhe.ap15″]
CPL (Customized Pixel Launcher)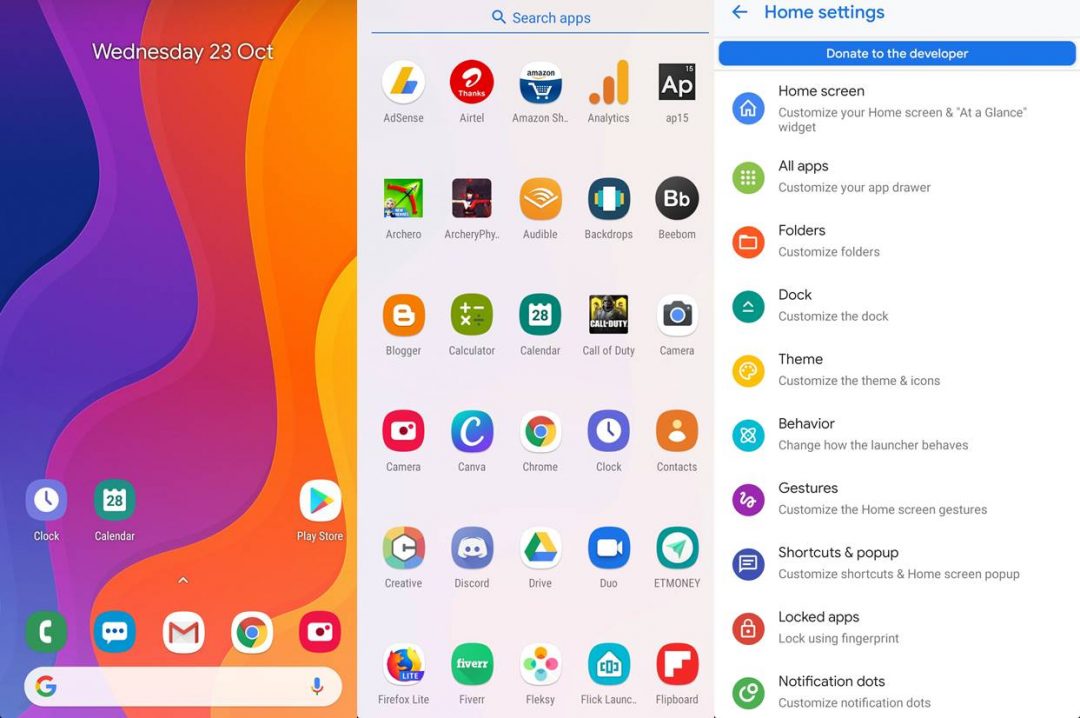 CPL launcher or Customized Pixel Launcher is an excellent fast and highly customizable lightweight launcher. It comes with a bunch of different customization options similar to that of Lawnchair and Hyperion. You can even choose to download the Google Feed and Weather plugin. It will make your device's homescreen look like the one on Google's Pixel lineup.
Of course, third-party icon support is present and you can also enable notification dots. In case you have a device with an OLED display, the launcher has an option to enable a black theme. This will help save a bit of battery. CPL lets you lock apps with your fingerprint too.
[googleplay url="https://play.google.com/store/apps/details?id=ru.whatau.cpl"]
Check out: Customized Pixel Launcher: Just Like Pixel Launcher But Better
Lens Launcher
Here's another unique homescreen launcher for you. Lens displays all the app icons installed on your device in one giant overview. By default, the app icons would look tiny and when you need to launch an app, simply tap on the app icon. If you're unable to make out an app with the tiny icon size, then you could hold your finger over the apps to zoom in.
Simply hold your finger down and swipe around the apps and release the finger once the app you want to launch is selected. Fortunately, you can also customize the icon size and scale factor. Within the settings, you can choose to hide apps as well. Lens launcher is cool and unique, however, this might not be the best option if you have a boatload of apps installed.
[googleplay url="https://play.google.com/store/apps/details?id=nickrout.lenslauncher"]
Flick Homescreen Launcher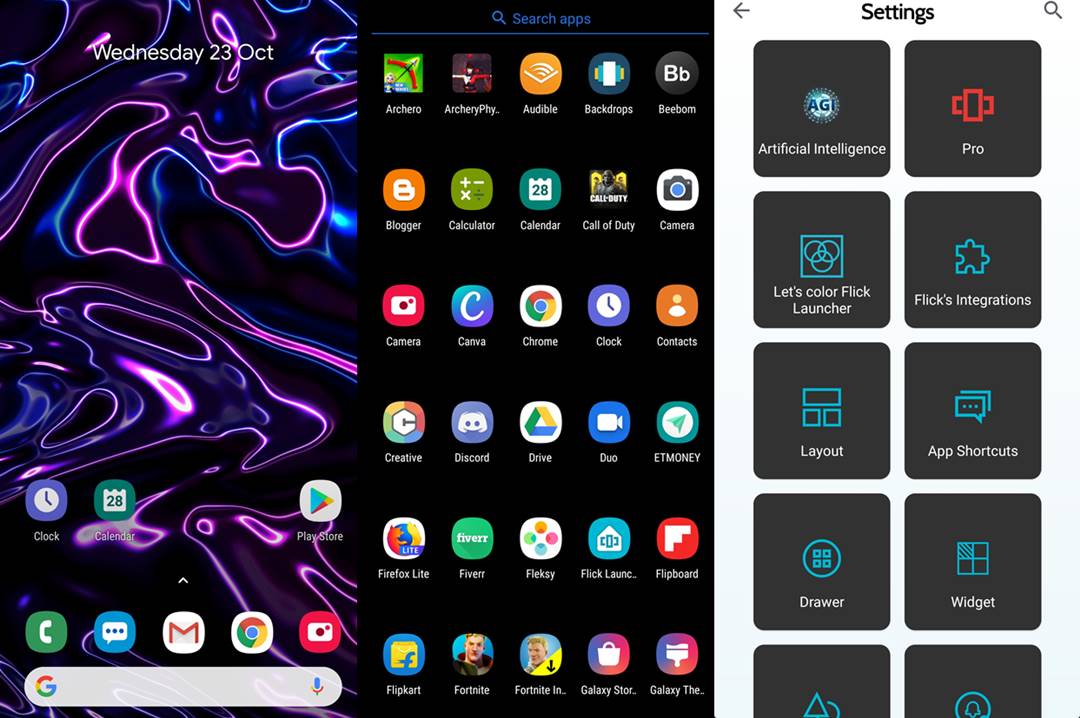 If you're looking for a feature-rich and lightweight wallpaper, then this might be the one you should pick. Flick Launcher gives you plenty of customization options to choose from. This includes the option to change the icon pack and the layout. There's even a night mode toggle that enables a black theme throughout the launcher.
You could choose to enable or disable app suggestions in the app drawer. And you can also install the Flick Companion app separately from the developer's website. By default, swiping up from the homescreen gives you access to a few quick toggles such as Wi-Fi, Bluetooth, Settings.
[googleplay url="https://play.google.com/store/apps/details?id=com.universallauncher.universallauncher"]
Hyperion Launcher
Hyperion Launcher is relatively new to the game. However, it's already gained a lot of popularity amongst customization geeks. It offers a good bit of customization, and you can tweak just about every element of the launcher.
Hyperion does support integration with Google Feed, but you need to install the Hyperion Dock plugin from the developers' website. Needless to say, Hyperion is also buttery smooth and works like a charm, which is a common trait with all the homescreen launchers on the list. Read our detailed review of the Hyperion Launcher and learn a bunch of useful tips too.
[googleplay url="https://play.google.com/store/apps/details?id=projekt.launcher"]
These are our top picks for the best lightweight launchers for Android devices. What launcher are you currently using on your Android smartphone? Let us know in the comments below.
Read next: 10 Best Android Launchers Recommendations