When you get your brand new Android smartphone, there's an excitement to it. While some are quick to install a custom launcher some of us try out the default launcher on the new device. Of course, there's not much to find out here if you buy your devices from the same OEM often. The point is, a good app launcher is important. It's what makes your Android experience unique, the way you want it. Today, I'll offer 10 recommendations for the best Android launchers.
Even if your device's software has an ugly skin you hate, you're not going to be seeing it as much as your launcher. If not for custom launchers I'd never have survived my first Samsung device or the EMUI skin from Huawei that I'm currently enjoying. Android launchers are pretty much like Android though, there's no perfect launcher although some might argue Nova Launcher is. You need to pick one that suits you. At DroidViews, we've reviewed quite a few launchers for you that should help you decide instead of having to try them all out.
Without any further ado, let's proceed to the list of best Android launchers recommendations.
1. Nova Launcher Prime
When in a list of 'somethings', something is mentioned even before the list even begins you've got to know it's the stuff of legends. That may not even be an exaggeration when it comes to Nova Launcher. It has been the most popular Android launcher around for more than half a decade. It's kind of like the iPhone of Android launchers in some ways. It's not exactly the best at most things. Nova used to be the simplest and most customizable Android Launcher, but over the years those crowns have been taken by other launchers.
Yet, Nova remains popular because it is just enough for a lot of folks. It's stock like, and it has a ton of features perhaps a lot more than you could ask for. Nova Launcher, as far as I remember, was the first Android launcher in the Android 4.0 days that brought the stock Android look to every Android device.
Apart from that, it was feature-packed like nothing at that time was. I remember one launcher that was almost as feature-packed but it was nowhere near the stock Android look and feel.
It supports all the basic features you'd expect from a custom launcher, such as icon packs, resizable widgets, resizable grids, subgrid positioning on the home screen, a scrollable dock, widgets support in the dock, plenty of gestures, unread count badges, custom icon swipes, and the list is really long. There's a free version which you can try but you won't get most of the features. All these things make Nova one of the best Android launchers.
[googleplay url="https://play.google.com/store/apps/details?id=com.teslacoilsw.launcher"/] [googleplay url="https://play.google.com/store/apps/details?id=com.teslacoilsw.launcher.prime"/]
2. Action Launcher 3
Another popular launcher that has been around for a while. Action Launcher's biggest strength is innovation. The most standout of all those unique features would be Quicktheme. It changes the theme of your search bar, folders, and app drawers with the colors of your current wallpaper.
The Cover feature lets you hide an entire folder behind an app icon. Tapping the icon opens the app while performing a gesture on the app icon such as swipe up or double-tap opens the folder. This is really helpful if you use one of the apps from a folder more often, or you just want a cleaner look.
The Quickdrawer had replaced the app drawer in Action Launcher and it is still there. Basically, if you're not enabling the Google Now pane on the left, a swipe from the left edge brings a list of all your apps. The Quickpage feature adds a blank page which can be accessed by a swipe from the right edge of your home screen. This can be used to hide apps and widgets. It's pretty much a mini app drawer with support for widgets.
Furthermore, Chris Lacy, the developer is constantly working to bring new features to the launcher. Action Launcher is always the first launcher to bring any feature from the latest Pixel Launcher. Sometimes simply based on leaks. That's fast. It's the one launcher that made me give up Nova Launcher. While I do try launchers often, I keep coming back to it. Action Launcher 3 is one of the most popular and best Android launchers available at the Play Store.
[googleplay url="https://play.google.com/store/apps/details?id=com.actionlauncher.playstore"/]
3. ASAP Launcher
Action Launcher is different, yes, but lately, it has all been about mixing all the Action Launcher goodies from before into the Pixel Launcher features. If you're looking for something completely unique, ASAP is a very good choice. It's still pretty normal looking, except that beautiful search widget on the main home screen which also shows the current weather and the current song.
The launcher has 5 pre-defined home screens. There's the main screen that sits in the middle with two on either side. The other four give you quick access to your contacts, weather information, calendar, and upcoming events, as well as a detailed to-do list. Swiping from the right edge brings you some quick toggles which are easier to reach, to be honest, that the notification shade. Swiping up brings up the most frequently used apps.
ASAP does not feature an app drawer. Instead, it has a hamburger menu icon on the search widget, quite reminiscent of the earlier days of Action Launcher. Tapping on this brings up a list of apps which is quite like Action Launcher's Quickdrawer. We've already reviewed an older version of ASAP Launcher.
[googleplay url="https://play.google.com/store/apps/details?id=com.citc.asap"/]
4. Pear Launcher
Pear Launcher is another launcher that is trying what Nova did before, and what Action is doing now. That is, bringing features from the stock or what is considered stock now, the Pixel Launcher onto other devices.
It is pretty much the Pixel Launcher with many extra features that you'd only find on a mature app such as Nova, and then some. Some of its standout features include Proximity sensor gestures and blurred interface elements such as the dock and app drawer. You can read more about it in our full Pear Launcher review.
[googleplay url="https://play.google.com/store/apps/details?id=com.pearlauncher.pearlauncher"/]
5. Flick Launcher
If you want most of the features Nova Launcher offers but the price tag for the Prime unlock (which isn't unjustified by the way) is stopping you, jump right onto Flick Launcher. It is yet to release though and the development seems to be taking some time but it's quite reliable even in its beta form.
In our review of Flick Launcher, we straight out said it was giving Nova Launcher a competition when it came to features. Pear Launcher, mentioned above, has pretty much most of the features from Flick Launcher. The best part is, Flick Launcher does not ask you to buy a pro version for any of the features you already get with Nova Launcher Prime. You can read our full Flick Launcher review.
[googleplay url="https://play.google.com/store/apps/details?id=com.universallauncher.universallauncher"/]
6. Evie Launcher
We've started with one of the most feature-packed launchers and have continued the trend. However, not everyone is a fan of features. If you just need a simple launcher that just works Evie is a pretty good choice. Swipe up to get to the app drawer, swipe down to search for apps and there's just that. No Google Now integration or anything fancy.
Evie may be simple, but it still is pretty customizable. The search function, for instance, allows you to search for apps and contacts list, and even look up information on restaurants, movies, TV shows and more. There is even gesture support. The dock is disabled by default on this one. Evie is one of the simplest yet best Android launchers. Read more about Evie Launcher here.
[googleplay url="https://play.google.com/store/apps/details?id=is.shortcut"/]
7. KISS Launcher
Speaking of simplicity, KISS Launcher is also one of the better choices you can make. KISS apparently stands for "Keep it simple, stupid" as its Google Play Store page says. The launcher sure follows this philosophy which is evident by the fact that it is less than 250kb in size. You have wallpapers on your smartphone today that are larger in size, so yes, that's impressive. It is not only simple but also unique in that home screen icons aren't a huge part of it.
The default screen here is a search bar, a dock, and empty white space. You can place some icons in the dock card such as messages, camera, etc, the apps you use most frequently. To find anything else you have to type. As you use the launcher the empty white space is populated to help you. KISS might actually win you over. Don't forget to read our detailed Kiss Launcher review.
[googleplay url="https://play.google.com/store/apps/details?id=fr.neamar.kiss&rdid=fr.neamar.kiss"/]
8. AIO Launcher
Evie was simple but still traditional, KISS breaks out of that mold and unless you use a lot of apps KISS is simpler to use. But if you're someone who can handle the complex yet also want the launcher to be easy to use, AIO could be what you're looking for.
AIO doesn't feature any icons so forget about icon pack support. It simply shows you the names of apps on the home screen. There's a dialer right on the home screen so you don't have to launch the app. Similarly, you can view contacts, messages, set a timer, view your emails all of it straight on your home screen.
AIO is centered around information and it tries to cram in as much of it as possible into your screen. We've reviewed AIO and whether you like it or not, it is a unique concept. Read our AIO Launcher review here.
[googleplay url="https://play.google.com/store/apps/details?id=ru.execbit.aiolauncher"]
9. Emerald Launcher
Emerald is another launcher focused on being light-weight and simple, much like KISS. Except that it is a bit more customizable. Emerald is also completely open-source if that's something you value. Instead of displaying a search bar or most-used apps, Emerald simply displays a grid of all your apps.
There's a search bar up top to search for specific apps or you can just scroll through the grid. It does support icon packs and a resizable grid. We've covered Emerald Launcher in more detail before and you can read all about it.
[googleplay url="https://play.google.com/store/apps/details?id=ru.henridellal.emerald"/]
10. Launcher enhancements
If you're looking for launchers, one of the 9 above will definitely fit your bill. Launcher enhancements is simply a category of apps that aren't meant to replace your default launcher but enhance your experience of using it. For instance, you may love Flick launcher but the fact that it does not allow you to directly search for apps from your home screen without installing another app can be a bummer. In which case, something like Launchboard can come in handy.
1. Launchboard
The app places an icon in your launcher which you can place on your home screen. Anytime you tap on it, you can simply type and search for apps. There's a lot more to it than just that, and you might want to check out our full coverage of Launchboard to learn more.
[googleplay url="https://play.google.com/store/apps/details?id=com.appthrob.android.launchboard"/]
2. Smart App Drawer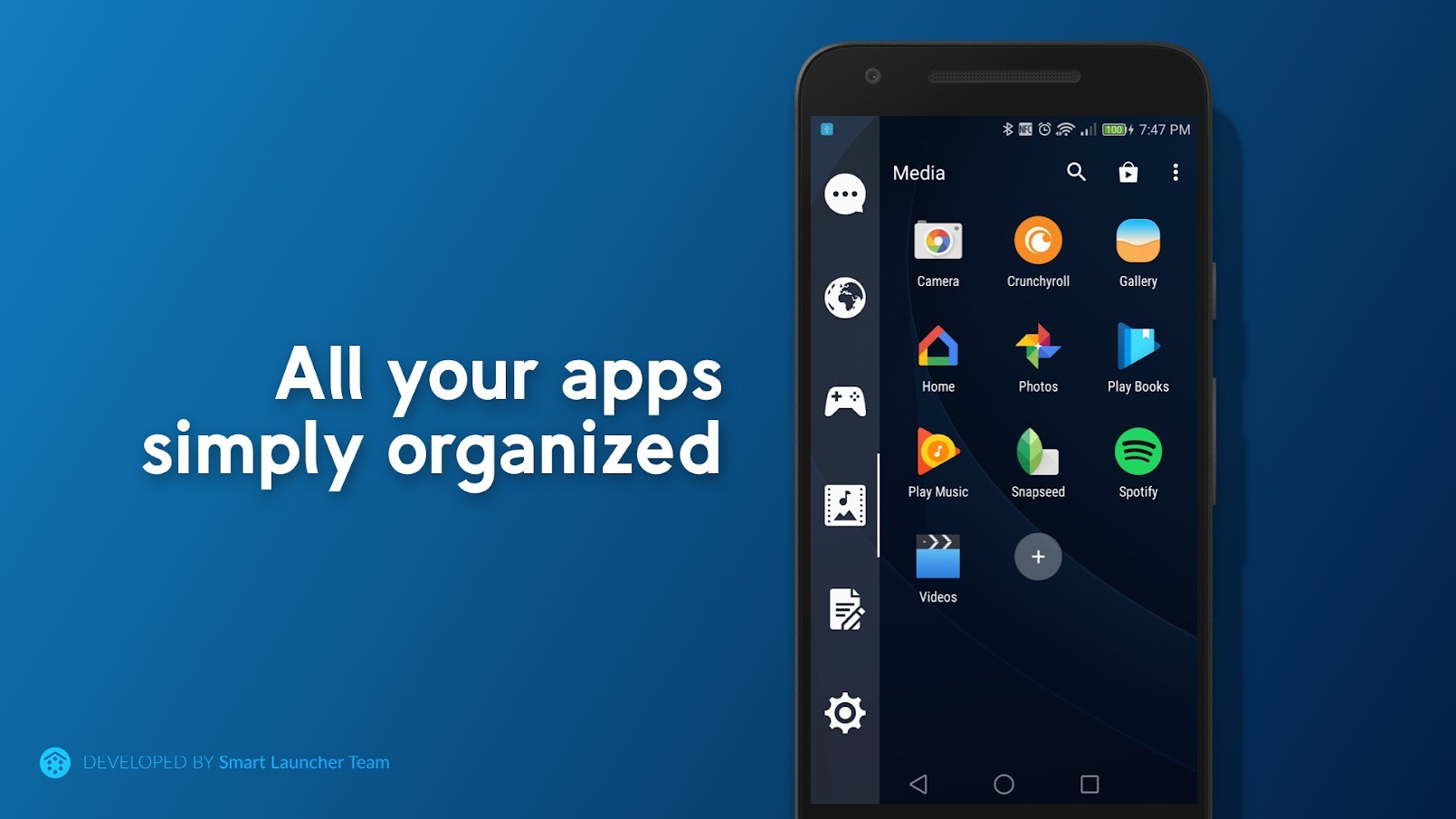 When everything these days is supposedly "smart" why not your app drawer? You may have noticed (if you're a fan of it) that we did not mention Smart Launcher in the list above. The reason is that the developers were kind enough to pack the main stand out feature of the launcher into this amazing app that you can place right in place of the app drawer icon. Here's our full review of Smart App Drawer.
[googleplay url="https://play.google.com/store/apps/details?id=ginlemon.smartdrawer"/]
3. Contextual App Folder
A while ago, Aviate launcher attracted some attention as it aimed at being a "smart" launcher. It's rise to fame was its contextual awareness that allowed it to present different apps on the home screen depending on a user's requirements. For instance, news reading and social networking apps in the morning, professional apps such as Google Sheets and Docs during the day some music apps in the evening.
The app suggestions can even be based on your location and other things. Contextual app folder brings that functionality to your favorite launcher.
With a hope that our best Android Launcher recommendation and reviews will help you pick the most suited launcher app for you, I wind up this article here.
[googleplay url="https://play.google.com/store/apps/details?id=com.ctxwidget"/]
Read Next: 10 Best Gallery Apps for Android in 2019