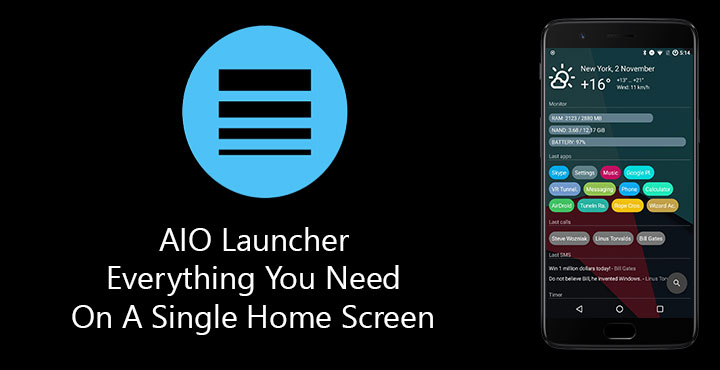 There are a huge number of home screen replacements or app launchers or the Google Play Store. Many of them are bad, plain and simple. But many of them are not bad but simply not that great. Because most of these launchers are the same thing with different skins. And when there are already so many icon packs on the Play Store the advantage of looking different does not apply. Long story short, unless you find yourself settling for Nova Launcher, Action Launcher, ADW Launcher, and the likes, finding a good launcher is quite difficult. There are only a handful of launchers that truly stand out from the crowd. AIO Launcher by Evgeny Zobnin happens to be one of the truly unique launchers on the market.
Install AIO Launcher
[googleplay url="https://play.google.com/store/apps/details?id=ru.execbit.aiolauncher&rdid=ru.execbit.aiolauncher"/]
Permissions
When you want an app that does it all, it will also need to be an app that needs all the permissions. So naturally, AIO Launcher requires more permissions than your traditional Android launcher. It becomes clear right when you launch the app as you are asked to allow these permissions. AIO Launcher requires the following permissions:
Calendar
Contacts
Phone
SMS
Your location
If you're wondering why does a launcher need permissions to read your messages, it will also be quite clear once you land on the home screen.
Also see: Which Android Launcher is Best for You?
AIO Launcher is not your traditional launcher
Sure it needs more permissions than a traditional Android launcher, but AIO Launcher is not your traditional launcher either. When you land on the home screen, you'll notice a lack of icons. So forget icon packs and themes. There aren't even any transition animations let alone the fancy ones since there is just one single screen here. If you're a big fan of icon-centric interfaces you're in the wrong place.
But when you have spent years customizing the hell out of your Android device to the point where it often never looked like Android, a certain realization kicks in. Icons and animations sure make for a good presentation but they're not really that essential. If you can accept that, you should give this one a try.
Because it is more than that
Instead of filling your screen with icons, AIO Launcher instead fills it with information. A majority of users can get a little overwhelmed by it all but then, this isn't a launcher for the majority. At the very top sits the weather information about your location. Below that, information about your device's memory usage is displayed in a more visual style.
Right under that are your recently used apps in that order and under that your recent calls, then your SMS messages and so on. AIO Launcher displays all the information stacked below another creating a stream of information. You can easily scroll through it like your Google Now feed or your Facebook feed. Here's a list of all the information AIO launcher can display on your home screen:
Weather – current weather and forecast for 10 days;
System monitor – RAM and NAND usage, percentage of battery power;
Player – when you turn on the music, playback control buttons appear;
Frequent apps – frequently used applications buttons;
Frequent contacts – the list of recent contacts;
Your apps – the icons of the selected applications (paid);
SMS – recently received SMS;
Dialer – numpad for quick calls;
Timer – timer start buttons;
Mail – list of received emails;
RSS – latest news;
Twitter – all tweets or tweets from a single user;
Calendar – upcoming events in the calendar;
Exchange rates – currency exchange rates;
Bitcoin – the bitcoin price.
It may not seem like it but there is actually an app drawer, sort of. It's more like the Quick drawer of Action Launcher minus the app icons. If you can't find the app you want to launch on the home screen, you can access the drawer by swiping from the left edge of the screen. Or as I accidentally found out, pressing the back button on the home screen.
There's a floating search button at the bottom-right that you can use anytime to search for anything – apps, contacts or even web and it even makes suggestions. That's impressive. It also lets you organize all the information by placing it up or down the feed. You can move a widget by pressing and holding the widget title and dragging it up or down.
Long pressing on a widget element will bring out contextual options such as the option to hide and uninstall an app.
Don't miss: 5 Paid Icon Packs Currently Free on the Google Play Store
Verdict
Clearly, there's a lot to talk about AIO Launcher considering it is a launcher that does not even have icons. If you don't think so, just long press on the Search icon at the bottom and you'll see shortcuts to quickly launch the default Dialer app, Camera app and access the launcher settings. In the settings, you can adjust everything from the wallpaper transparency to individual settings for every widget. Much of that is locked behind a one-time payment of $0.99/₹55.
As already said, this is not a launcher for everyone. But if you try it out and you feel like it is a launcher you could live with, the one-time payment is worth it.