Third-party Android launchers are the heart of Android customization. If you have read any of our customization articles, then you must know how much we love third-party launchers. If you don't like one, you could try a different launcher, that's the beauty of Android – you don't have to stick to one if you don't want to.
While I can't imagine using anything other than Action Launcher 3, our editor lives and dies by Nova launcher. What I am trying to say is that third-party launchers are an amazing way of giving your Android a complete makeover and there's no shortage of them in the Google play store. With that said, there's a new launcher in town with the potential of being one of the best, it's titled "ASAP Launcher". I already think it's the best launcher I've seen this year. So what's so cool about it? Let's find out.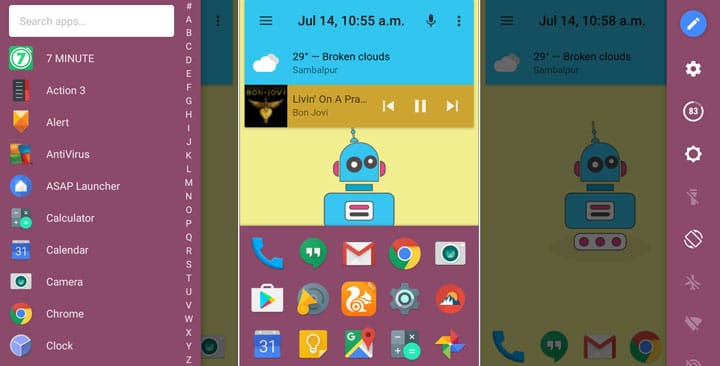 First of all, ASAP is nothing like your traditional launcher – it neither has an app drawer nor any home screens. While it is very simple, it does away with anything that can come between you and your apps, it does take some time to get used to its User Interface. For instance, instead of a traditional app drawer, you get an Action launcher 3 like quickdrawer.
Instead of home screens, you get 4 useful cards – 2 on each side of the main screen. These cards make it easy to access stuff like weather, contacts, calendar, and to-do list. It has a dock that consists of 5 apps.
Upon swiping up on the dock, it reveals 2 more rows; consisting 10 of your most used apps. Swiping from the right edge, you get an extra "layer" which can be used to toggle quick settings like brightness, Wi-Fi, flashlight, auto-rotation, airplane mode, etc. That pretty much sums up ASAP Launcher. It's fast, clutter-free, and it is something different than what we are used to. A change like this is always welcome.

One thing that I would like to point out is that, if you are an Action launcher 3 user, you'll see some similarities here. Other than quickdrawer, it also oozes quicktheme everywhere. I am not saying it's a bad thing, it actually made me feel a bit comfortable while trying it out for the first time.
With an upgrade via IAP you can unlock some features like complete control over colors, icon pack, etc. With all those features and an amazing UI, I really think it is the best launcher of 2016. So, go ahead and check it out if you want to try something cool and different.
[googleplay url="https://play.google.com/store/apps/details?id=com.citc.asap"/]