The Application Launcher is the most important part of every Android device. It takes care of listing all available Apps on the operating system and providing a method to access them. Moreover, it acts as a personal assistant, giving easy access to information like date and time, contacts, messages and calendar events. It is one of the most downloaded App types on the Play Store and typically almost every Android user tries an alternative launcher on their device. Choosing the best Application Launcher is not that easy, however, since there are thousands of different Application Launchers available on the net.
Today we will introduce yet another Application Launcher, which is designed to be ultra-lightweight and kind on system resources. It is called 'Emerald' and it is actually a great home-screen replacement App for low-end devices and for users that need quick App access. What's even greater is that it is open source and you can get it from both the Play Store and F-Droid.
Emerald Launcher Features
Icon pack support
App and Web search
App categories
History of last launched apps
Resizeable layout
Supports Android 1.6 and up
Emerald launcher tries to be as simple as it gets. Therefore, it does not offer the traditional home screen, where custom App shortcuts and widgets can be placed. Instead, it always displays the list of installed Apps: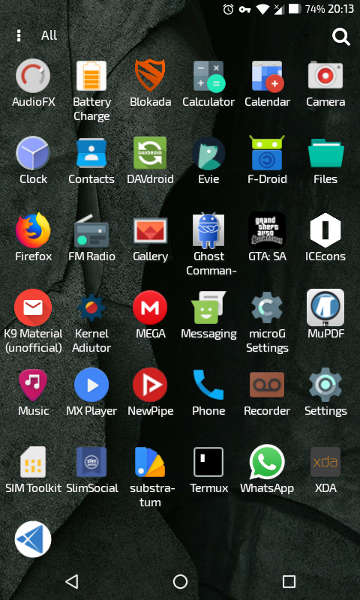 Emerald's screen consists of three parts:
The Top Bar

Here, Emerald provides a sandwich menu for accessing its settings and refreshing the App list, in case it did not update after some change. There is also a quick menu for selecting an App category and a search button. Although Emerald provides a standard set of App categories, you can add and remove categories as you wish. The search engine used for Web search is also customizable, but a bit more difficult to change than other launchers. You need to manually give the search URL of the engine you want to use, in the App settings:
The Applications WindowThis is the place where shortcuts to installed Apps are displayed. This part of the launcher is also very customizable. Apps can be displayed in a list or in a grid, by just toggling the 'Grid' checkbox in Emerald's Appearance Preferences. Furthermore, in grid view, vertical icon spacing and column width can be configured. You won't get the fancy widget found on other launchers to change these values though, but just a simple textbox to enter the required value. Lastly, you can modify icons and font sizes.
The Dock
On the bottom of the screen, Emerald provides a Dock. This works similarly to traditional docks, although it might be a little trickier to operate. Emerald does not currently support drag'n'drop, so to insert an App icon to the dock you must touch and hold on the App icon in the Applications Window and choose 'Add to Dock' from the drop-down menu. Apps can be removed from the dock in a similar way.
Background colors of each part of the screen can change and there is even support for transparency. Furthermore, Emerald supports portrait and landscape modes and provides different configuration options for each of them.
Keep in mind that most changes do not take effect in real time: Emerald provides a 'Restart Launcher' menu item at the top of its Settings screen. Make sure you click it after making changes in the App's configuration. Emerald will restart in a second.
What makes Emerald so interesting, is its minimal footprint. It runs with an average memory usage of less than 5 MB and it is actually pretty fast. You can also find a checkbox in Settings for keeping it always in memory (requires Android 3.0+), so it can be even snappier.
Emerald is an open source and Ad-free App. Its code is hosted on Github and it can be found through F-Droid, for users that do not have Google Services installed. Overall, it is a useful Application Launcher replacement for older devices, devices with small RAM and for users that need a fast response from their launcher. It is under active development with new features added and bugs fixed regularly. If you find a bug, you can create an issue on Github here.
Links