Even the most barebones version of Android does ship with some built-in stock apps. OEMs often put their own versions of stock apps that look and feel different. Sometimes these stock apps are great. Like the stock gallery app on Sony Xperia phones. The stock Android gallery app though isn't that great. It looks straight out of 2015. And it also lacks features. So here are the 10 of the best gallery apps for Android. These amazing gallery apps can well serve as alternatives to your stock Android gallery app that comes with your smartphone.
10 Best Gallery Apps for Android
Without much ado, let's take a brief look at all 10 best gallery apps for Android.
1. Google Photos
[googleplay url="https://play.google.com/store/apps/details?id=com.google.android.apps.photos"]
This stock Android gallery app alternative is actually pre-installed on most Android phones. Google Photos needs no introduction. It's Google's version of the Photos app on iOS. All Google Photos users get an unlimited high-quality photo and video storage. The one downside is that it only shows photos from folders that the user chooses to upload photos from.
Any photos you don't want to be uploaded just don't show up. It's a good thing that the app is capable of seeing new folders with images on the device. It reminds you of them too. If you're not someone who likes Google though, this is the opposite of an ideal stock gallery app alternative.
2. Piktures
[googleplay url="https://play.google.com/store/apps/details?id=com.diune.pictures"]
Piktures is one of the smaller gallery apps out there but it's not the most featureless. It allows you to hide albums, sort by various things, such as location and it also has GIF support. The layout is pretty unique and is best suited for larger displays. There are some gesture controls which are fun and convenient to use once you get the hang of them. The app also contains a built-in photo editor.
Must Read: 10 Best Gameloft Games Under 50MB for Android
3. Simple Gallery Pro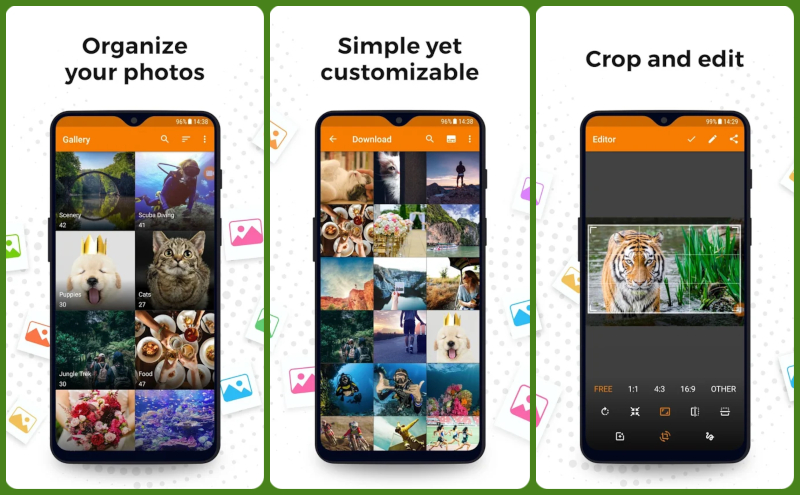 [googleplay url="https://play.google.com/store/apps/details?id=com.simplemobiletools.gallery.pro"]
Simple Gallery, as the name implies, is a no-frills gallery app with all the basic features. You can view photos and video, pinch-to-zoom, rename, delete, and a lot more. It also lets you lock certain photos behind a fingerprint scan. The developer actually has a lot of stock Android app alternatives with a consistent look and feel, and the same approach of keeping it simple and lightweight. Simple Gallery Pro's best feature is also its simplicity.
There is a free version but it is deprecated though so you'll have to buy the Pro version. It doesn't cost much either and is only $0.99/₹29. This stock Android gallery app alternative is the closest in terms of looks and feel, but it fills in the holes and improves upon the stock gallery app.
4. Focus Go
[googleplay url="https://play.google.com/store/apps/details?id=com.franco.focus.lite"]
Focus Go is the lite version of the popular gallery app Focus. It drops many features from the original app like a built-in photo editor to save on the app size. It does have an optional 32-bit encoder for better image quality and some customization options as well. There's not much else that the app does. You can open the app to see your photos and you can share them. That's all. It's really great for someone with an entry-level smartphone.
Editor's Pick: Learn Coding on Android with These Apps
5. F-Stop Gallery
[googleplay url="https://play.google.com/store/apps/details?id=com.fstop.photo"]
"F-stop Gallery is functionally, perhaps the best Gallery app for Android right now…" is what I said when I reviewed an older version of the app a couple of years ago. Not much has changed. It is still not the best looking gallery app but it still packs in almost everything you could want. There is support for viewing pictures stored in the cloud with Dropbox and Google Drive.
You can bookmark images, and there are a ton of other tools to help organize your media files. Apart from the huge set of media-related features, F-Stop Gallery also has some features related to how it looks. You can choose between light and dark themes, change the theme color and accent colors and change the grid size among other things. Please read our detailed review of the F-Stop Gallery app.
6. Memoria Photo Gallery
[googleplay url="https://play.google.com/store/apps/details?id=com.memoria.photos.gallery"]
If F-stop functionally the best, Memoria Photo Gallery is at least one of the best-looking stock Android gallery app alternatives if not the best. You do get all the basic gallery features that you will get with almost any gallery app such as the choice between grid and list views, sorting, grouping, filter, etc. There's a vault that you can lock your private photos and videos in and it supports PIN, pattern, and fingerprint to unlock the vault.
In addition, there's also a hidden space which shows all the folders a traditional gallery app won't show you, or an advanced gallery app like F-stop will show you mixed with all the actually important folders. These are temporary folders like the sent folders created by apps like Telegram or WhatsApp. Plus there are so many customization options. You can literally change the colors behind and on every part of the app's interface. To know more, check out our full review of Memoria Photo Gallery because this app has a lot of cool things.
7. FOTO Gallery
[googleplay url="https://play.google.com/store/apps/details?id=kr.co.ladybugs.fourto"]
FOTO Gallery is a simple but powerful tool. It boasts the capacity to sort thousands of your photos quickly. There are no ads, the app is under 5MB, you can recover deleted photos, hide albums, there's even Chromecast support. You can pick up the pro version for either $2.99 or $4.99 as a separate app. You probably don't have to though because the free version is ad-free too.
Don't Miss: 5 Amazing Android Apps You Won't Find in Google Play Store
8. Gallery Vault
[googleplay url="https://play.google.com/store/apps/details?id=com.thinkyeah.galleryvault"]
It's not a traditional stock Android gallery app alternative but it can be if you're a very private person. As the name suggests, it creates a private vault for your photos to keep them away from prying eyes. You can add all your photos and videos or only a few of them to this secret vault. It even lets you hide the app icon from the app drawer. This way, no one knows how to access it but you. It even alerts you if someone breaks in, and it supports some fingerprint-enabled devices.
9. A+ Gallery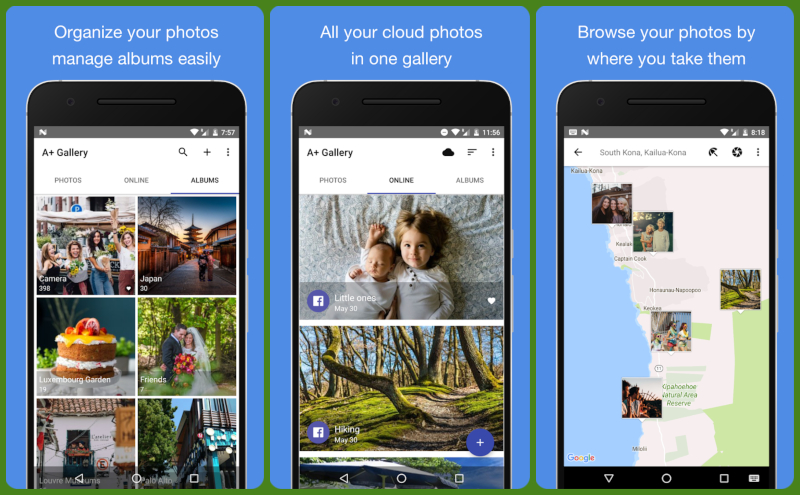 [googleplay url="https://play.google.com/store/apps/details?id=com.atomicadd.fotos"]
If the app icon looks familiar, it's because it is. Very much a look-alike of the iOS Photos app icon. But other than that, and the white interface, there's not a lot in common between A+ Gallery and the said photos app. If you were to ask the developers, they'd say, "A+ Gallery is literally world's BEST photo gallery app for your Android phone." Whether that claim stands true depends on your really.
It does all the simple things like manage your photos, create photo albums, and share your photos.  There is cloud support for Dropbox, Amazon Cloud, and Facebook. It also has a secret vault-like many other apps on this list.
10. Gallery
[googleplay url="https://play.google.com/store/apps/details?id=com.flayvr.flayvr"]
Gallery has a very generic name and for good reason. When you place it on your home screen, it doesn't feel like a third-party app but a genuine, stock app. That is the most compelling reason to have it as your stock Android gallery app alternative. It only helps that it's also better than the stock gallery app. The main page shows you a grid of your photos, and there's another tab which categorizes them as moments. You can sort files by name/date/ascending/descending, create a new album or folder, change the theme and file view option, etc.
These, in my opinion, are the best gallery apps for Android you can install in 2019. We'll keep updating this article if we come to know about some other great gallery app that should be listed here. Thanks!
Read Next: How to Add Timestamp to Photos on Android