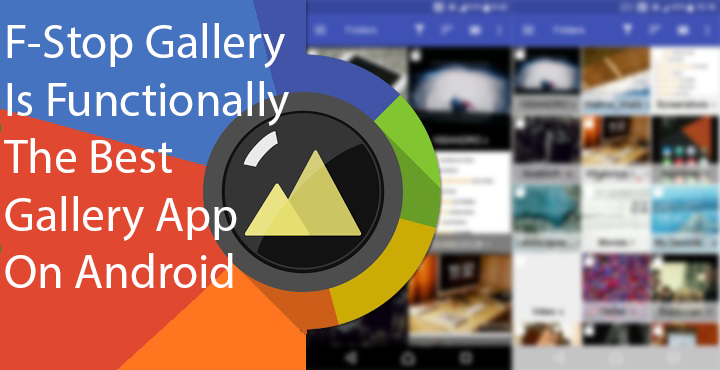 F-Stop is one of the best gallery apps available for Android at the moment. Check out our in-depth review.
Ever since the fan favorite Quickpic was sold to a known Chinese adware company there has been a glaring hole on some of our devices for a replacement. I first discovered the app when it used to be a simple, light-weight replacement for the stock gallery app, which sucked. Since it was sold, Quickpic has suffered a fate that was expected. Apart from being light-weight and simple, Quickpic has a much-needed feature that I'm surprised is hard to find in gallery apps. That is the ability to move photos between folders right within the gallery app. Fortunately, I've found another app which can do that and be the Quickpic replacement we've all been looking for. F-stop Gallery is functionally, perhaps the best Gallery app on Android right now that isn't owned by an adware firm.
Download F-Stop Gallery
[googleplay url="https://play.google.com/store/apps/details?id=com.fstop.photo"/]
Interface
The interface is very much like Quickpic's, and the moment you open the app you are presented with two columns of folders containing images. These can be sorted by name, date modified or the number of media files. You can change the view by tapping the grid icon on the action bar. The available choices here are – Grid view, List View, Enhanced list view, Large thumbnails (default).
Also see: 4 Best Free Photo Management Apps for Android
One can see hidden folders using the three-dot overflow menu, refresh the media library or create a new folder right within the app. The app settings can also be accessed via this menu, but it is also present in the side menu drawer at the very bottom. The interface by default is quite simple yet quite customizable right from the get go. The app settings hide even further customization options.
Organizing media
If the subtlety of the title didn't already give you an idea about the functionality, I don't know what will. May be a quick overview of what all it can do?
As I said earlier, F-Stop Gallery is a Quickpic replacement and unlike some replacements, this one does not come with any compromises. It has all the features and functionality of Quickpic. You can copy or move images from one folder to another existing folder or create a new one without having to leave the app. If you've never used this feature, you don't know how much easier it makes organizing photos. Creating Albums and all with Google photos is good and fine. Yet actually moving pictures into real folders is something else. Probably because folders work across every app and OS while Albums are limited to Google photos. Not that F-stop doesn't have its own album feature.
Related app: Perfectly Organize Your Photos with Slidebox
That's also only the tip of the iceberg here. Your pictures are also organized using Tags, Places, Ratings, and Favorites. Folders can also be set as protected which can then only be accessed with a password that you've already set. Tapping on Videos from the side menu drawer lets you see all your videos which can also be moved around. However, these aren't organized in folders like pictures are for some reason so you'll have to see the path details to find which folder a certain video belongs to.
Other stuff
There is also support for viewing pictures stored in the cloud with Dropbox and Google Drive. Users can also bookmark folders for easy access but the free version only allows up to two bookmarks. We're only scratching the surface here and that's obvious when you land on the apps settings page. F-Stop Gallery has so many features that talking about them all would probably take a day. It's best that you try them out on your own. Because if you're not sold on it yet, the rest of the features probably won't make the case any better.
Customization
Apart from the huge set of media-related features, F-Stop Gallery also has some features related to itself. We call these customization options and if you have an Android, there's a pretty good chance you love those. You can choose between light and dark themes, change the theme color and accent colors and change the grid size among other things.
Don't miss: 5 Best Photo Editing Apps for Android
Verdict
F-Stop Gallery is the best gallery app on Android that you can find right now. That is if you're not a fan of Google photos.