Thanks to the amazing cameras we get in a smartphone these days, taking a good picture is not that difficult. Hence, we end up with a ton of photos – some are good, some are not, and some are just way too similar to keep. Although the cameras in smartphones have gotten better over time, the management of photos, well, not so much.
Now, if you've got a lot of photos on your smartphone, you know how difficult it gets to find a specific photo just in time. While there are plenty of apps – Google Photos, for example- that use a complex algorithm to organize your photos in an album according to day, place or any other factor, that's not the only way to do it.
Although I love Google Photos, arranging photos, sometimes, manually is a good idea, and for that purpose I use Slidebox.
Slidebox comes from the former Amazon developers as they, too, struggled with managing a large quantity of photos. The idea with Slidebox is to quickly let you go through all the images in your gallery and take instant decisions on what to do with each one of them.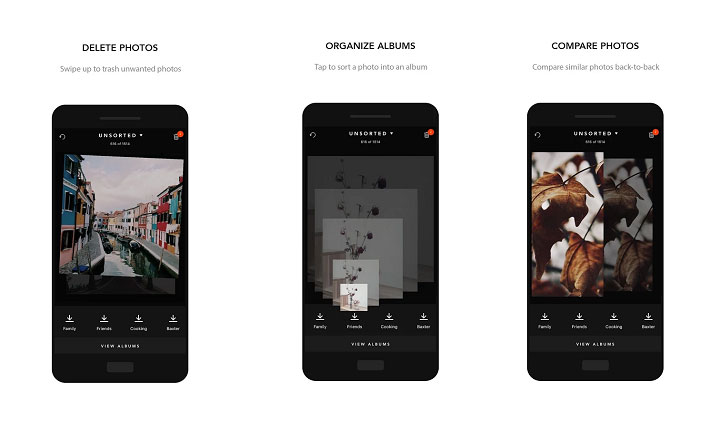 Slidebox is a photo management app that works on gestures. Right upon installing it, you get the latest image available in your gallery on the screen. Swipe up to move the photo to trash. Swipe left to go to the next photo while keeping the current photo in the same album. It's not only about deleting the photo but it also lets you organize them in albums. Swipe down to put the photo in an album. When you swipe down, you'll be asked to name your newly created album. Once you do so, the photo will be added to the album and you'll see that album at the bottom. Now, you can create a new album by swiping down again, or you can tap the already available album at the bottom to add the photo present on the screen to that album. Quite Tinder-esque, if you ask me.
The trash in Slidebox works somewhat like a Recycle bin in the Windows OS. When you put a photo in the trash it doesn't get deleted from your device, in fact, you can see them in any of your gallery apps. What actually happens is that the app tags them as trash by moving them to a separate album which can only be seen from the app itself. To delete the photos permanently you need to empty the trash. This allows you to review the photos once again before deleting them.
"There's definitely a lot of 'Tinder-esque' app to delete photos, but none that helps you organize albums," explains founder Jiho Park, as to why he thinks Slidebox can best its competitors. "Slidebox lets you add a photo to an album with a tap — and we think albums are the key to staying organized," he says.
The only negative point about Slidebox is that it doesn't support photos from SD card currently, but the developers say they are working on it.
While this app may not be for everyone, I certainly find it useful when it comes to deleting photos from the device as well as sorting them into an album.
Slidebox is available on the play store for free. Give it try if you've got tons of photos to take care of.
[googleplay url="https://play.google.com/store/apps/details?id=co.slidebox&hl=en"/]