Netflix may not be everyone's cup of tea, especially in countries like India where it's priced much higher than the competition. But Netflix has been a phenomenon that has mostly changed how people watch TV. It leads the internet TV era despite stiff competition. Netflix has become a household name today but there are some Netflix tips and tricks and Netflix secret features that you probably don't know about.
10 Netflix Tips and Tricks and Secret Features
1. Netflix shortcuts
Although Netflix is the most fun when watched on a TV, it can also be enjoyed in the privacy of your laptop or computer screen. Computers have a big advantage of an actual keyboard which helps get things done much faster. Although most people might not even consider keyboard shortcuts in a list of Netflix tips and tricks, these keyboard shortcuts will help you bing-with more efficiency. You can use these shortcut to enjoy Netflix secret features.
Pressing F will give you fullscreen
The Esc key will take you out of the full screen.
PgDn pauses; PgUp will play. The spacebar also acts as the pause/play button and is much easier to find too.
Use Shift + Right Arrow to fast-forward and Shift + Left Arrow to rewind
M should toggle your mute button, depending on your computer
2. Make sure you're streaming in HD
When watching digital content, HD is the standard, especially on screens bigger than 5 inches. Netflix charges more for allowing you to play videos in HD. So if you're paying for it, make sure you're viewing your content in HD.
It is surprising but many people never even realize that they're not watching it in HD. So make sure you check your streaming settings on  Netflix.com/HdToggle and are set up for always viewing in HD. Also be aware though that if you plan to watch it anywhere not covered under a Wi-Fi zone, you might burn through your data plan very quickly.
Must Read: Telegram Cloud – Get Free Unlimited Online Storage
3. Go offline
In most western countries people don't often take being not connected to the internet for long hours quite seriously. Wherever you go you have free Wi-Fi or at least paid Wi-Fi. In many other places of the world though you don't get as much internet as you'd like. Netflix allows users to download videos offline for the times you're not connected. This is incredibly useful in western countries too for when you're on a flight or on a road trip.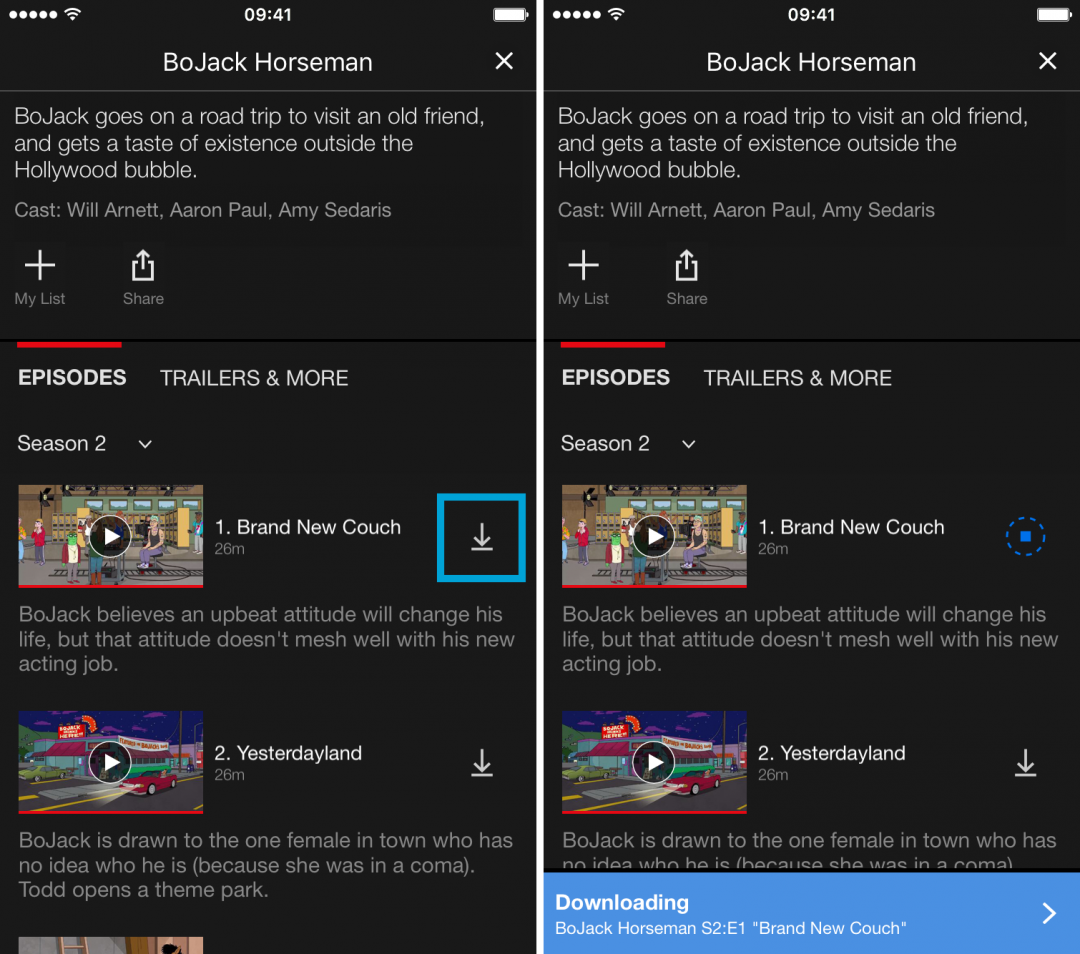 To download shows or movies on your Android or iOS devices, either browse in the 'available for download' section or press the download icon next to the show. Downloaded shows or movies can be found in Menu > My downloads.
There are, of course, certain limitations to this. Depending on your plan, you can download content on one to four devices. Different shows and movies have different expiry times as well. For many downloads, viewing must also be completed within 2 days of hitting the play button. This is one of the most useful Netflix tips and tricks.
4. Watch with others
Some people prefer watching things alone, but some people enjoy it with others more. This gets difficult when the person you want to watch something with is not around. Maybe they've moved far away, or just live in another part of town, or maybe it's just rainy outside. And that's where Chrome extension Netflix Party comes in. It's like a chat room that runs alongside your Netflix stream so you can watch a movie or a show together while talking.
It's a nice change of pace from Skype video calls and it's not the only option. If you don't like the experience it presents, you can also try other similar services like Rabbit. It's actually a better experience.
Rabbit allows you to launch a window that can be viewed by all the parties in the chat. Inside this window, you can do anything you want, including streaming your favorite Netflix shows and movies. This lets other friends who don't have a Netflix account join in on the fun as well. Meanwhile, you have another window to video chat or message in real-time.
If you're a person who likes watching things with other people, this is one of the best Netflix tips and tricks you can use.
Don't Miss: Hobi is the Best Episode Tracker on Android
5. Keep different profiles
Netflix also offers a family plan that allows you to use it on even more devices. This also means different people are going to be using it. Your mother may not love all the things you watch, your brother must have a different taste in movies or shows as well. This can result in a really bad personalized experience when Netflix recommends you to watch the lame cooking show your mother likes. To avoid this, Netflix allows setting up different profiles.
If you're the only person using Netflix, you can still use these profiles to get better suggestions for different times. For instance, create a separate profile for tv shows and another for movies. I, for example, enjoy action-packed movies but when it comes to TV shows I'd rather watch something short and funny. When it comes to Netflix tips and tricks, this one is amongst the most useful.
6. Manual ordering
Netflix automatically creates and manages a list for you based on their algorithms, and how much they know about your viewing habits. They say nobody knows you better than you though. If you really think so, you can rearrange your list manually instead of relying on Netflix's algorithms. For this, follow this link first and switch from the default Netflix Suggests option to Manual Ordering and click Save. When that's done, go here and you can drag around the thumbnails to rearrange your list.
It's not exactly a secret Netflix feature but it's also not as well-known.
7. Use the Netflix Bible
The best way for a video streaming service to keep you paying more is to make it easy for you to get to the content you might like. This is why they also offer suggestions and make it easier to browse their catalog by dividing movies and shows into different genres. But sometimes browsing simple categories like "Action," or "Romance" just doesn't cut it. If you're looking for more specific categorization, What's On Netflix has a veritable encyclopedia of weird, wild, and interesting subgenres that would never show up while skimming the surface of the site.
They also offer access to one of Netflix secret features through easy-to-use ID codes. Adding these codes to a provided Netflix URL lets you browse the hidden sub-genres on Netflix.
Editor's Pick: 7 Secret Gmail for Android Tips and Tricks You Should Know
8. Use better search filters
Another good website to look for what you want to watch is Justwatch. We mentioned this in our Amazon Prime Video tips and tricks post as well. It's an online tool mostly designed to let users find which content is available on which streaming service. But it can also be used as an extensive search engine for Netflix, Amazon Prime Video or any other platforms. It's the one place which catalogs all the shows and movies available on almost every major streaming service. It not only makes finding stuff easier on Netflix but also helps you find other places you can watch something at.
9. Play Netflix Roulette
Next in our Netflix tips and tricks list includes playing Netflix Roulette. Sometimes when you return home after a hard day at work, you don't want to be going through thousands of titles to find something to watch. This is something the traditional TV was always better at.
You could just flip through the channels and find something to watch, or at least settle in for whatever best thing was on at the time. Netflix Roulette is a service that is like a random button for Netflix. It's not completely random though. You can add filters like actor, genre, star rating, or even add your own keywords but make sure a strict 'no re-spin' policy is enforced.
10. Use an unblocker to see all movies and TV shows from other countries
Netflix is available in many different countries and has to succumb to their laws and regulations. It may own the rights to air Game of Thrones in the US, for instance, but in India, the rights might belong to someone else, like Hotstar.
If you're a Netflix user and don't want to end up paying for another service, you can use an Unblocker to watch shows and movies available in other countries on Netflix. This is Netflix tips and tricks 101. Unblockers like Smartflix (for free) or the pay-for-play Media Hint trick Netflix into thinking you're logging in from another country.
I hope the above mentioned Netflix tips and tricks would help you get the more out of it. If you are aware of other Netflix secret features that should have been mentioned here, please let us know.
Read Next: 5 Android Apps for Streaming Movies and TV Shows on Google Play