Amazon is not only an online store but it has grown into a number of different businesses. Amazon now sells its own products such as Amazon Echo devices, Fire TV, Fire TV Stick, Kindle, etc. The company has also dived into the services business and Amazon Prime Video is one of the best that it offers. The video streaming service is growing more and more popular each day. But there are some cool Amazon Prime Video tips and tricks that you should know. Let's explore the Amazon Prime Video settings and learn some interesting things.
The best part about Amazon's approach is that any Amazon Prime members can already enjoy using its other services. Therefore, you don't have to pay separately for your music, entertainment, and books to different companies. The downside is that neither Amazon Prime Video, nor Music is quite on par with competitors like Netflix or Spotify. But hey, you basically get it for free with your Prime membership. Amazon is also clearly trying its best to make these services as good as the competition.
Without much ado, let's check out the Amazon Prime Video tips and tricks. I just hope you will be able to do more with the Amazon Prime Video settings listed below.
1. Download Videos
These days you kind of expect any streaming service to allow you to download and store some videos offline. This used to be a unique Prime Video feature some years ago. It was only available on Kindle Fire HDX tablets at the time though, back in 2013. These days you can download videos on almost any Fire, Android or iOS device. It's not yet possible on the Amazon Fire Stick but it's understandable. The Fire TV Stick has a very limited amount of storage after all.
The downloaded videos can be played only via the Amazon Prime app and disappear after a certain period of time once played. These are some necessary steps to curb piracy. Offline playback is really useful when you're traveling, especially to another country. Amazon's terms of service prohibit the use of a VPN. Downloading videos to your device though has no such restriction. You could watch them on Mars for all Amazon cares.
Don't Miss: Download Facebook Videos on Android Devices
2. Build a watchlist
Amazon Prime Video, like any other video streaming service, is constantly adding new content. It's quite hard to keep up with all of it. Even though we say there isn't a lot of content on Amazon Prime, there actually is too much if you were to watch everything. Sometimes, you see something you want to watch but you don't have the time right now. This is where the watchlist feature comes in handy. As the name clearly says, it lets you build a list of shows and movies that you want to watch.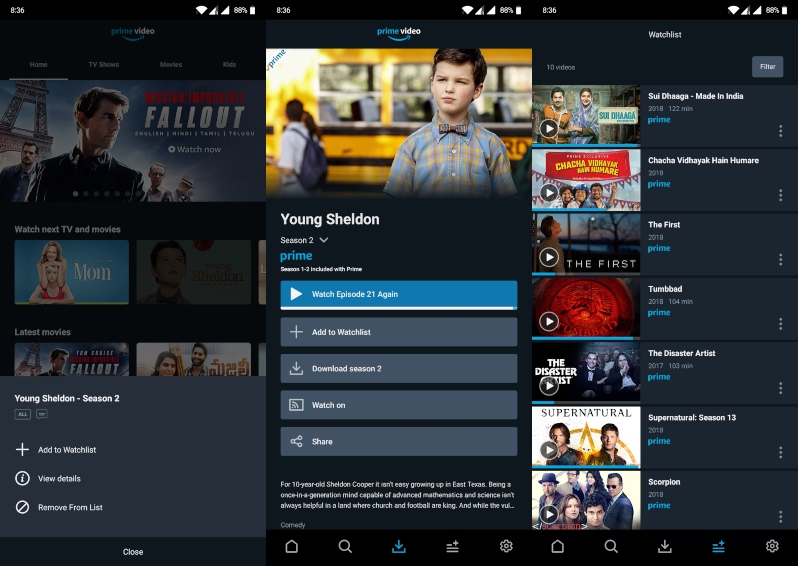 Like a wishlist, but for content you want to watch. Adding things to your watchlist is pretty easy too. Just Long press on the thumbnail of a show or movie you want to add to your watchlist and select Add to Watchlist. On a PC you can simply hover the mouse over a thumbnail to see the same option. You can also tap/click on the thumbnail and choose: Add to Watchlist. Your watchlist is also accessible from the button at the bottom of the app where you can edit it as well.
3. Turn Off Autoplay in Prime Video
Binge-watching a show is how many people prefer to watch a show. It's more immersive and you don't have to wait a month for the next episode. Streaming services know this and one of the ways they make you binge-watch is autoplay. As soon as you're done watching an episode, the next episode is automatically added to the queue.
If you find it hard to control your binge-watching urge, you may want to turn this feature off. Amazon Prime Video, at least, allows you to turn this off. On Android, you can find the Auto Play toggle in the Settings tab. On the website, you can find this option under Account & Settings > Playback. You must utilize this Amazon Prime Video setting.
Must Read: Best and Fastest Android Web Browsers in 2019
4. Stream to Google Chromecast
Amazon and Google haven't had the best of relations. Amazon refused to sell any Google Home products that compete with Amazon's own products. Prime Video is the only streaming service to not support Chromecast. That's about to change now that the two companies have decided to play nicer. Until Chromecast support is added though there are a couple of ways to stream your Amazon Prime Video to your Chromecast. On Android devices, you can easily cast your device's screen from the quick settings to your Chromecast. On a PC, open the Prime Video website on Google Chrome, then select Cast… from the three-dot overflow menu.
5. Use better search filters in Prime Video
Amazon Prime Video's search kind of sucks. There are no filters and sometimes the suggestions aren't even actually present on the platform. An alternative to the built-in search is JustWatch. It's an online tool mostly designed to let users find which content is available on which streaming service. But it can also be used as an extensive search engine for Prime Video or any other platforms.
Just select your country on the homepage, and then choose the Prime Video icon from the top. You can then use the various filter options just below it.
Editor's Pick: 10 Things I Hate About Android – By an Android Fanboy!
6. Share your Prime Video account with others
Apart from being pretty much the most bang for buck video streaming service, Amazon Prime also gives you other benefits. It allows you to share your Prime benefits with one other adult and up to four kids, as long as they are in the teens or smaller. For this, you'll need to go to the Amazon Household page and add your family members. The adult will need an Amazon account.
7. Restrict viewing with parental controls
Not only can you allow your kids to watch content from your subscription of Amazon Prime Video, but also restrict what kind of content they see. Amazon has built-in some parental controls that help you prevent your kids from stumbling upon some inappropriate content.
For this, you have to go to the Amazon Video Settings page. Scroll down to the Parental Controls section and create a five-digit PIN to enable the feature. Amazon allows two kinds of restrictions:
Viewing restrictions: This makes your five-digit PIN necessary to watch content which is rated higher than allows on the Amazon account. The ratings are generally 7+, 13+ and 18+. Certain devices can be excluded from this restriction so you don't have to enter a PIN anytime you're trying to watch 18+ content on your own device like your phone.
Purchase restrictions: Amazon also has an Amazon Video service which allows you to purchase or rent TV shows, movies, etc. This makes the five-digit PIN necessary to complete any purchase.
I hope the above Amazon Prime Video tips and tricks will help you use the app in a better way.