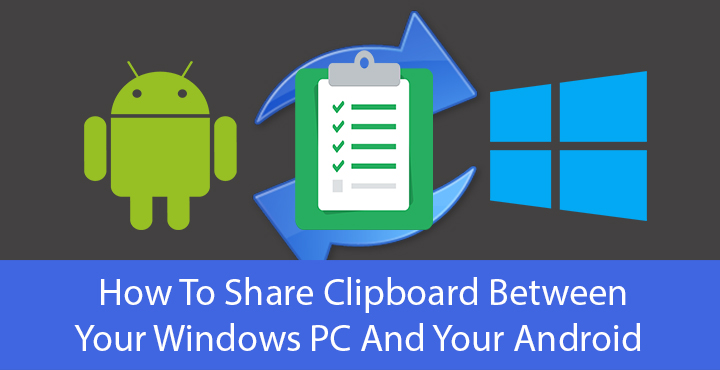 There are so many computing devices these days in a single household. Almost everyone has a PC, a laptop, a tablet (…. or not) and a smartphone. Yet, getting these devices to work together is really a hassle. You're reading a funny joke on your PC and you feel like sending it to a friend but you can't, unless he or she is on an online social networking service or a messenger with a PC client. So you will need your phone but now you can't copy and paste that text from your PC to your phone. If only there was a way to share clipboard between your Windows PC and your Android.
There sure are workarounds, such as sending the text to someone on, say Facebook and then copying it on your phone by opening the message. But shouldn't something as simple be really simple to do in 2017?
If you have an iPhone and a Mac, you know just how easy life gets with a shared clipboard. Luckily, Microsoft is planning on getting different devices to work together, and not only Windows Phone and Windows PCs but also Android smartphones. Until then, however, you're stuck with a PC and a phone that won't talk to each other, except that slow Bluetooth connection for transferring files. The problem is real, and thus third-party solutions have popped up in response. We take a look at a couple of them here which should really be all you will need.
Must read: How to Repair Corrupted MicroSD Cards without Losing Data
Pushbullet
[googleplay url="https://play.google.com/store/apps/details?id=com.pushbullet.android"/]
Pushbullet is a popular service because it was probably the first app to try and tackle the above-mentioned problem. The app has been well designed from the start, giving it a mass appeal. Pushbullet's Universal copy & paste feature requires you to buy the pro version. But Pushbullet does not stop at only syncing your Windows PC's clipboard with your Android but does a lot more. This includes syncing your notifications and SMS messages too, as long as you allow it to. The service can work through a locally installed software or through a browser extension in Chrome. You can download the Pushbullet Chrome extension or the Windows version from pushbullet.com.
Just make sure that Universal copy & paste are toggled on in Pushbullet settings on both your PC and your Android.
Pushbullet also works if you have a Mac or an iPhone, or a Mac and an Android. Since Pushbullet works over the cloud, it requires you to sign-in with an ID. This means you can copy something from your Work computer, and come back home to find it waiting on your home computer. You will need to sign-in using either your Facebook account or your Google account, or register with an email id.
Clipsync
[googleplay url="https://play.google.com/store/apps/details?id=be.bdwm.clipsync"/]
Clipsync is simply, as the name suggests, a clipboard syncing service and it doesn't do much else like Pushbullet does. It's the better option for those not looking for all the bells and whistles and those that only want simple clipboard sharing that's free of cost. The app has been around for a while even though you may not have heard of it before. Unlike Pushbullet, Clipsync does not have a lot of settings to tinker with and it does not even require singing up for an account. This is a plus point, but it also comes with its own disadvantages. Since there is no signing in required, you can't sync your clipboard between devices that are far away.
Both the devices have to be on the same local network for the sync to work. It's not that big of a disadvantage if you ask me. To use Clipsync, simply download the Windows server software and install it on your PC. The server doesn't automatically run so you'll have to manually run it from the start menu. You will see a notification and the Clipsync icon in the system tray when the server is running.
Related post: How to Control Android Devices with Your Computer's Mouse and Keyboard
After that, install the Clipsync app on your Android and open it. Tap Connect to a new server and the app should automatically find your PC, granted that the server is running. Once connected, you can simply copy something on your PC and paste it on your phone or vice-versa and it works like magic.