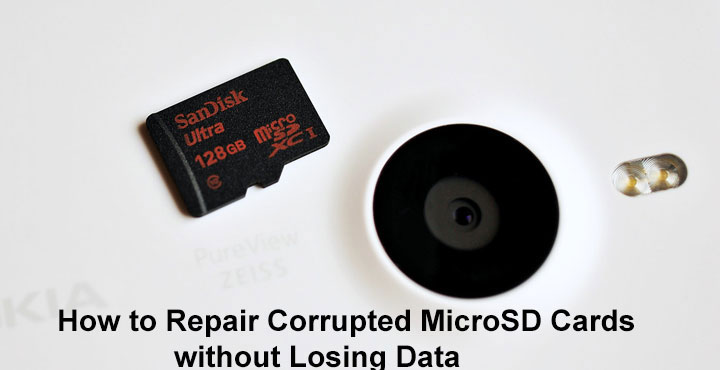 Most smartphones have a microSD card slot that can be used to expand storage. There may be various reasons for a memory card getting corrupted and the situation may take an unpleasant turn if we have lots of photos and videos stored on it. In most cases, formatting the SD card is the only way to fix it and make it reusable. but if we do that, everything stored on the card will be wiped. In this article, we'll see how we can fix or repair corrupted microSD cards without losing any data.
MicroSD cards are popular expandable storage choices thanks to mobile phones. But these are prone to some issues as well. Corrupt SD cards are quite common these days. Sometimes, for no particular reason at all, a MicroSD card might become raw and inaccessible. When you try using your card on any device, you will be asked to format the SD card to fix the issues. While there's no sure-fire way not to lose data and get your MicroSD or SD card fixed, there is something that you can try.
Don't miss: Erase Android Phone Data Remotely Without Internet
Use CHKDSK Command to Repair Corrupted MicroSD Cards
chkdsk should be your first choice when facing such a scenario. It's a command-line tool on Windows which can allow you to fix or repair corrupted microSD card and regain access to all your important files on it. In the case of a MicroSD, you will need a MicroSD card reader while most laptops already have a dedicated SD card slot.
Plug your MicroSD/SD card into your Windows PC.
Hit the Windows key and type "cmd" to search for Command Prompt. You can also click on the search box and type in "cmd" on Windows 10.

Repair corrupted SD cards using commands

Right click on Command Prompt and select Run as administrator.
Windows will now check your MicroSD/SD card for errors and fix them without clearing any data. This process can take several minutes also depending upon the size of your card. After all that, if you see "Windows has made corrections to the file system" in the command window, then you have reason to rejoice. Your card has been fixed. You can now view the data on it on any device just like you normally would.
Want to learn how to compile and decompile APK files using the APK Tool? Read our in-depth tutorial.
Data Recovery Tool to Repair Corrupted microSD Cards
There's quite a possibility that the above method might not work for you. If you have access to various Operating Systems, you might want to try using your card with all of them. In the odd chance that one of them reads your memory card, you can safely copy your data and then format the card. If not, then your only option is to format the card and then try to recover the lost data using a third party data recovery software. There are several options around to choose from, most of them are paid but a few are free as well. Some popular names include iSkysoft, Recuva, EasUS, etc.
Use any software of your choice as soon as you format your card to ensure the recovery of the maximum number of files. Once more, the data is written onto a card the recovery of the deleted data becomes more difficult.
Editor's pick: