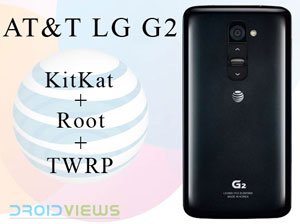 The AT&T LG G2 D800 has been receiving the Android 4.4.2 KitKat update via OTA for quite some time now. Many users have already received the OTA but their are still many who could not update their AT&T LG G2 because they have rooted their device. Then, there is another sect of people who want to take the KitKat update but they won't update their phone because they are afraid of losing root access and custom recovery.
Just about a week ago we came up with a guide to update the AT&T LG G2 to Android 4.4.2 KitKat without losing root. Today, we have come up with another tutorial for the users of the phone. XDA member garyd9 has compiled a ROM for the AT&T LG G2 D800 that is based on the D80020c KitKat build.
Since the latest bootloader that comes with Android 4.4.2 update does not allow replace itself with a custom recovery, garyd9 made an intelligent move so that you can install CWM or TWRP recovery on your AT&T LG G2. He removed the new bootloader from his ROM so that when you install his KitKat ROM, your device still remains on the old D80010d bootloader that allows a custom recovery.
If you own a rooted AT&T LG G2 and want to upgrade to Android 4.4.2 KitKat firmware without losing root and install a custom recovery on it, you have just landed at the right spot.
Prerequisites:
So, without wasting more time, let's move to the prerequisites to install this custom recovery-friendly KitKat ROM for the AT&T LG G2.
AT&T LG G2 with D80010d firmware.
Root and a custom recovery like CWM/TWRP
Downloads:
KitKat ROM File: d80010d_to_20c.zip
Latest Chainfire's SuperSU: UPDATE-SuperSU-vx.xx.zip
How to Install:
Now here is how you can update AT&T LG G2 to Android 4.4.2 KitKat ROM and root it immediately after installing it on your phone.
Download and copy the downloaded ROM and SuperSU ZIP files to your device.
Reboot your LG G2 into recovery mode.
First of all, backup your current ROM.
Then tap on Wipe> Advanced wipe and wipe data, cache, system and dalvik cache.
Go back yo main menu in TWRP and tap the Install button.
Select the ROM file d80010d_to_20c.zip and install it.
If you want to root the device, go back and flash UPDATE-SuperSU-vx.xx.zip.
Return to the main menu in recovery and select Reboot> System.
Wait till the device boots up and when it does, go to device settings and perform a factory reset for flawless performance.
Install TWRP on AT&T LG G2 with KitKat:
Since your AT&T LG G2 still has the old D80010d bootloader, you can install the custom recovery of your choice using the old way. Head over to our detailed tutorial on installing TWRP on AT&T G2 D800:
Root LG G2 and Install TWRP Recovery (Verizon, AT&T, Sprint,T-Mobile, & Others)
Interesting Stuff for AT&T LG G2:
Make Your LG G2 Perform Faster by Fixing Lag Issue
How to Restore LG G2 to Stock Firmware (D802/AT&T/Sprint/Verizon/Others)
Install Sony Xperia Walkman Module on LG G2 (All Models)
Tweak and Customize LG G2 with G2 TweaksBox and G2 Xposed Modules